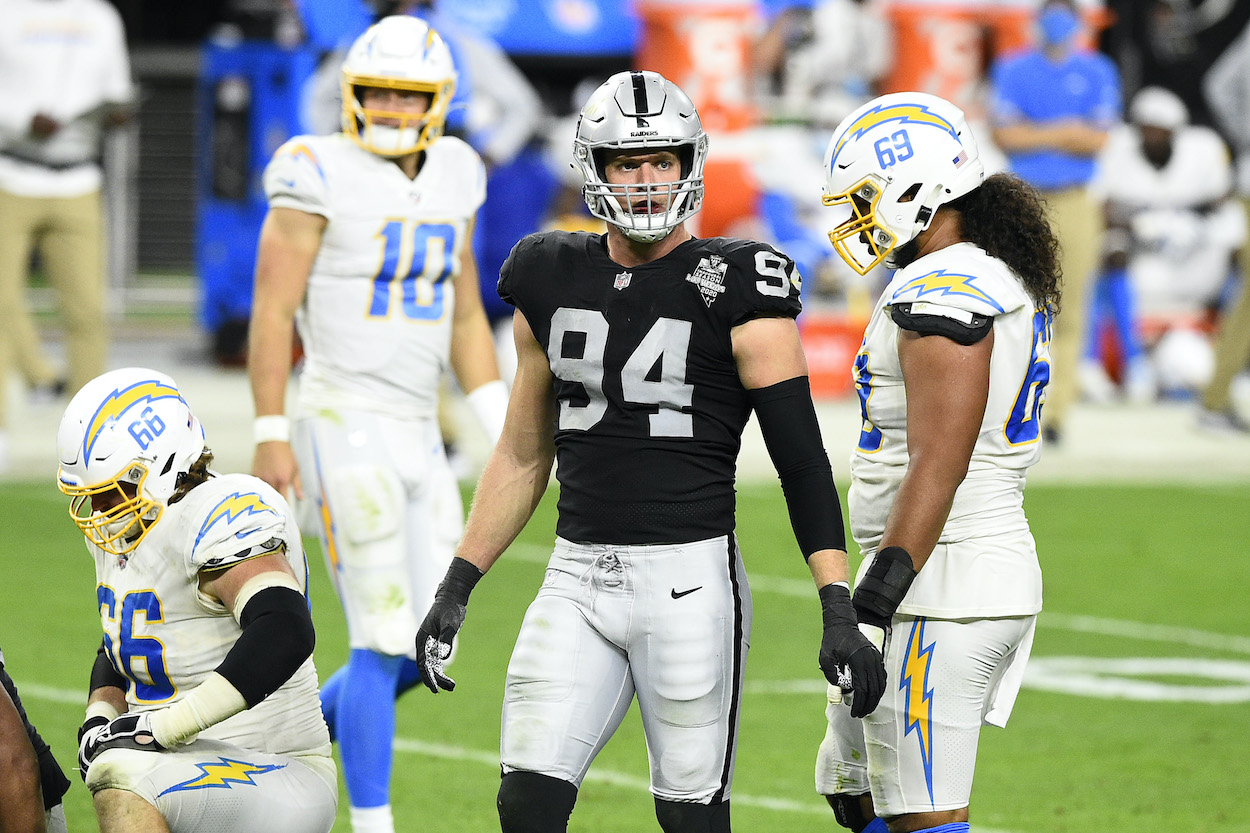 Carl Nassib of the Las Vegas Raiders Will Make History as the First Active Openly Gay NFL Player
Carl Nassib of the Las Vegas Raiders will make history in the 2021 NFL season when he becomes the first openly gay active player in league history. He joins NBA player Jason Collins and several other male individual sport athletes as openly gay players participating in major North American pro sports.
Through the years, people of all races, creeds, and colors have become the first person like them to do something in North American pro sports. We've seen it from Jackie Robinson breaking baseball's color barrier in 1947 to the New York Jets' Robert Saleh becoming the first-ever Muslim NFL head coach. Now the Las Vegas Raiders' Carl Nassib is joining this group of firsts.
Nassib took to Instagram to announce he's gay. When the former Penn State star takes his spot on the D-line for the Raiders in September, he'll become the first-ever openly gay active NFL player. 
Who is Carl Nassib?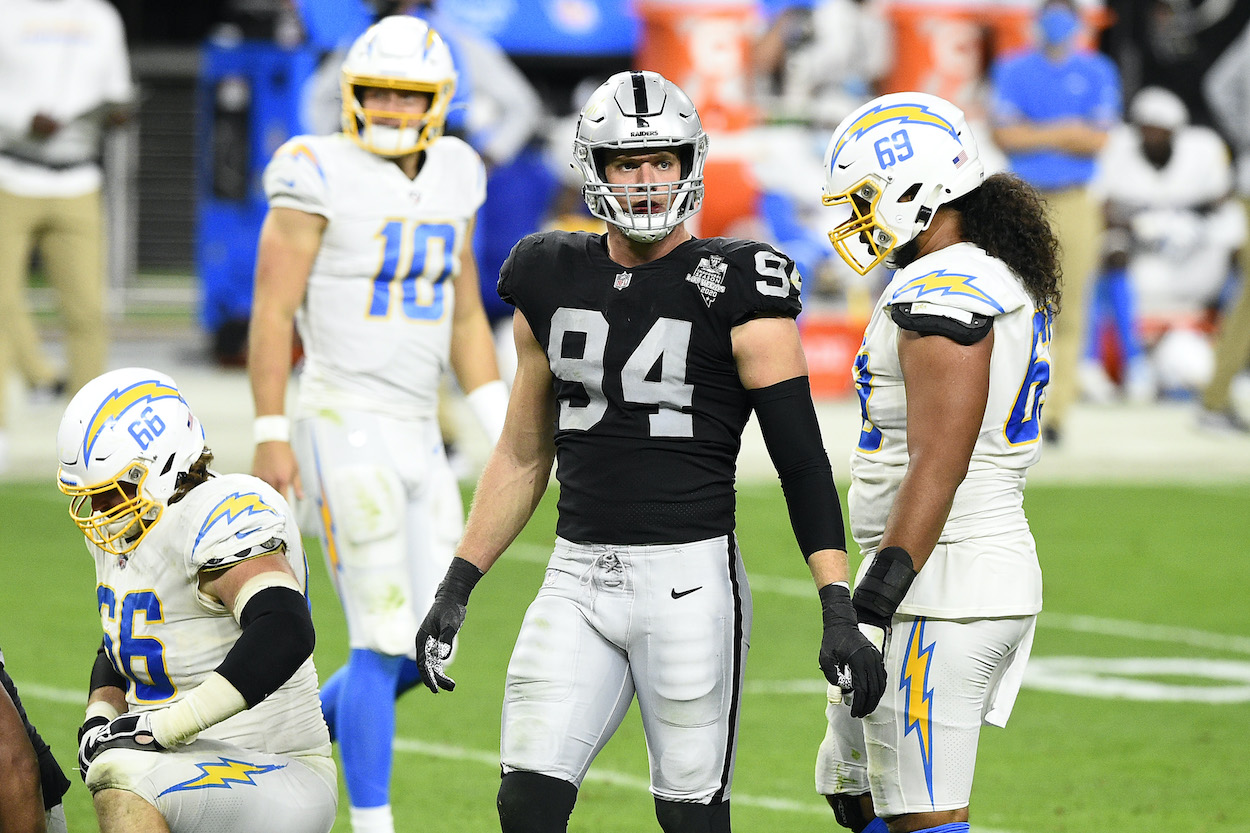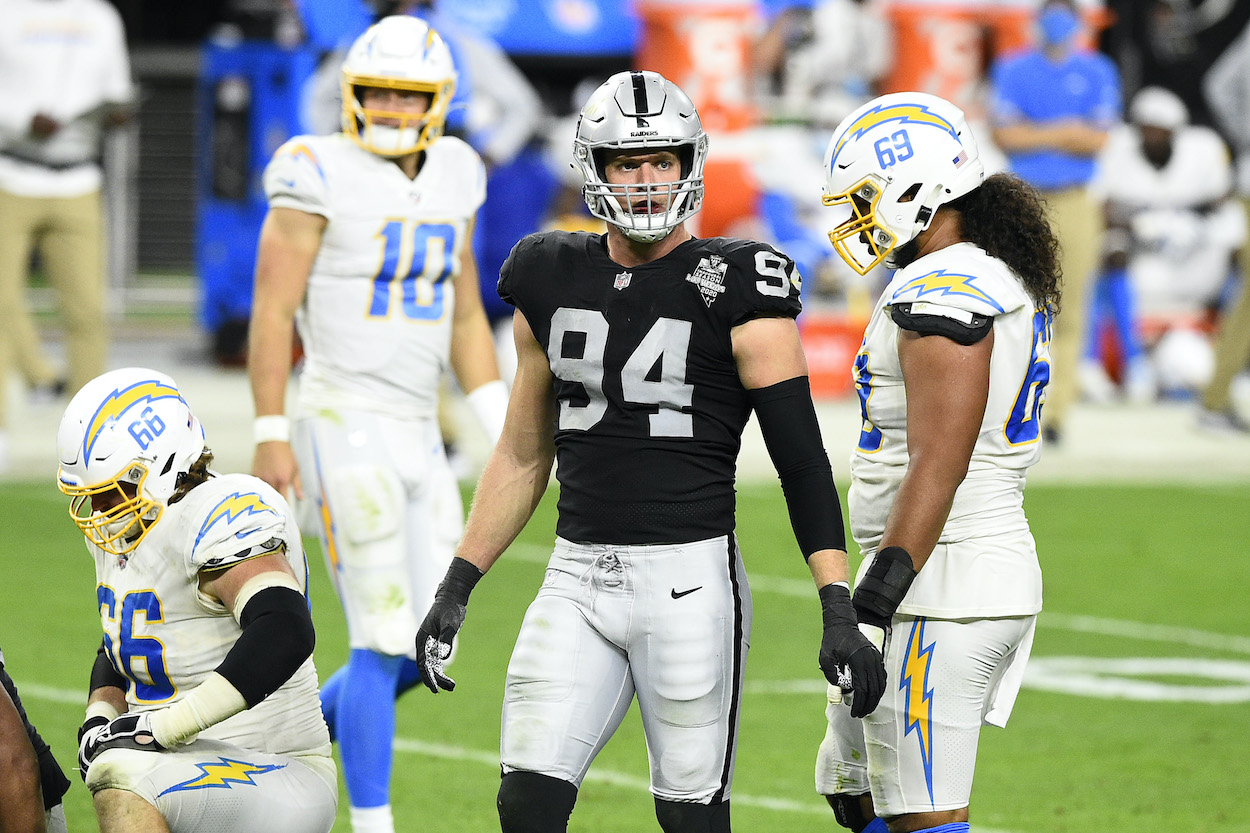 Nassib is a defensive end entering his sixth NFL season. He is from West Chester, Pennsylvania, and played college football at Penn State. Nassib racked up 46 tackles in his senior season, 19.5 for a loss, and 15.5 sacks. These numbers grabbed the attention of NFL scouts, and the Cleveland Browns picked him No. 65 overall in the third round of the 2015 NFL draft. 
Following two years as a rotational role player in Cleveland, Nassib signed with the Tampa Bay Buccaneers in 2018. He started 17 games over his two seasons in Tampa Bay and produced 12.5 sacks. The Las Vegas Raiders rewarded Nassib with a three-year, $25.2 million free-agent deal before the 2020 season. 
The 6-foot-7 28-year old started five of the 14 games he appeared in for the Raiders last season. He only managed 2.5 sacks but added nine QB hits and 28 tackles and recorded his first career interception. 
Carl Nassib came out on Instagram
On Monday, June 21, Nassib releases a short Instagram video announcing he is gay: 
What's up, people, I'm Carl Nassib. I'm at my house here in West Chester, Pennsylvania. I just wanted to take a quick moment to say that I'm gay. I've been meaning to do this for a while now, but I finally feel comfortable enough to get it off my chest.
After the brief announcement, he explained how he is now comfotable enough to do this because he loves his life, his family, his friends, and his job. He also wanted to get on the record that this moment wasn't about gaining attention.  
"I just think that representation and visibility are so important," Nassib said, explaining his decision to come out. "I actually hope that one day videos like this and the whole coming out process are just not necessary. But until then, I'm going to do my best and do my part to cultivate a culture that's accepting, that's compassionate."
In addition to his personal news, Nassib also announced that he would be donating $100,000 to The Trevor Project. The non-profit is "the number one suicide prevention service for LGBTQ youth in America."
Nassib is not the first openly gay athlete playing professional sports 
While Nassib may be the first active NFL player to be openly gay, he is not the first or only openly gay athlete by any means. Perhaps the most prominent power couple in sports these days is USWNT star Megan Rapinoe and WNBA legend Sue Bird. 
With more male athletes having come out in recent years, openly gay athletes in individual sports are more common. For example, skier Gus Kenworthy, diver Tom Daley, runner Tom Bosworth, and figure skaters Adam Rippon and Johnny Weir have all come out during their careers. 
In team sports, fewer players have publically talked about their sexuality. Still, former Cleveland Cavaliers, Orlando Magic, and Utah Jazz center John Amaechi came out after his playing career. In addition, Jason Collins became the first gay active NBA player following his coming out in 2013, just prior to the last year of his career. 
In the NFL, several players have come out after their careers ended, including former New England Patriots and Kansas City Chiefs O-lineman Ryan Callaghan and five-team veteran D-lineman Esera Tuaolo. 
University of Missouri prospect Michael Sam came out during the 2014 NFL Draft process. The then-St. Louis Rams picked Sam No. 247 overall in the seventh round. He played in several preseason games for the Rams and was on the Dallas Cowboys practice squad but never played in an official NFL game. 
Nassib's announcement and soon-to-be history-making season will hopefully make even more athletes comfortable playing as their authentic selves in the future.
All stats courtesy of Pro Football Reference and Sports Reference. All contract figures courtesy of spotrac