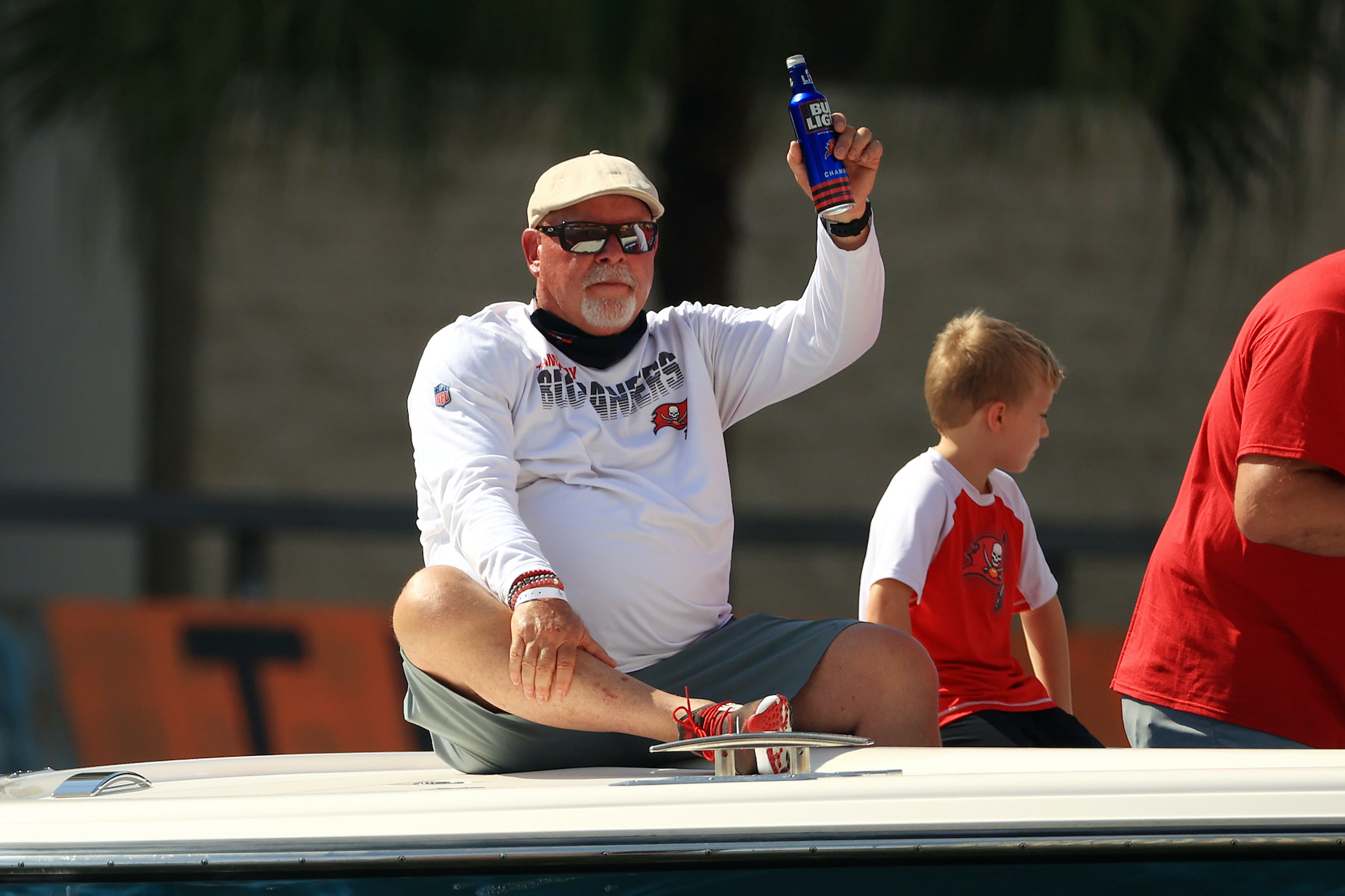 Bruce Arians Believes That Size Does Matter for the Tampa Bay Buccaneers' Super Bowl Rings: 'I Wanted to Be Able to Wear It'
Tampa Bay Buccaneers head coach Bruce Arians had a practical request for the team's Super Bowl rings.
Given the challenges of winning a championship, teams understandably want to commemorate the occasion. In the NFL, that takes the form of Super Bowl rings. With each passing year, those pieces of jewelry have become bigger and more over-the-top. Just ask Bruce Arians about that reality.
Following the Tampa Bay Buccaneers' victory in Super Bowl 55, Arians and his team are slated to get their championship rings at the end of July. Speaking from experience, the head coach had one specific request for the jewelers: keep things small and wearable.
Bruce Arians claimed his third Super Bowl title in February 2021
In the NFL, some players and coaches spend their entire careers hoping for a single championship. During his time on the gridiron, Arians has had the good fortune of winning three Super Bowls.
The coach's first title came in Super Bowl 40 when the Pittsburgh Steelers defeated the Seattle Seahawks. Arians was a wide receiver coach on the Steelers' staff at the time. When the club repeated the feat three years later, he earned another ring as Pittsburgh's offensive coordinator.
Arians' latest Super Bowl title, however, probably means a bit more than those previous two victories. Not only does he get more credit for the win — a head coach is a bit more influential than a positional coach or even a coordinator — but the Buccaneers are a different franchise than the Steelers. Pittsburgh, based on their history, is expected to lift the Lombardi Trophy every few years. Tampa Bay, on the other hand, hadn't found much success since the early 2000s.
While you could cynically argue that any head coach would win the big game with a motivated Tom Brady under center, Arians does deserve some credit. During the 2020 NFL campaign, his Buccaneers looked like a capable team who were hamstrung by a turnover-prone quarterback. He shouldn't be penalized because he received the best replacement imaginable.
The head coach had one piece of feedback for the Tampa Bay Buccaneers' Super Bowl ring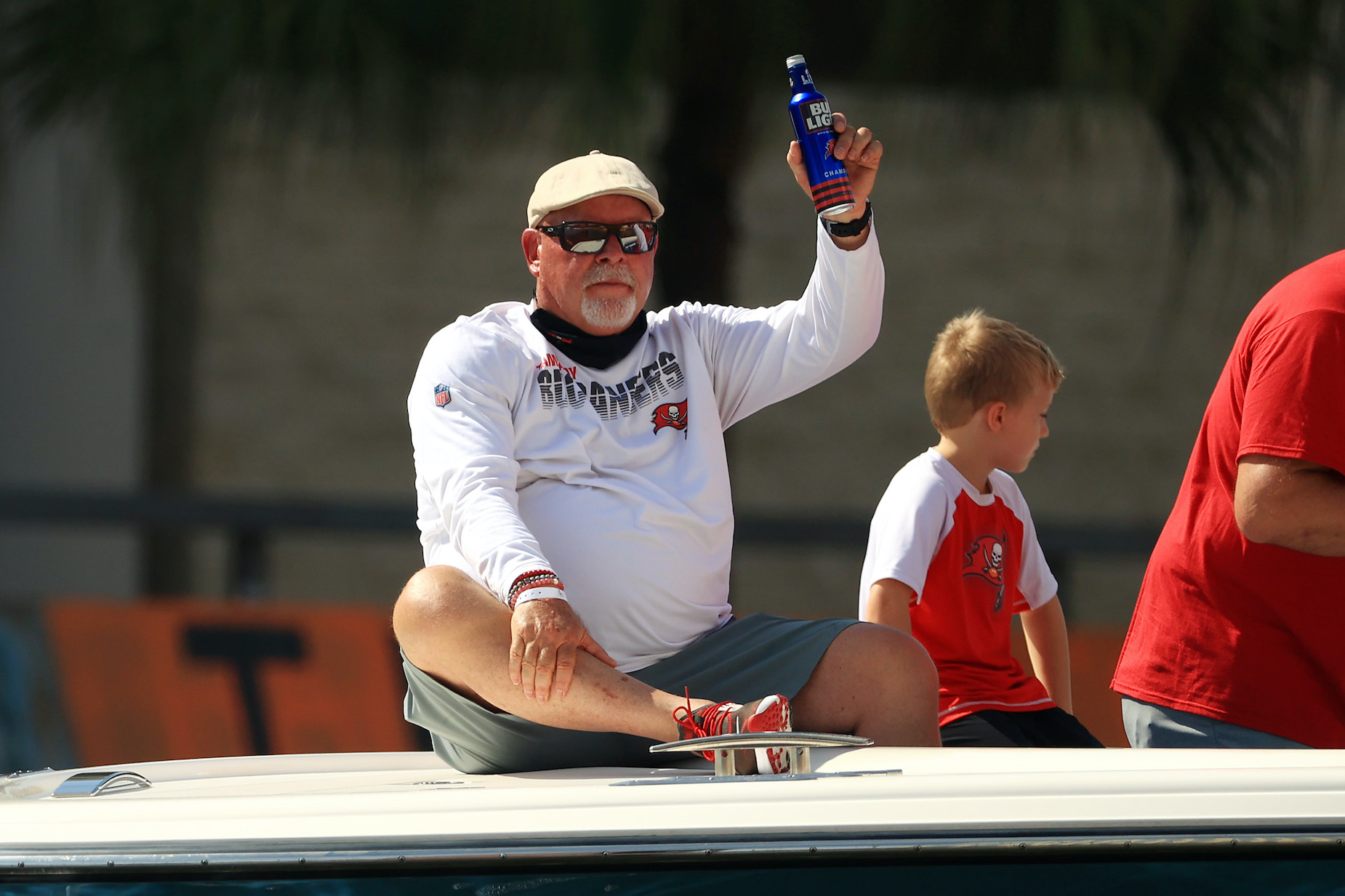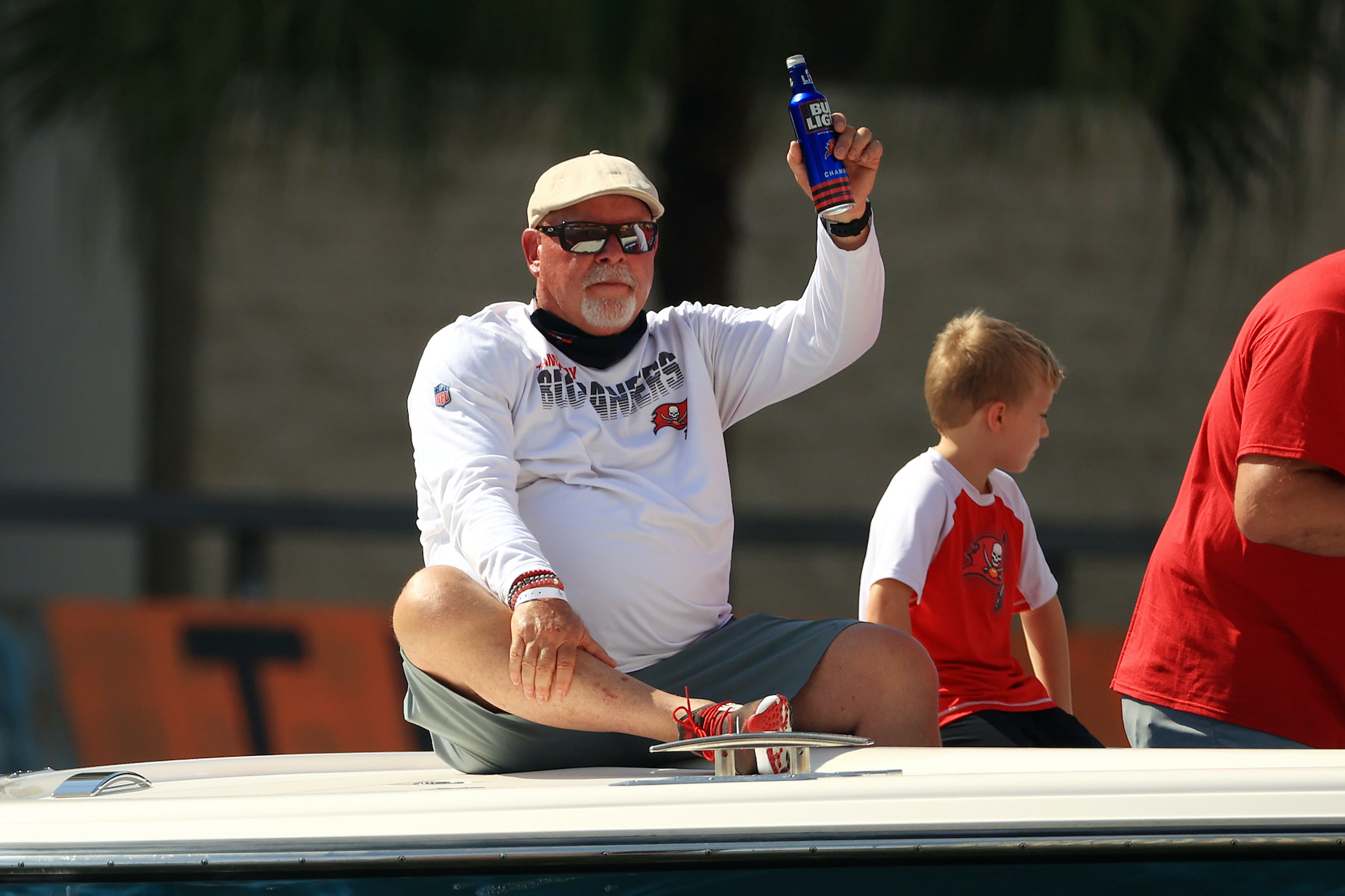 After claiming victory in the big game, the Buccaneers' brass asked select members of the organization for input on their Super Bowl rings. As the head coach, Arians understandably had some say on the matter.
According to the NFL veteran, (ring) size does matter. In his mind, bigger isn't always better.
"My input is that I wanted to be able to wear it," the coach explained on Buccaneers.com. "I have one that's so big you can't wear it. It just sits in a jewelry case. I want to wear it in case I don't have a reservation, and I can get one."
In typical coach fashion, though, Arians isn't too concerned about getting his hands on his newest piece of jewelry. In his mind, it's time to enjoy the moment for one final time, then turn the page on the past.
"It will be a special night [receiving the rings]," said Arians. "Hopefully, we can put it to bed then and get on with next season."
Bruce Arians does have a point about Super Bowl ring sizes
Whether you like his footballing philosophies or not, Arians does have a valid point regarding jewelry. Over the years, Super Bowl rings have ballooned to a massive and impractical size.
That growth can simply be seen by taking a cursory glance at the rings. ESPN has an online feature showing each championship team's commemorative jewelry; the change in scale is obvious, even if you don't have any ideas about diamonds and settings.
The first Super Bowl ring, for example, is a simple gold affair, looking more like a college class ring than anything else. It features a single diamond set in the middle of a globe. That stone, which is the only one in the entire piece, clocks in at .5 carats.
On the opposite side of the spectrum, the Chiefs' 2019 championship ring features 10.5 carats of gems and includes more than 250 diamonds. The central arrowhead alone would make even the wealthiest wearer wonder if every single stone was really necessary.
Purely from a practicality perspective, Arians has a point: modern Super Bowl rings, for better or worse, have become unwearable. When he finally receives his in July, however, the veteran head coach probably won't be complaining. At that moment, being a world champion is all that really matters.