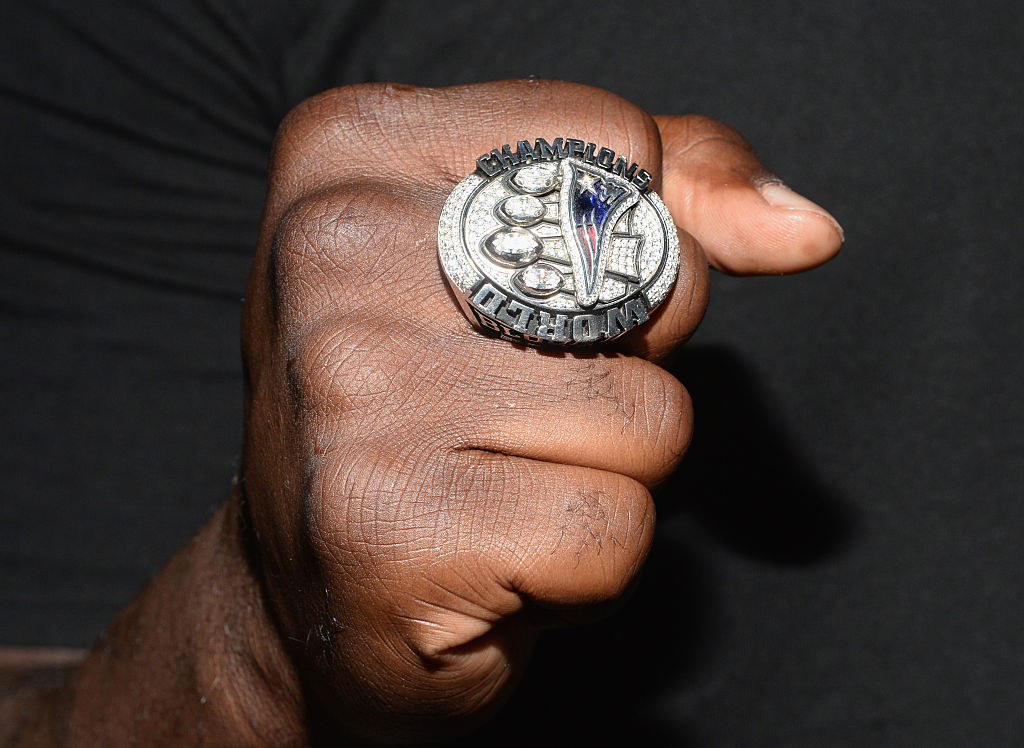 How Many People on a Winning Team Get a Super Bowl Ring?
A championship NFL teams gets 150 Super Rings to give to players, staff, and employees. So, who exactly receives a ring?
Kenjon Barner received a pleasant surprise at his door earlier this year. The running back had been on-and-off with the Patriots all season. While he'd played for New England sporadically, he was off of the team for good by the playoffs. The Patriots went on to win the Super Bowl as Barner sat out as a free agent.
A few months later, a package arrived with a note from Patriots owner Robert Kraft thanking Barner for his service to the team. Also enclosed was a Super Bowl ring, something Barner did not expect. Of course, the former NFL player appreciated the sentiment. But this begs the question: Who exactly receives a Super Bowl ring? Former players? Staff? Read on to learn more.
Who gets a Super Bowl ring? 
Despite playing for the Patriots on three separate occasions, Barner was not expecting a ring. After all, he wasn't even at the ring ceremony one week earlier. Throughout the year, NFL teams go through several end-of-rotation players. Those who win the Super Bowl rarely reward the guys who never made it to the big run. 
According to The Athletic, there are no regulations regarding who does and does not receive a Super Bowl ring, but the winning team is limited to 150 orders for a ring. These are doled out among the team's players, coaches, owners, and high-ranking employees.
Other than that, it is up to the team to decide who is worthy of a ring. An owner can order more if they pay for the rings themselves, and this is precisely what Kraft did. 
Play to win the Super Bowl?
Although it's not rare for the practice squad and injured players to receive rings, not every single player gets one in a given year. This is up to the discretion of the teams. As a result, some interesting people end up with Super Bowl rings. The jewelry can be worth anywhere from a few thousand to much, much more. 
Rings symbolize different things to different people, too. For front-office employees, it can be a bonus for their hard work all season. For players like Carson Wentz, who won a ring despite being injured for the Super Bowl, it can be a sign that their wounds did not lack purpose. Even the losers of the Super Bowl get rings. 
Sometimes, however, these collectibles can end up in truly bizarre places that go beyond even the most generous owner's dreams. 
A single Super Bowl ring between Dan Marino and Vladimir Putin
Barner isn't the most random person to receive a Super Bowl ring from Robert Kraft. That honor goes to Russian President Vladimir Putin. There was a problem with this, however. Kraft had not intended to give Putin a Super Bowl ring. He met with Putin in 2005 and showed him the ring, but Putin pocketed it and later claimed that it was a gift. Kraft initially went along with it, but the truth soon came out. 
Whether Putin was playing coy or trying to steal the ring, Kraft never intended to gift it. Furthering the strange story, the late Senator John McCain found out about the ring and asked Putin to return it. He never responded.
Mark May, Pawn Stars, and a Super Bowl ring
Mark May won two Super Bowl rings during his career, but they went missing. According to the offensive lineman, he left them in a safe at his hotel. Hotel engineer Marcel Behnert found the rings and took them to Gold & Silver Pawn in Las Vegas, a store popularized by History Channel show Pawn Stars.
Behnert requested $12,000 and took far less, raising a red flag from the staff at the pawnshop. They contacted May, who informed them that they were not sold with his permission. The show returned the rings to him.