Bruce Arians Seemed To Throw a Little Jab at Jameis Winston Following the Buccaneers' Comeback Win Over the Chargers
This past Sunday, Bruce Arians watched as Tom Brady notched his first signature win with the Tampa Bay Buccaneers. Down 24-7 in the second quarter to the LA Chargers, the six-time Super Bowl champ led the Bucs to a dramatic 38-31 comeback victory, throwing for 369 yards (his best yardage since Super Bowl 52) and five touchdowns, the first time he's thrown that many in more than three years. Bruce Arians was obviously ecstatic about his new quarterback following the game but also may have thrown a little shade at his former QB, Jameis Winston, when discussing the victory.
Bruce Arians took a dig at Jameis Winston at the end of the 2019 season
When Bruce Arians ended his one-year retirement to become the head coach of the Tampa Bay Buccaneers ahead of last season, he had a lot of faith in quarterback Jameis Winston. But by the end of the year, that faith was essentially gone.
In Winston's and Arians' lone season together, in which the Bucs went 7-9, Winston became the first quarterback in NFL history to throw for 30 touchdowns (he ended the year with 33) and 30 interceptions. Winston did, however, become just the eighth man in history to pass for 5,000 yards and it was later revealed that he played the entire season with a broken thumb. But that didn't stop Arians from taking a shot at his quarterback following the team's final game, a 28-22 overtime loss to the Falcons, a game that ended with Winston throwing a pick-six. This is what Bruce Arians had to say when asked if he thought the Buccaneers could win with another quarterback (h/t ESPN).
"Another quarterback? Oh, yeah. [If] we can win with this one, we can definitely win with another one too. We're going to have this defense."

Bruce Arians
That likely wasn't the vote of confidence Jameis Winston was looking for heading into free agency. As we all know, the Buccaneers opted to sign Tom Brady while Winston signed a one-year deal to be the backup to Drew Brees with the New Orleans Saints. But it kinda sounds like Bruce Arians took another shot at his former quarterback on Sunday.
Did Bruce Arians take another shot at his former QB?
In addition to the shot Bruce Arians took at Jameis Winston at the end of the 2019 season, there were a few other little jabs in the offseason. However, it should also be noted that Arians was also very vocal in supporting Winston as he searched for a new job and also called numerous teams on his behalf. But he still can't seem to get past last year and may have taken another little shot at his former quarterback following Sunday's comeback win over the Chargers (h/t NFL.com).
"We knew we played poorly. It was just a show of character. I can honestly say, had this been last year, we would have gotten our ass beat by 20. [With] Tom — he's never behind in his mind, so we can always make plays to win games."

Bruce Arians
Ouch. So on the surface, it seems that if Bruce Arians is saying that Jameis Winston could have never led the type of comeback that Tom Brady led on Sunday, doesn't it? Well, as it happens, Winston did pretty much the exact same thing late last season.
Jameis Winston actually led the Buccaneers to a similar comeback victory last December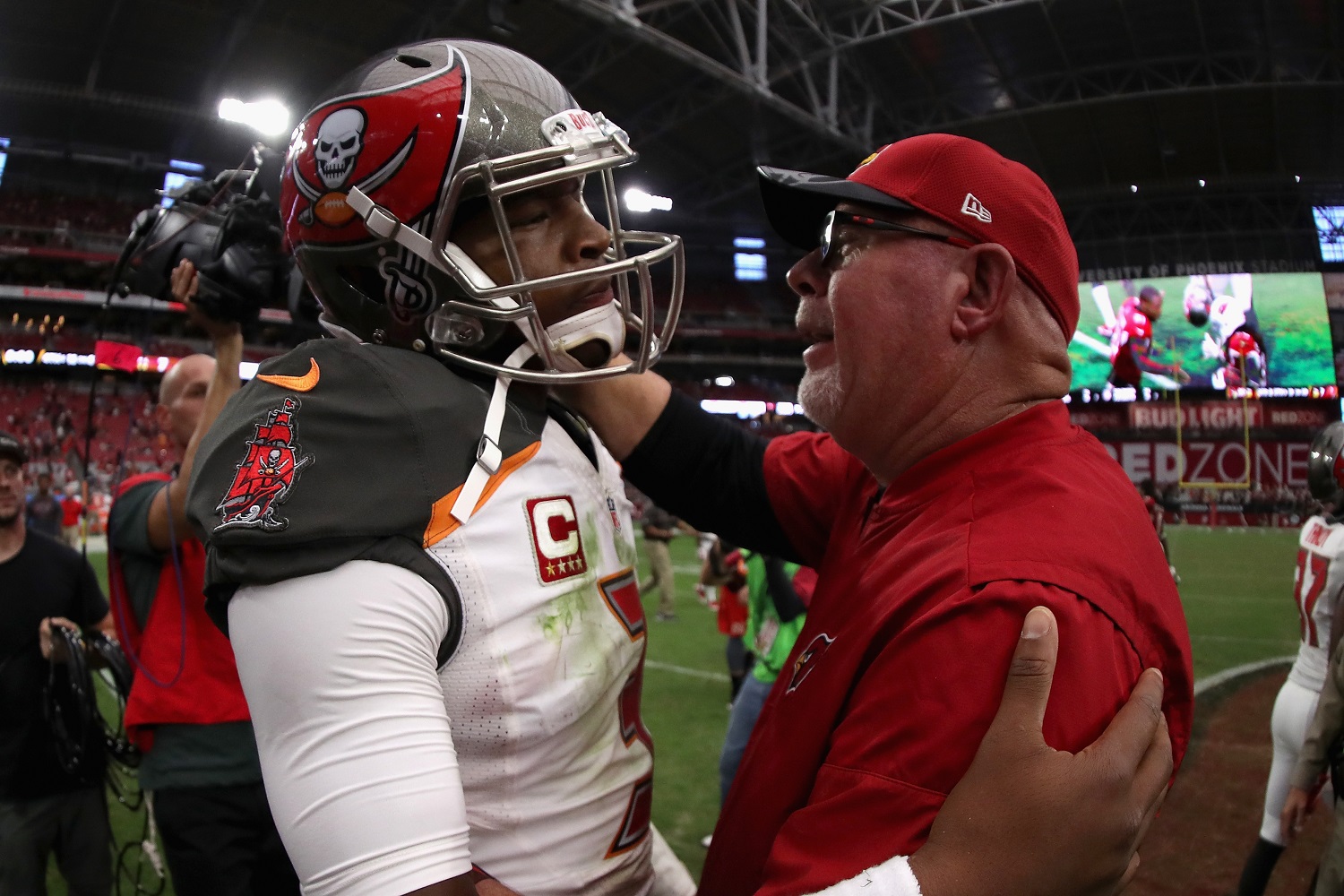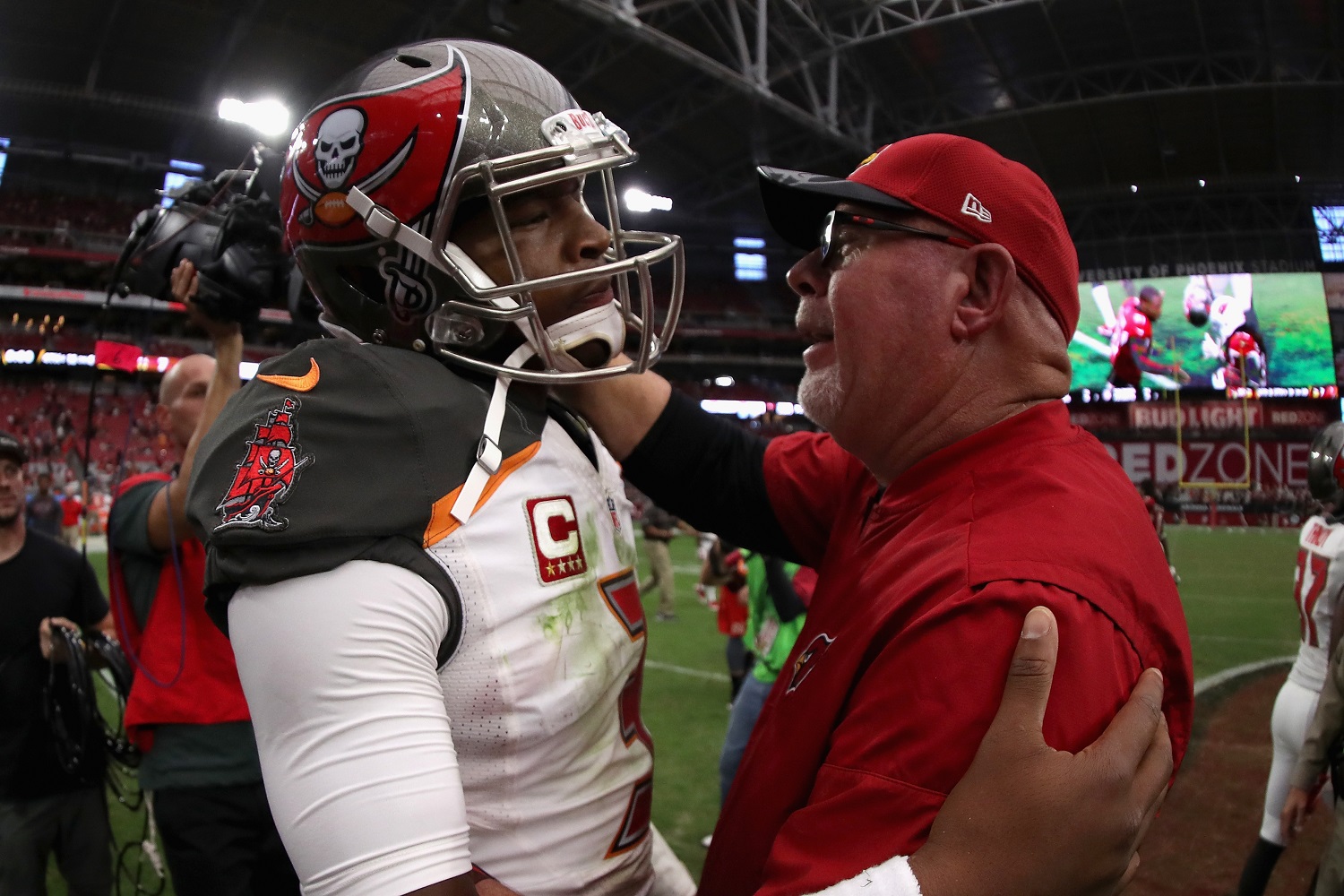 In Week 14 of the 2019 season, the Tampa Bay Buccaneers found themselves down by 14 points, 35-21, to the Indianapolis Colts with 5:59 remaining in the third quarter. At that time, the Colts' win probability was at 90.3%. But you know what happened? Jameis Winston led the Bucs to a dramatic comeback victory.
Without Mike Evans, who left the game in the first half with a hamstring injury, an injury that cost him the rest of the season, Winston led two touchdown drives and a field-goal drive to give the Buccaneers a 38-35 victory. Yes, there was an interception in there (he had three on the day) as this is still Jameis Winston we're talking about it here. But he didn't let it get to him and ended his day with 456 yards and four touchdowns while completing 33 of 45 passes.
Nobody is saying that Jameis Winston is Tom Brady and nobody will ever say that. But for Bruce Arians to say that the Bucs wouldn't have come back against the Chargers this past Sunday with last year's team, namely last year's quarterback, is just misguided as there's clear proof that Jameis Winston pulled off the exact same thing against a better team.