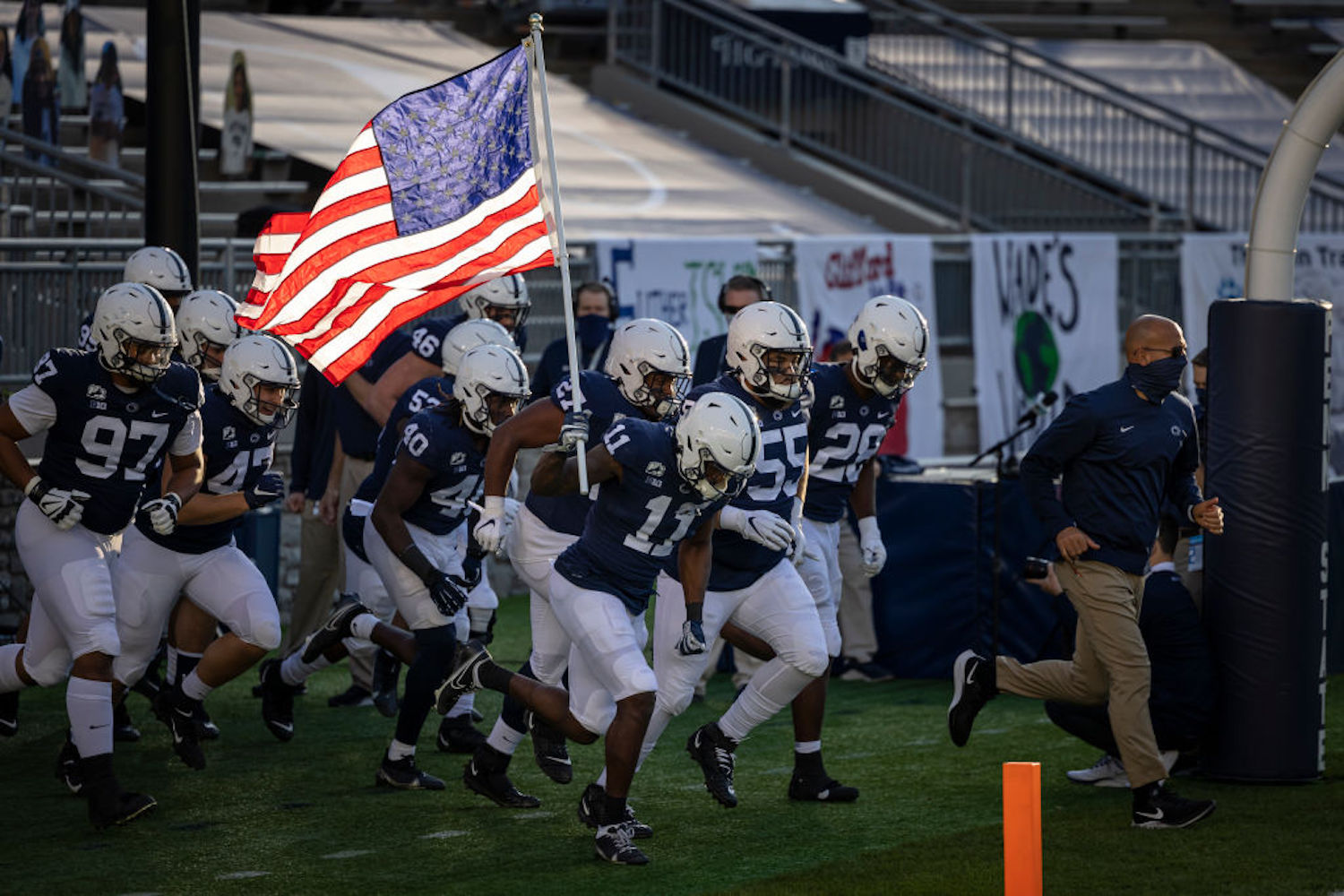 Has Penn State Ever Had a Winless Football Season?
Penn State is off to its first 0-5 start in program history, but have the Nittany Lions ever gone through a full season without a single win?
Penn State football is off to its worst start in school history, and that sure is saying a lot for a program that's been around for over 130 years. The Nittany Lions have started the 2020 season 0-5 after being ranked No. 7 in the country to start the year.
James Franklin's crew is just fighting to put a number other than zero in the win column at this point in the season. If it can't, would it be the first winless season in Penn State history?
Penn State is an iconic college football program
When you think of the blue bloods in the long and storied history of college football, Penn State is among the list. The Nittany Lions have seven total national championships (two claimed, five unclaimed), 30 bowl victories, a .687 all-time winning percentage, 42 consensus All-Americans, and a Heisman Trophy winner.
Penn State was a dominant program dating all the way back to 1911, and they've continued that success through the 21st century. The Nittany Lions have put together 15 straight winning seasons dating back to 2005. They've gone through three head coaches over that span, but the expectations remained the same.
Franklin led Penn State to a Big Ten title in 2016, which was just his third year with the team. He's led the blue and white to three 11-win seasons in the last four years, but 2020 isn't going as smoothly.
Penn State is off to its worst start in program history
Penn State entered the 2020 season with sky-high expectations. They were ranked No. 7 in the country coming off a dominant Cotton Bowl victory over Memphis to finish the 2019 season, and most of their production was returning this fall.
Then, COVID-19 struck. Star linebacker and Penn State's best all-around player, Micah Parsons, opted out of the season. A week before the season opener, Penn State lost another crucial piece when starting running back Journey Brown announced he would be out for the year with an undisclosed medical condition.
The Nittany Lions hung tough in their first game against Indiana, but the Hoosiers knocked them off in overtime on a walk-off two-point conversion. Penn State fell the next week to Ohio State in a quiet Beaver Stadium, and the nightmare officially began.
The Nittany Lions proceeded to lose to Maryland at home as 28-point favorites the next week. Then, they lost to Nebraska and Iowa is back-to-back weeks to drop their fourth and fifth straight games. It's the first time in the program's 133-year history Penn State has started a season 0-5.
Has Penn State ever had a winless season?
In a shortened, eight-game season, Penn State is in serious danger of finishing the year with a zero in the win column. But has that ever happened before in the program's storied history?
In short — no.
Even during the late 1800s and early 1900s with seven-game seasons, Penn State won at least one game every year since the program was founded. In fact, the Nittany Lions only had one season in which they managed just one win. That was in 1918. They only played four games.
Penn State won at least two games in every other season of its existence. That's likely to change this year with only three more chances to muster a win in 2020.
All stats courtesy of Sports Reference