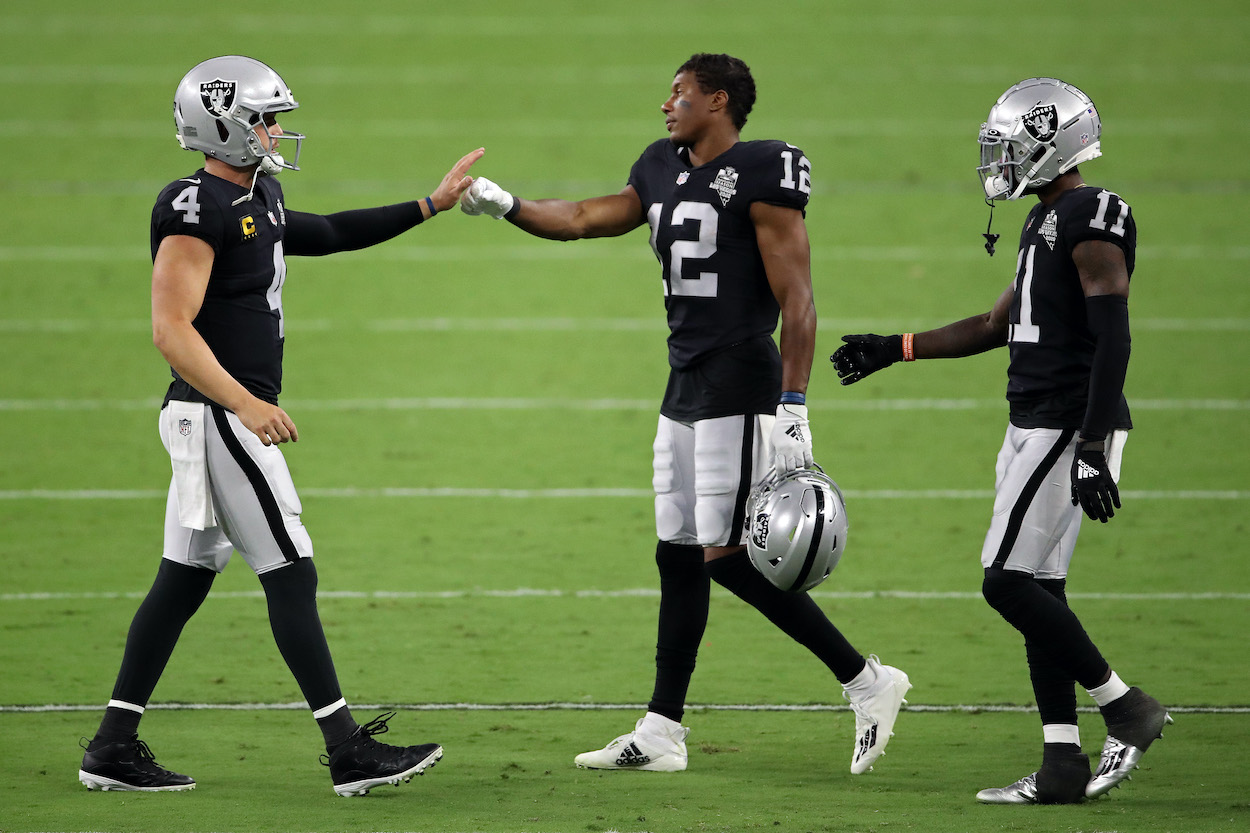 Derek Carr Throws Down the Gauntlet for His Young Las Vegas Raiders Wide Receivers: 'It's up to You if You Want to Make SportsCenter or Not'
The Las Vegas Raiders have a talented young group of pass-catchers and Derek Carr knows they need to step up for the team to win in 2021. If they do, Las Vegas could be a playoff team this season.
The Las Vegas Raiders have improved in the win department in each of head coach Jon Gruden's three years at the helm in Oakland and Las Vegas. After a .500 season in 2020, the Raiders are looking to make a playoff push with quarterback Darren Carr, tight end Darren Waller, and running back Josh Jacobs. The key to another improvement this season might be the young, talented wide receiver group. Carr certainly understands this and is challenging his inexperienced pass-catchers to step up and deliver.
The Las Vegas Raiders have a talented but inexperienced wide receiver group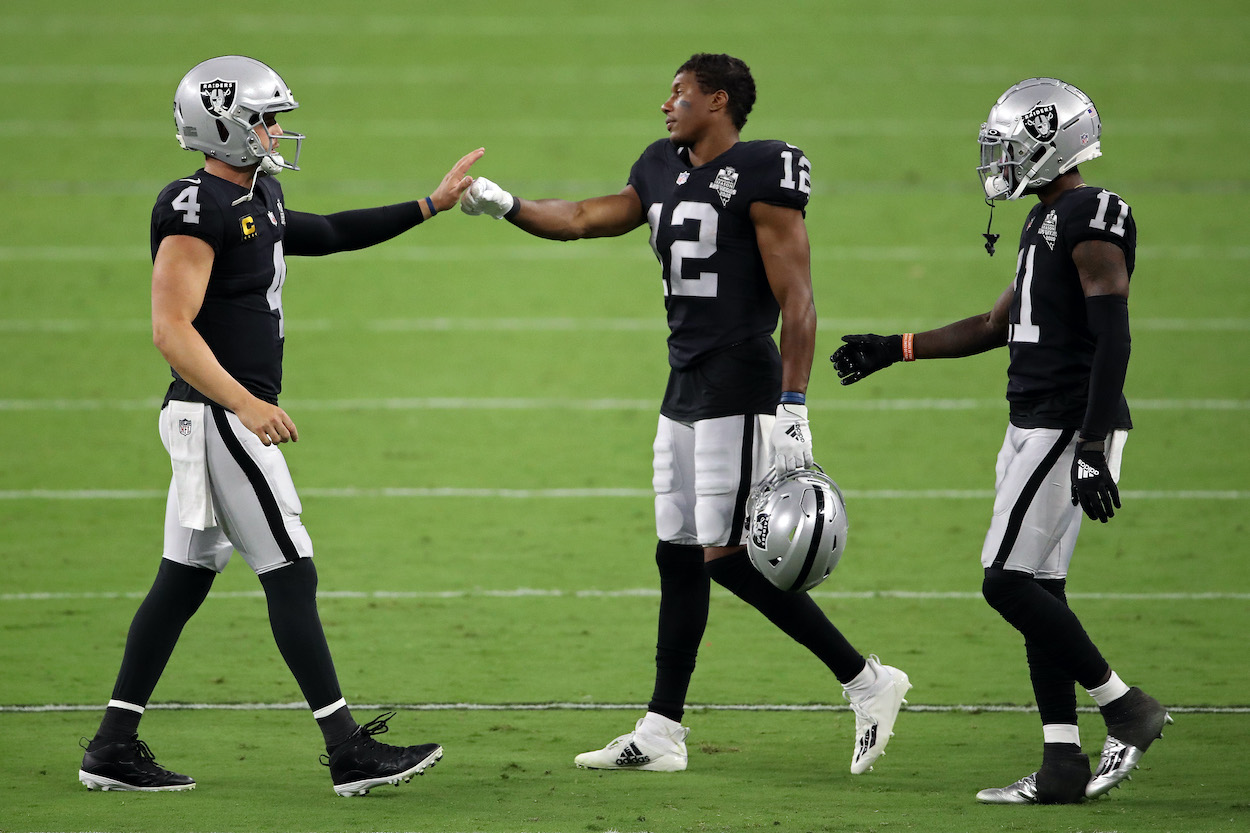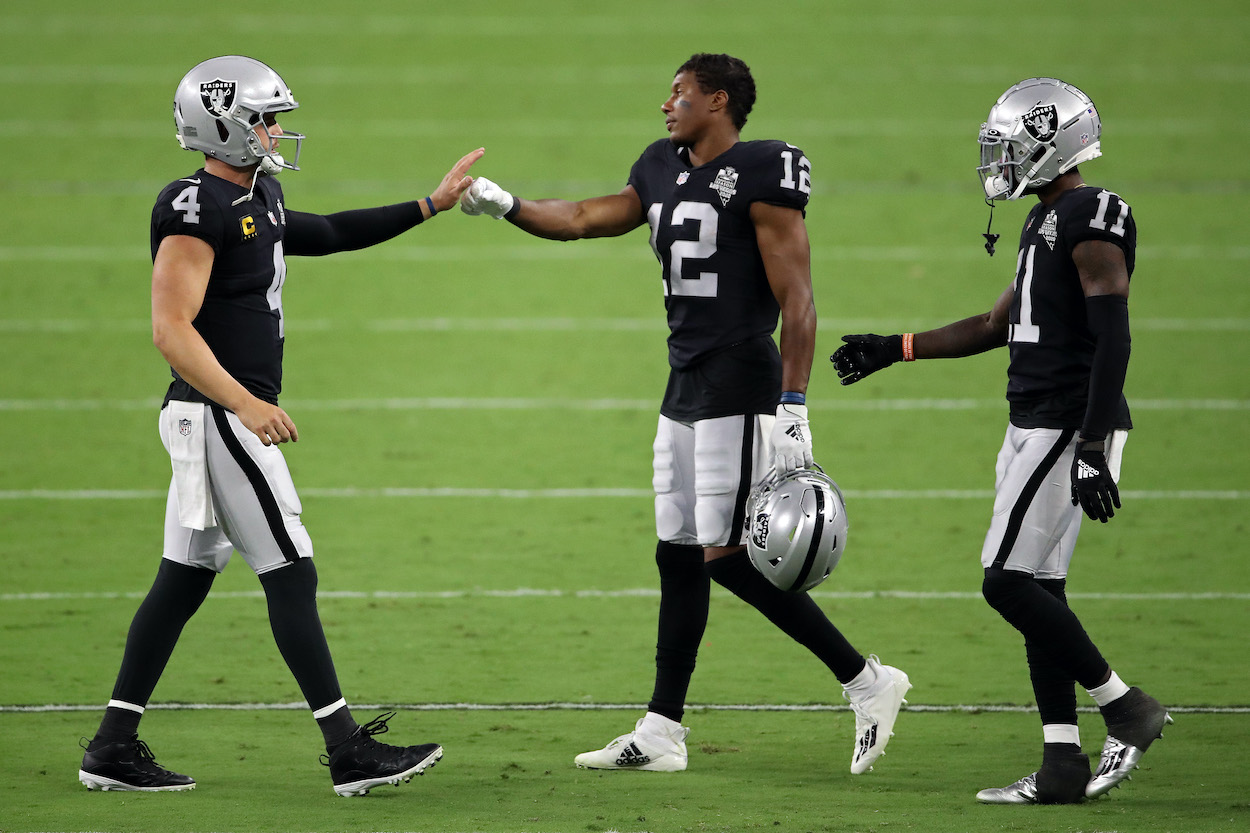 Jon Gruden and general manager Mike Mayock have put together a young, talented group of wide receivers with a diverse range of skills.
The group consists of last year's first-round draft pick Henry Rugs III out of Alabama ad Bryan Edwards, a third-round pick in the 2020 draft from South Carolina. There is also third-year pass-catcher Hunter Renfrow from Clemson and veterans Zay Jones and Willie Snead from East Carolina and Ball State, respectively.
All these receivers bring a different skill set to the party and offer Derek Carr different options on each play.
Ruggs is a flat-out speed-burner who can take the top off a defense. The top pick struggled in 2020 but showed flashes with a 79-yard catch, a 49-yard rush last season, and two touchdowns. Edwards is a big-bodied receiver at 6-foot-3, 212-pounds, but struggled last year as well with injuries. Las Vegas has a lot of faith in this duo, though, hanging over the Nos. 1 and 2 WR slots to them in 2021.
Renfrow is a classic slot receiver who is a safety blanket for Carr and can move the chains. In 2020, the former Tiger had 56 catches for 656 yards and two touchdowns. Jones and Snead are both versatile and experienced. They can spell either of these three when needed or become dangerous fourth receiver options.
Derek Carr challenged his receiver to make plays
Carr knows he has a wideout group with a ton of potential, but it is up to him in a lot of ways to make sure these young talents reach their potential.
The former Fresno State QB had career highs last season in yards (4,103), yards per completion (11.8), and Quarterback Rating (101.4). However, that only translated to an 8-8 record to bring his career mark to 47-63.
Despite the record, Carr hasn't had this type of talent on the outside since Amari Cooper, and Michael Crabtree played receiver for the Raiders. Now, Carr finally has a group that might be able to equal or even best that duo.
To get the best out of Ruggs, Edwards, Renfrow, Jones, and Snead, Carr says he will throw them the ball with confidence, but it's up to them to make the play great after that. He challenged the group, telling  ESPN:
I have a group of wideouts that I trust, that when I drop back, I'm going to throw the ball up to them. And I told them, 'It's up to you if you want to make SportsCenter or not. I'm going to throw it to you because you guys have the talent and the ability to go make these plays.'"

Derek Carr on his wide recievers
That is a lot of confidence for such a young group, but it could pay off big if these playmakers can make the highlight-reel plays they are capable of and made in college and at previous stops.
Carr and his pass catchers' 2021 debut is against the Baltimore Ravens on 'Monday Night Football.'
The first opportunity for the world to see Derek Carr and the Las Vegas Raiders' 2021 receivers group will be on a big stage. The Silver and Black open the season against the Baltimore Ravens on Monday Night Football.
While the Ravens offense took injury-hit after injury-hit this preseason, the defense should be good as usual. The team did lose their top corner Marcus Peters to a knee injury last week. However, the secondary still features Pro Bowler Marlon Humphrey, and Anthony Averett is a capable backup.
Baltimore also should have a fearsome pass rush with veteran sack artist Justin Houston and first-round pick Odafe Oweh from Penn State.
The defense is a strength for the Ravens, and Carr will have to be smart with the ball and get it out and into the hands of his playmakers fast. If those receivers can then turn those short passes into big gains, the Raiders will have a chance to win their opening game in the quest to make the playoffs for the first time under Gruden.
This is a make-or-break season for Gruden, Mayock, Carr, and many players in the Raiders organization. The talented pass catchers will play a massive role in the team's success and, by extension, who stays and who goes in 2022.
All stats courtesy of Pro Football Reference