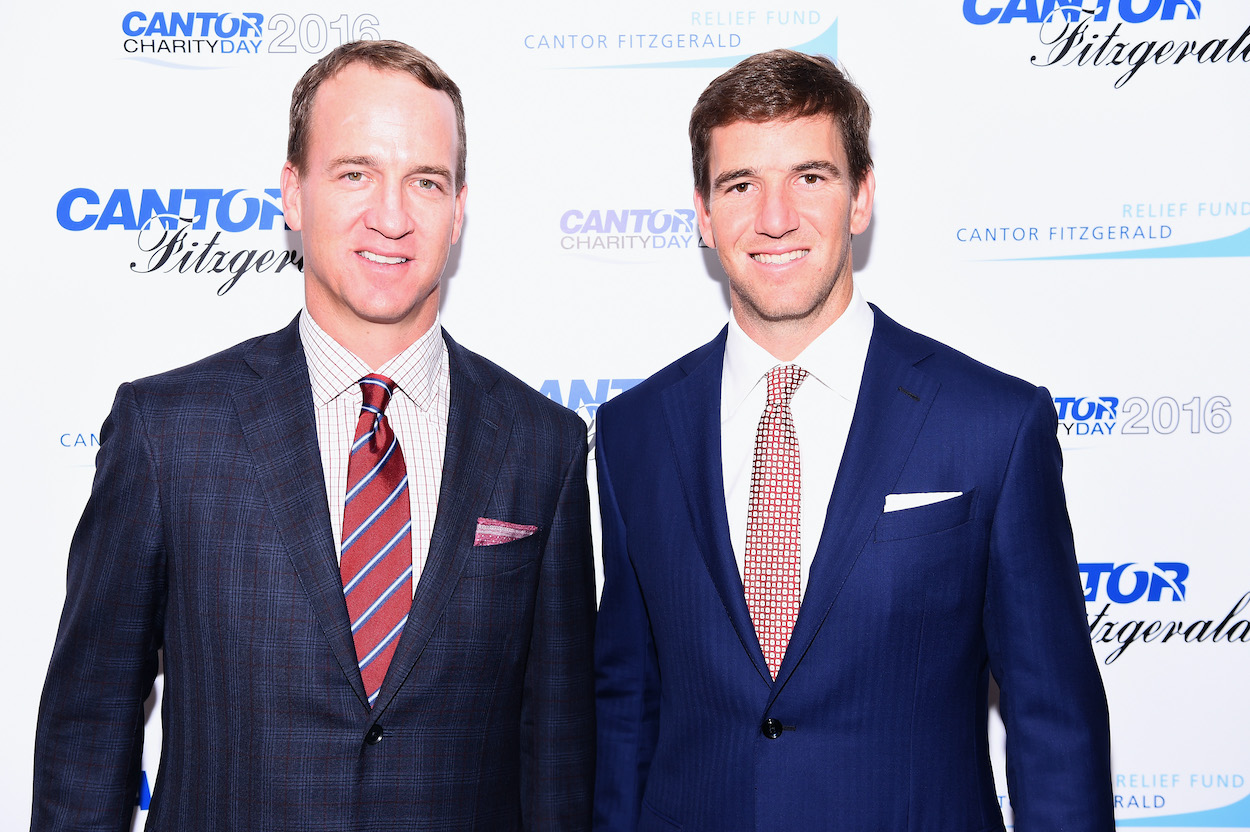 Peyton and Eli Manning Will Make 'Monday Night Football' History in 2021 Co-Hosting an Unprecedented Broadcast for ESPN
Peyton and Eli Manning are bringing their 34 years of NFL experience to the 'Monday Night Football' broadcast for the next three seasons. The Manning brothers, who've won four Super Bowls combined, will host an alternate broadcast on ESPN2. This isn't the first time MNF has gone outside the box for its broadcast.
Peyton Manning was one of the faces of the NFL for almost 20 years as the Super Bowl-winning quarterback for the Indianapolis Colts and Denver Broncos. His brother Eli Manning led his New York Giants to two of the most iconic Super Bowl wins in league history. These two know all about making history. 
In 2021, these record-setting brothers will make history once again. This time, though, it will be from the broadcast booth away from the field instead of on it. 
The Manning Brothers have 34 years of NFL experience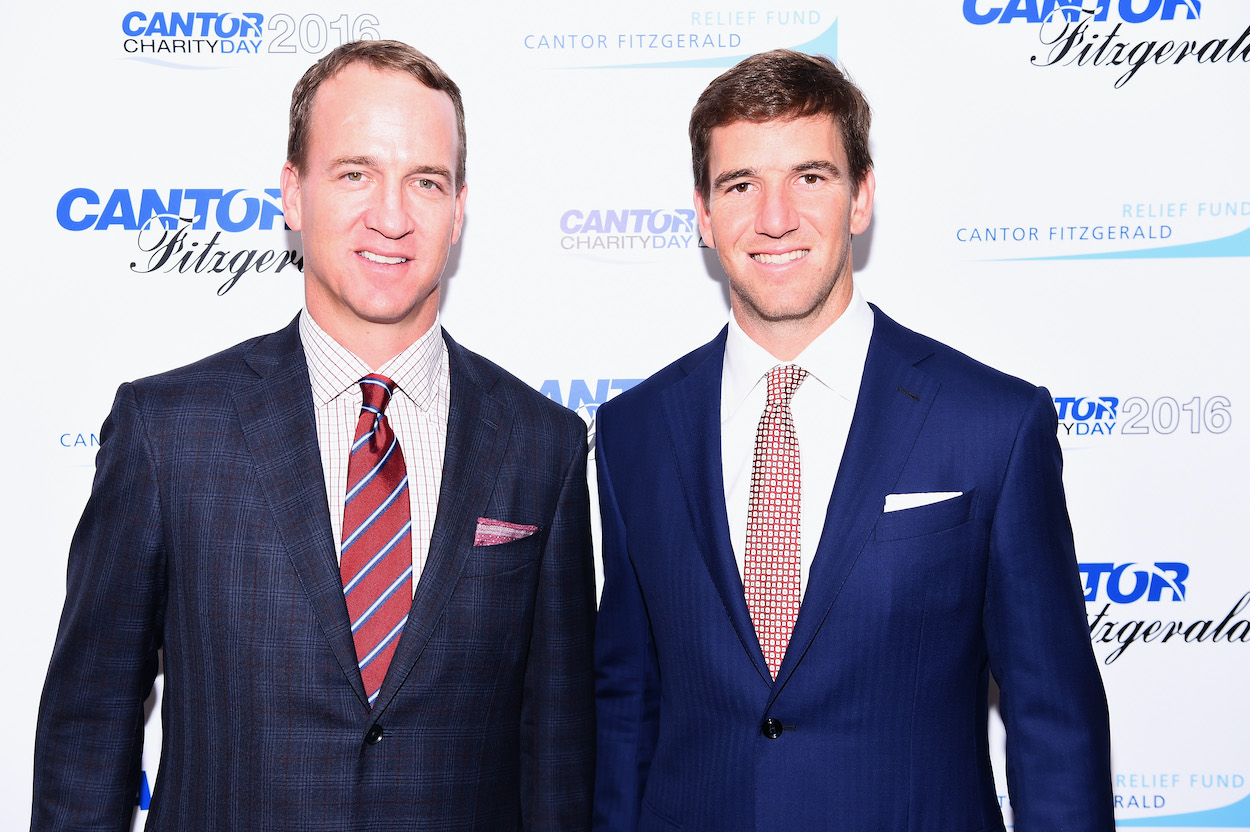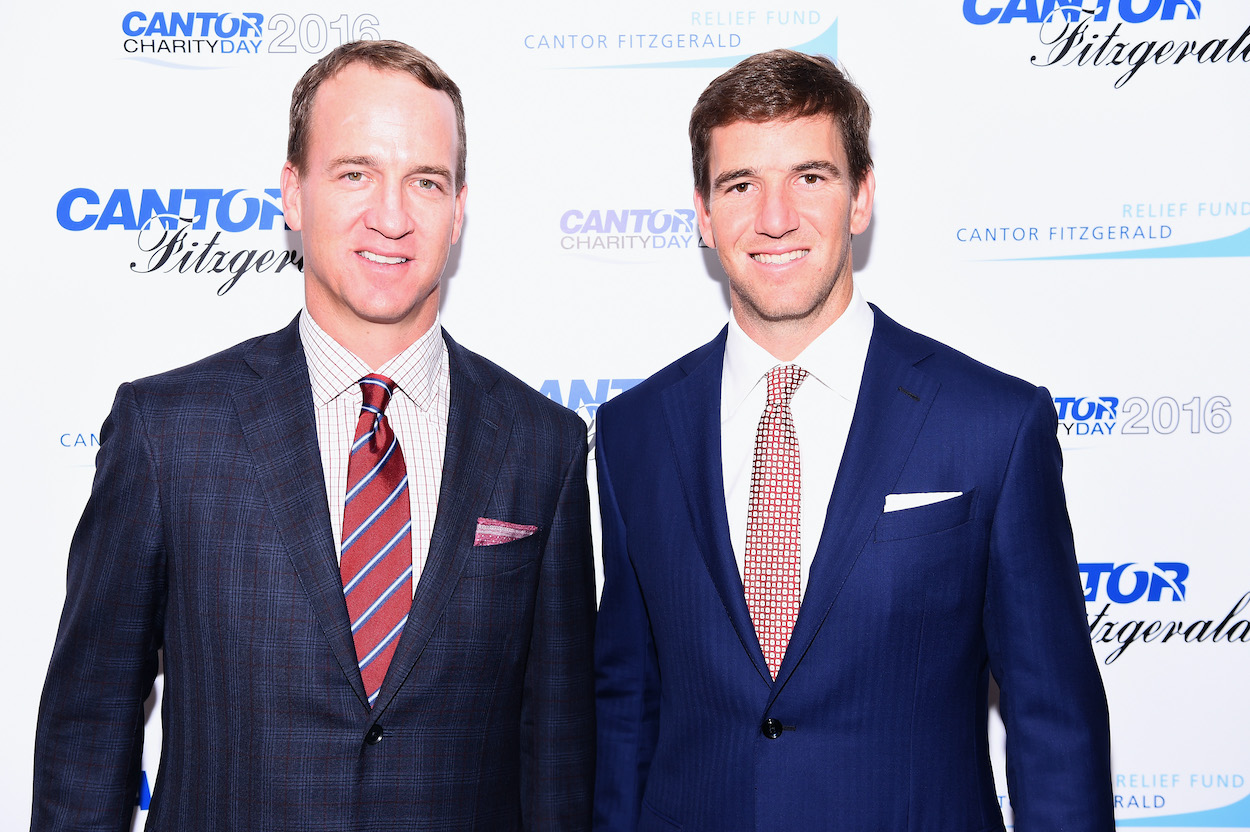 Archie Manning played quarterback for 14 seasons in the NFL, mainly for the New Orleans Saints. He retired in 1984 with 23,911 passing yards and 125 touchdowns. 
Fourteen years after Archie left the league, his middle son Peyton was the No. 1 overall pick of the 1998 NFL draft. Six years later, his youngest son Eli also went No. 1 overall. Both Peyton and Eli would become great QBs, but they'd do it in very different ways. 
Peyton is one of the greatest quarterbacks of all time. His resume is impeccable. The former Tennessee Volunteer has 14 Pro Bowls, seven All-Pros, five NFL MVP awards, and is third all-time in passing yards with 71,940. He also won two Super Bowls – one with each of his teams – but the second came well past his prime years. 
Eli is the New York Giants career-leading passer with 57,023 passing yards and 366 touchdowns. He also threw 244 career interceptions and had a regular-season record of 117-117. Where Eli made his name is in the Super Bowl. In 2007 and 2011, Eli and his Giants outdueled his brother's nemesis, Tom Brady and the New England Patriots. 
Peyton has the numbers, but Eli was better when the chips were down. They were both great, just in different ways. 
Peyton and Eli Manning will host an alternate 'Monday Night Football' starting in 2021
Now retired, Peyton and Eli will bring their wealth of knowledge, along with their varied styles, to ESPN's Monday Night Football. 
ESPN announced a three-year deal – starting this season – for Peyton and Eli Manning to host an "alternate broadcast" of 10 MNF games a year on ESPN2. This first-of-its-kind broadcast will allow viewers to (virtually) sit on the couch with the Manning brothers while two great QBs talk football. 
"Peyton and Eli will bring a different approach," says Chairman of ESPN and Sports Content Jimmy Pitaro, "Delving into conversation about broader, big-picture topics while also honing in on the game, much like fans do when watching with their family and friends."
The Worldwide Leader goes on to explain what viewers can expect from the broadcast:
Fans will be treated to a mix of in-the-moment analysis, big picture NFL dialogue, knee-jerk reaction, historical perspective, and more. Peyton and Eli will be joined each week by a to-be-determined host. Iconic and current athletes, as well as celebrities, are expected to appear throughout the season. Fans will never miss any of the action, as a multi-box viewing experience will ensure the game is always visible.
The Peyton and Eli Manning alternate broadcast, produced by Peyton's Omaha Productions, should be an incredibly inventive and interesting alternative for football fans.  
'Monday Night Football' has experimented before
This isn't the first time Monday Night Football has stepped outside of the proverbial box with its offerings to fans. 
The standalone NFL game set the precedent in many ways for the modern, big-game announcing booth from its inception. The trio of Howard Cosell, "Dandy" Don Meredith, and Frank Gifford (who came on in year two, replacing Keith Jackson) was the first three-person booth in television. 
The number of announcers has varied through the years, but the broadcast's willingness to take chances remained the same. 
Two of the biggest experiments came in the last two decades. In 2000, the announcing team added comedian and former Saturday Night Live cast member Dennis Miller to the booth. Miller lasted two years and was met with mostly negative reviews (although the writer of this piece may have enjoyed his humor and obscure references). 
In 2006, MNF once again tried to inject a different personality into the booth by adding former Washington Post columnist and Pardon the Interruption co-host Tony Kornheiser to the mix. While this worked slightly better than Miller, the idea still ultimately failed after three seasons. 
The reason the Peyton and Eli Manning alternate broadcast is different and may have a better chance at success is that ESPN will still have the traditional broadcast – now with Steve Levy, Brian Griese, Louis Riddick, and Lisa Salters – for those who don't like change. 
All stats courtesy of Pro Football Reference