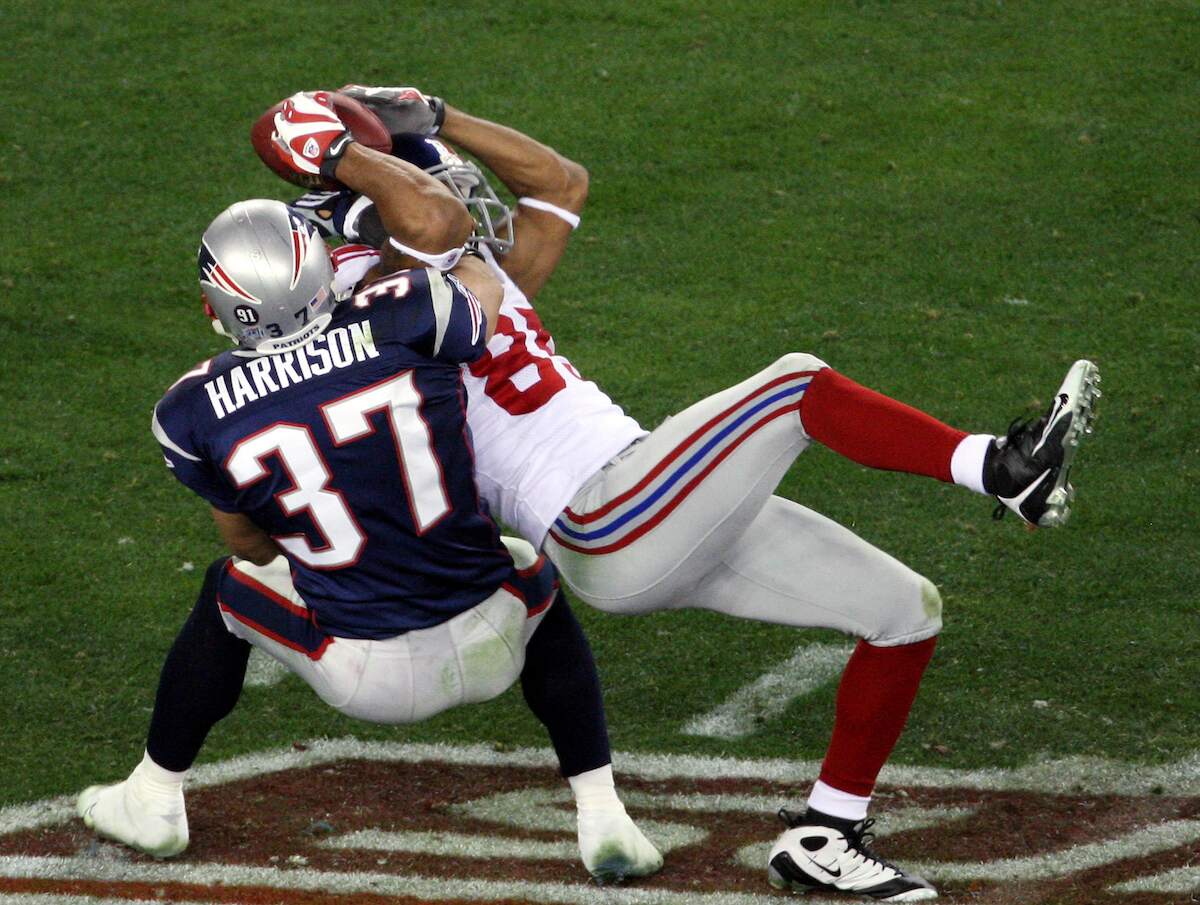 David Tyree 'Couldn't Catch a Cold' in Practice, Says Former New York Giants Teammate
Super Bowl hero David Tyree "couldn't catch a cold" in practice, said one of his former New York Giants teammates.
David Tyree wasn't one of the top wide receivers in the NFL, but whenever the Super Bowl rolls around, his name always seems to pop up.
Tyree is remembered for making a crucial catch against his helmet during Super Bowl 42. The catch saved the day for the New York Giants, who upset the New England Patriots 17-14. While Tyree's catch lives on, a former Giants teammate has said Tyree "couldn't catch a cold" in practice.
David Tyree's football career
David Tyree played college football at Syracuse, suiting up for four seasons and having his best year as a senior. In his final college season, Tyree had 36 catches for 559 yards and three touchdowns. The 6-foot, 206-pound wide receiver was a sixth-round pick of the New York Giants in the 2003 NFL Draft.
Tyree was never more than a backup wide receiver in the NFL. He played five years with the New York Giants and never had more than 19 catches in a season. That came in 2006 when he also had a career-high two touchdowns.
Tyree made his presence felt on special teams. The New Jersey native was selected to the Pro Bowl in 2005 for his special-teams skills. Tyree missed the entire 2008 season after suffering a knee injury during training camp. He hooked on with the Baltimore Ravens in 2009 but didn't have a catch in 10 games.
Tyree's Super Bowl catch
David Tyree didn't expect to become a Super Bowl hero. Why would he? During the 2007 season, he was targeted five times. He had four catches all season. Zero touchdowns. In Super Bowl XLII, Tyree's life changed. Tyree had one of the most memorable catches in Super Bowl history. He also had another pretty important one, too.
Tyree's "other" catch came first. The 5-yard touchdown catch put the New York Giants up 10-7 over the New England Patriots early in the fourth quarter. He saved his best catch for last. After the Pats took a 14-10 lead when Tom Brady hit Randy Moss for a 6-yard score with 2:42 left, Tyree came up big.
On third-and-5, Giants quarterback Eli Manning avoided a sack and lofted a pass down the middle of the field. Tyree leaped and pulled down the ball, pinning the ball against his helmet with his right hand. The 32-yard completion set up a Manning-to-Plaxico Burress 13-yard touchdown pass with 35 seconds left.
"For me, it's this moment that I call the monumental moment," Tyree said in July, according to USA Today. "It's always something that I can go back to and celebrate with fans and teammates. And to be a part of history is pretty monumental. It's amazing."
Former Giants teammate said Tyree 'couldn't catch a cold'
During a 2021 episode of the All Things Covered podcast featuring co-hosts Patrick Peterson and Bryant McFadden, retired running back Brandon Jacobs was a guest. The former New York Giants player was asked if David Tyree's catch should go down as one of the best plays in Super Bowl history.
"Absolutely," Jacobs said. "David couldn't catch a cold all week long, man, in practice. David couldn't catch a cold soaking wet, standing in Alaska in negative 30 degrees. Could not catch a cold at all. You know, he was dropping everything, hitting them in his hands."
Jacobs said Tyree came through when it counted. "He ended up having two major plays in that game for us to be able to go on and win that game," he said. "But that catch when he caught the ball against his helmet, that's one of the best catches in Super Bowl history."
Stats courtesy of Pro Football Reference