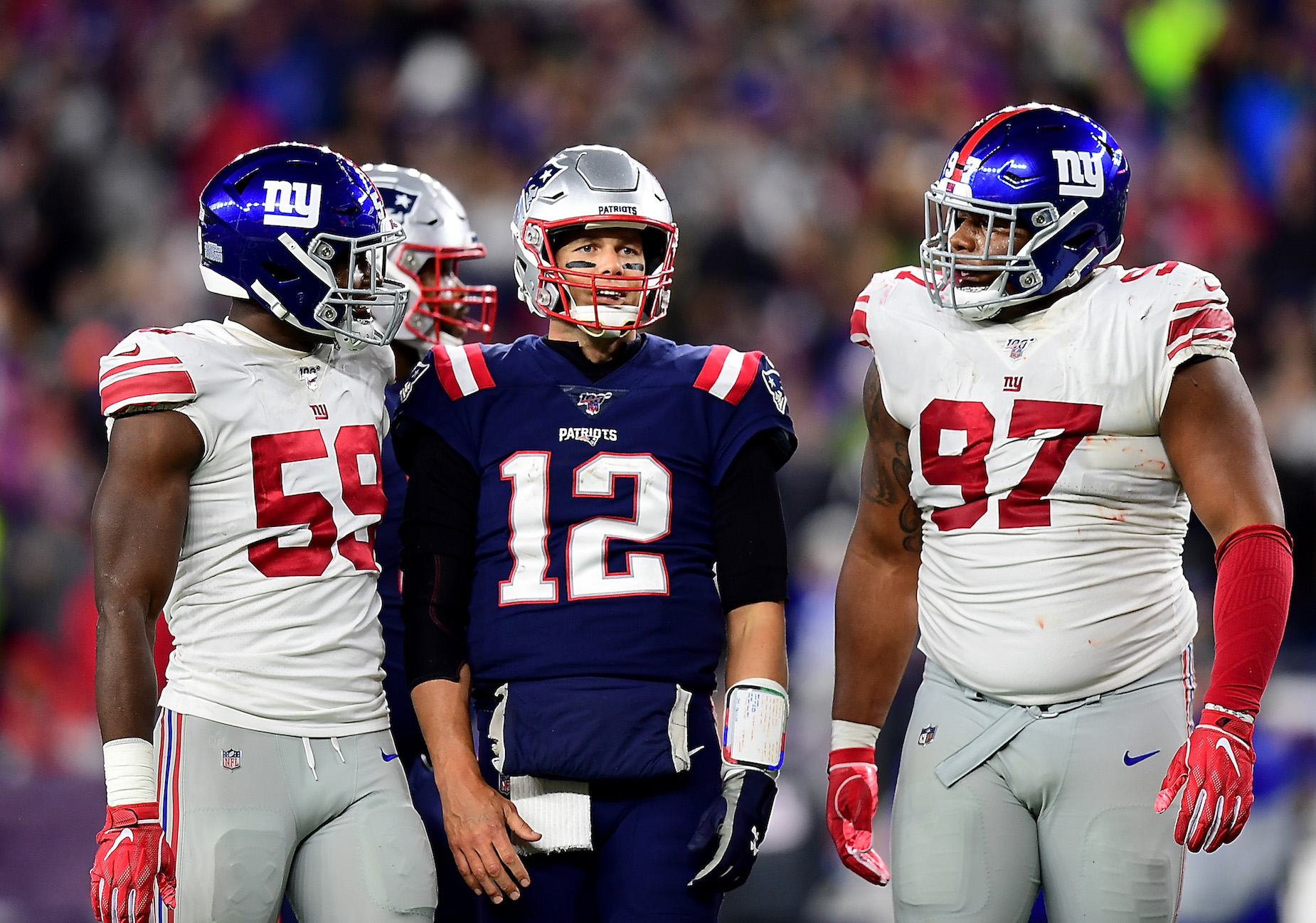 Tom Brady Will 'Never Let Go' of Losing To the New York Giants in the Super Bowl
While Tom Brady may have left New England, he will 'never let go' of his Super Bowl defeats to the New York Football Giants.
During his time in the NFL, Tom Brady has established himself as one of pro football's greatest winners. Even if you can't stand the quarterback, it's impossible to argue with his resume; he's appeared in nine Super Bowls, winning six championships. Two of those losses, however, came to the same team: the New York Giants.
On Monday night, Tom Brady will cross paths with the Giants again, albeit as a member of the Tampa Buccaneers. For all of his success, though, the quarterback still hasn't forgotten those two Super Bowl defeats.
Tom Brady has seen and done it all in the NFL
At this point in his career, it's not groundbreaking to consider Tom Brady an all-time great. With that being said, though, the quarterback's rise to stardom is still quite the Cinderella story.
Brady played his college football at Michigan and, despite some NCAA success, wasn't supposed to be the next star. He, of course, slipped to the 199th-overall pick of the 2000 NFL draft; when he joined the Patriots,  Robert Kraft called the quarterback a "skinny beanpole," and Drew Bledsoe thought that his new understudy would never become anything more than a backup.
Fate, however, would intervene.  In the fall of 2001, Bledsoe suffered an injury, thrusting Brady into the spotlight. The New England Patriots never looked back.
Once in the starting job, the quarterback won 219 games with the Patriots; that regular-season success also set the stage for nine trips to the Super Bowl and six championships. Brady also won three NFL MVP awards during his time in New England and, despite moving to Tampa Bay, still looks pretty good at age 43.
Three Super Bowl slip-ups, including two against the New York Giants
Based on the totality of his resume, it's impossible to take too much issue with anything that Tom Brady has done in his career. The quarterback, however, did lose in three of his nine Super Bowl appearances.
Two of those defeats came at the hands of the New York Giants. The first was at the end of the 2007 campaign. The Patriots completed a perfect 16-0 regular season but couldn't cap things off with a championship; David Tyree's 'helmet catch' has since earned a place in NFL history as one of the sport's iconic plays.
The Patriots and Giants met again in Super Bowl 46, with the New York club coming out on top for a second time. While Tom Brady got the ball back with 57 seconds remaining, he couldn't lead his team down the field for a game-winning touchdown.
Brady's third Super Bowl defeat came in February 2018, when the Patriots fell to the Philadelphia Eagles.
Tom Brady will 'never let go' of those losses to the New York Giants
As any New England Patriots fan can confirm, Tom Brady is a bit of a perfectionist. Unsurprisingly, he hasn't forgotten about his Super Bowl losses to the New York Giants.
In the Facebook Watch series "Tom vs. Time," there was a segment about Brady's film study; unfortunately for the quarterback, it also featured some clips from his Super Bowl defeats and some painful memories.
Oh man, this is painful, just clicking on it, just—the 2007 Super Bowl. This one's still painful," Brady explained, according to GiantsWire. "When you lose on the biggest stage, and you know everyone's watching, and you've committed so much of your life to what you're doing, you're becoming a failure in front of everybody else, it's a talent show that you did when you were a kid and you were the failure."
Things, however, got even more painful when the (metaphorical) tape reached its end. "I'll never let go of those losses," Brady simply said. "That scar tissue is too deep, it's too thick."
On Monday Night Football, Tom Brady and his Tampa Bay Buccaneers should beat the New York Giants without breaking too much of a sweat. While that won't erase the pain of two Super Bowl defeats, the quarterback will surely appreciate the chance to beat his old foe.
Stat courtesy of Pro-Football-Reference