Jon Gruden Freaks Out After Raiders Brawl With Rams: 'It's Just Stupidity'
Just like two-a-days, positional battles, and Hard Knocks, brawls are just as much a part of NFL training camps as anything else. Usually, these practice ground dustups get a tepid rebuke from the head coach, who seems like, deep down, he loves it. That was not the case over the weekend when a fed-up Jon Gruden pulled his team off the field after a series of altercations and a full-scale brawl between his Las Vegas Raiders and the Los Angeles Rams.
The Las Vegas Raiders vs. Los Angeles Rams joint practice ended badly
The Las Vegas Raiders traveled to Thousand Oaks, California, the home of the LA Rams training camp, for a series of joint practices ahead of the teams' preseason meeting on Saturday, August 21.
The joint practice sessions were "chippy" from the start, per ESPN, and the practices culminated in a massive brawl with "punches and thrown helmets."
The tension seemed to start when Rams cornerback Jalen Ramsey twice hit Raiders running back Josh Jacobs harder than necessary for a practice session. Las Vegas wide receiver Hunter Renfrow got revenge on the field by beating Ramsey twice in drills, which set off a wave of trash talk from the Silver and Black sideline.
The fisticuffs started with the special teams units, though. Raiders QB Derek Carr noted that there are a lot of heated battles within that unit – on all NFL teams – to make the final roster, which likely added to the intensity of the head-to-head drills.
The last fight between the two teams was worse than earlier altercations. There were four different starts and stops, as well as the punches and helmet throwing. That was the final straw for Gruden, who pulled his team off the field and put them on the team busses with a few plays still left in the joint practice.
Jon Gruden yanked his team off the field
Gruden let his team have it after the on-field altercation when they got off the buses back at the team hotel.
"That's enough of that crap," Gruden said afterward. "That's not good for football, that's not good for anything, so that's the end of that practice session."
There's no message, they know. They know better. Everybody knows better. And again, it wasn't everybody fighting — it will be on TV, you'll see a bunch of guys screaming and yelling — but it was two guys in the special teams, period. And then it was a lot of trash-talking that escalated. Just sickening, really, it's just stupidity. I'm done with that. It's just child's play to me.

Jon Gruden on the Raiders/Rams brawl
For his part, Rams head coach Sean McVay says he didn't see the brawl but supported Coach Gruden's decision.
"We only had a little bit left, so felt like the best decision, just based on the temperature of the situation, was bag the last eight plays in the team period that we had," McVay told reporters after the incident. "I did not see it, I just kind of had heard what had happened. But other than me seeing it, I can't speak for anybody else, but I'm glad that nobody got injured. 
Despite Gruden and McVay's disappointment, there are no reports that any players face discipline or fines.
Training camp brawls are very common in the NFL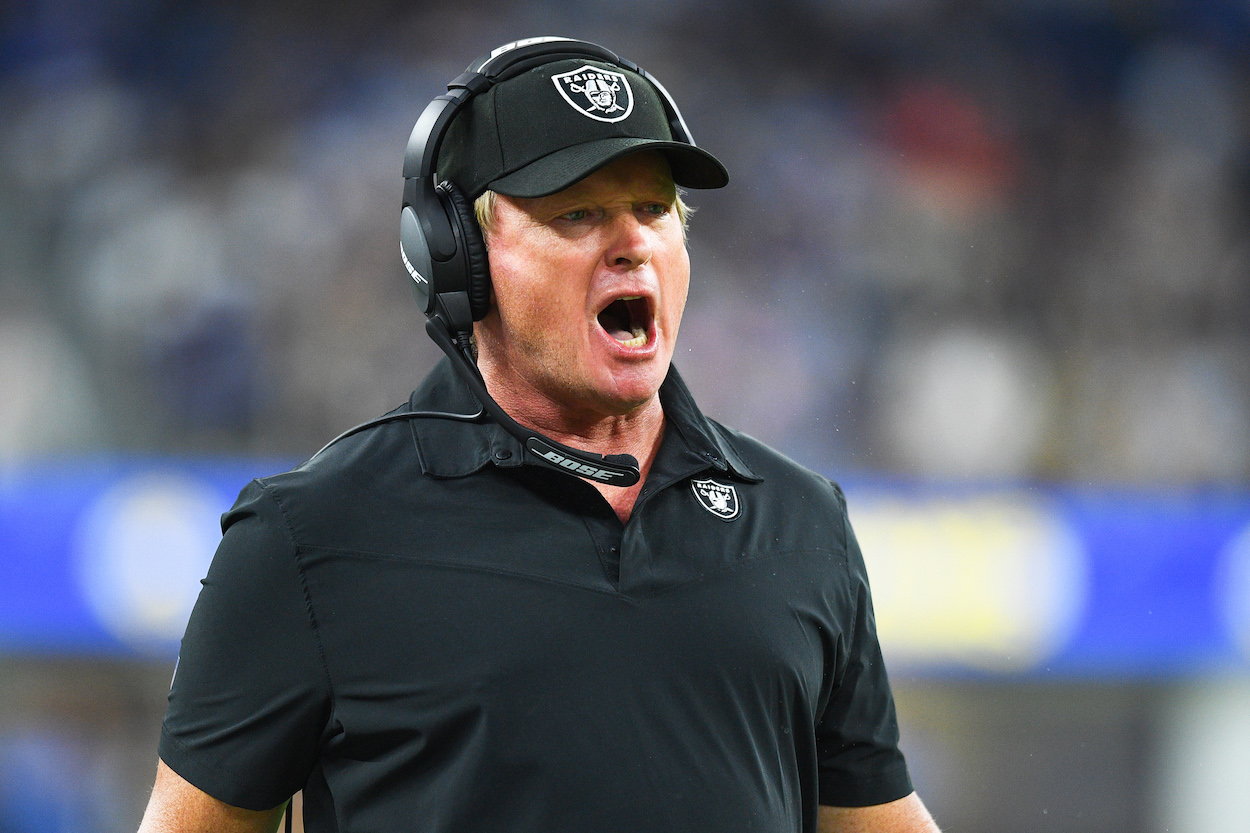 The Raiders vs. Rams fight certainly wasn't the first training camp brawl, and it definitely won't be the last. These types of donnybrooks are prevalent, especially as training camps drag on in the dog days of August.
Raiders defensive end Maxx Crosby summed up why these fights happen so often in camps:
It's all fun. This is when you can get your punches out — the preseason. Get away with a little bit extra. Tempers get flaring. … Things like that happen. You're not going to get kicked out of a game. You can throw a couple punches here and there. So, it is what it is.

Maxx Crosby on training camp fights
In 2021 training camps alone, the New York Giants have already had a major internal brawl and fought with the Cleveland Browns. The Denver Broncos' Garett Bolles and Bradley Chubb got in a tussle that led to a 15-20 man altercation, per 9News, and the Tampa Bay Buccaneers and Tennessee Titans got into it as well.
Jon Gruden might not be happy with the Raiders, but most coaches enjoy these types of things. The idea is that being ready to rip a teammate or a scrimmage opponent's head off means a player is chomping at the bit and ready for the regular season.
We'll see if this Raiders' energy translates to winning on the field when they take on the Baltimore Ravens on Monday Night Football in Week 1 of the regular season.
Like Sportscasting on Facebook. Follow us on Twitter @sportscasting19