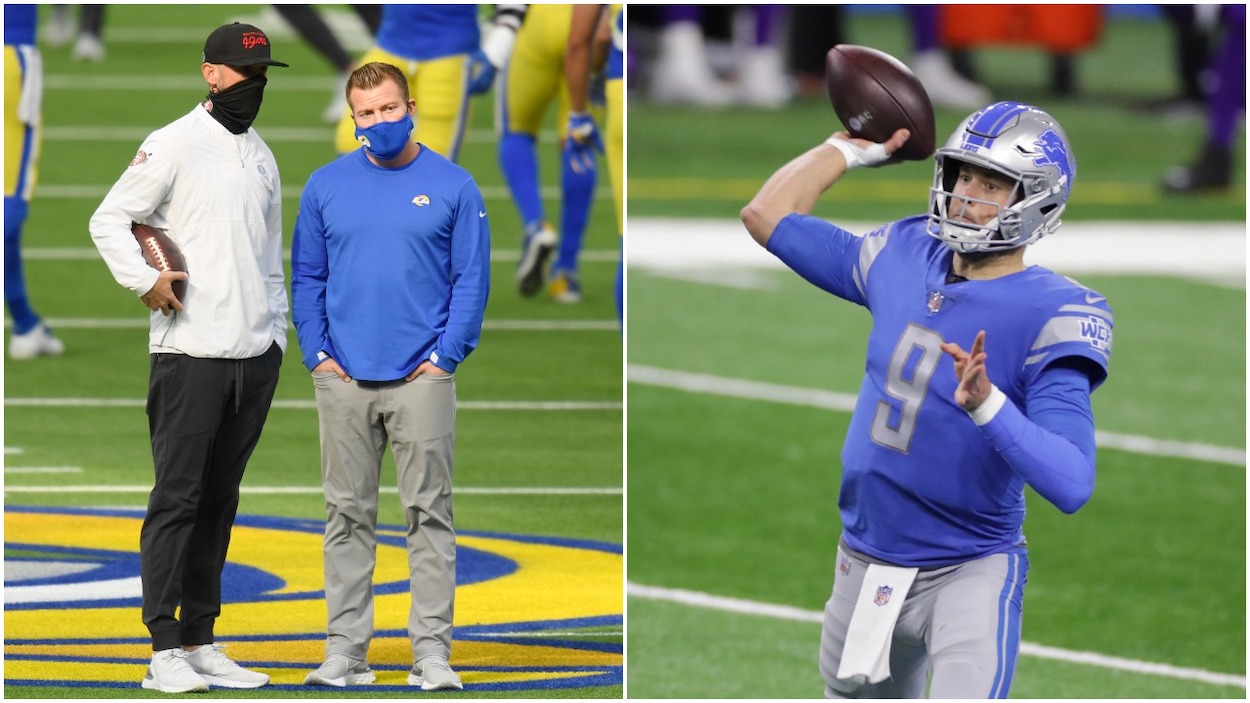 Matthew Stafford Went to Sean McVay's Rams Because the 49ers' Kyle Shanahan Stayed at the Wrong Hotel in Cabo
Kyle Shanahan recently revealed to his old friend Sean McVay how close new LA Rams QB Matthew Stafford was to becoming a San Francisco 49er. Shanahan says he loves Stafford and may have pulled off a deal for him in Cabo if only he stayed at the same hotel Stafford and McVay did.
Since the Detroit Lions selected Matthew Stafford out of the University of Georgia with the No. 1 overall pick of 2009, he's been a top-10 NFL quarterback, at least in terms of talent. Unfortunately for him, the Lions, and Lions fans, that talent never translated to wins for the franchise.
The Lions fired coach Matt Patricia after the 2020 season and launched yet another complete rebuild. This made Stafford expendable. The team traded him to the Los Angeles Rams, but according to head coach Sean McVay and San Francisco 49ers head coach Kyle Shanahan, it could have turned out differently if not for a twist of fate in Cabo San Lucas, Mexico.
Sean McVay liberated Matthew Stafford from the Detroit Lions after 12 long years
When an organization drafts a QB No. 1 overall, it expects Super Bowls or at least playoff appearances to follow. That was almost certainly the plan in 2009 when Detroit took the Georgia Bulldog star.
What followed was just three first-round playoff losses in 12 seasons. Stafford leaves Detroit with impressive stats galore but a 74-90-1 record as a starting QB.
During his time in the Motor City, he threw for 45,109 yards, 282 touchdowns, 144 interceptions, and a 62.6% completion rate. In Week 17 of the 2020 season, Stafford became the fastest player in NFL history to reach 45,000 passing yards in his 165th career game, per Detroit Lions PR. That followed also being the quickest to 20k (71 games), 30k (109 games), and 40k (147 games) passing yards.
In the 2021 offseason, Stafford went on the block, and McVay and the Rams came calling. The new LA franchise sent its own disappointing No. 1 overall selection, Jared Goff, to Detroit along with a 2021 third-rounder and its 2022 and 2023 first-rounders, per CBS Sports.
Kyle Shanahan wanted Stafford on the San Francisco 49ers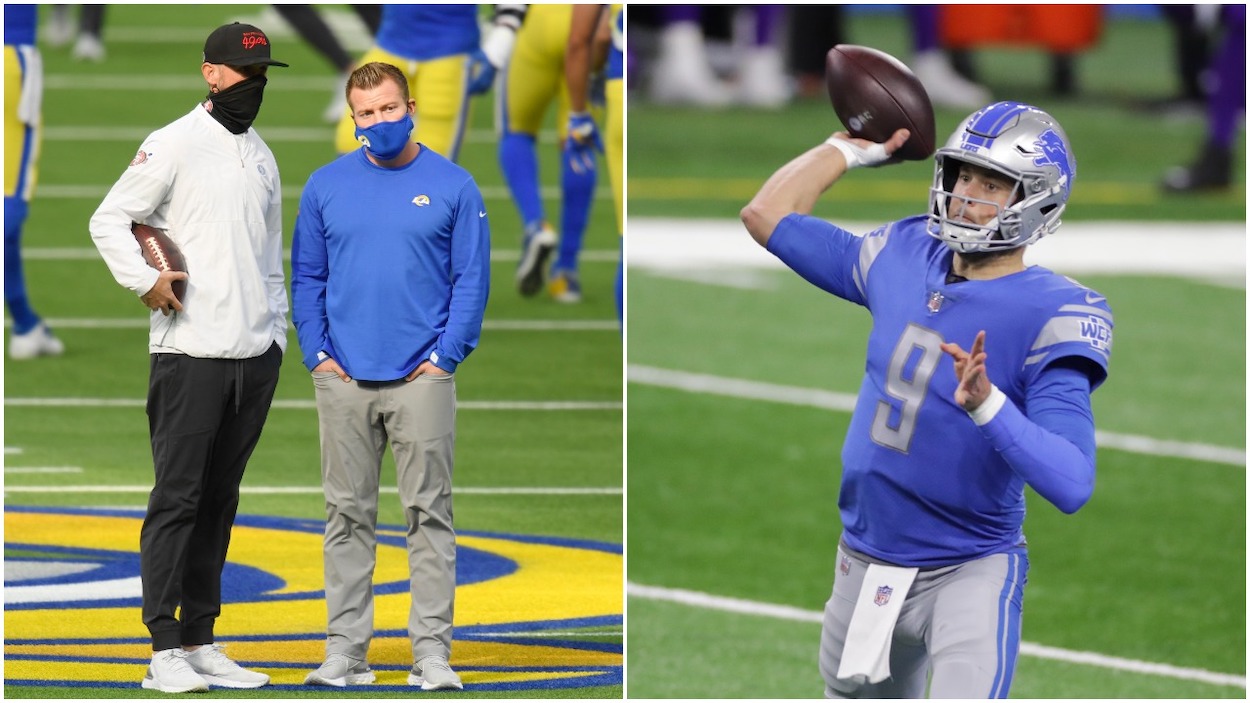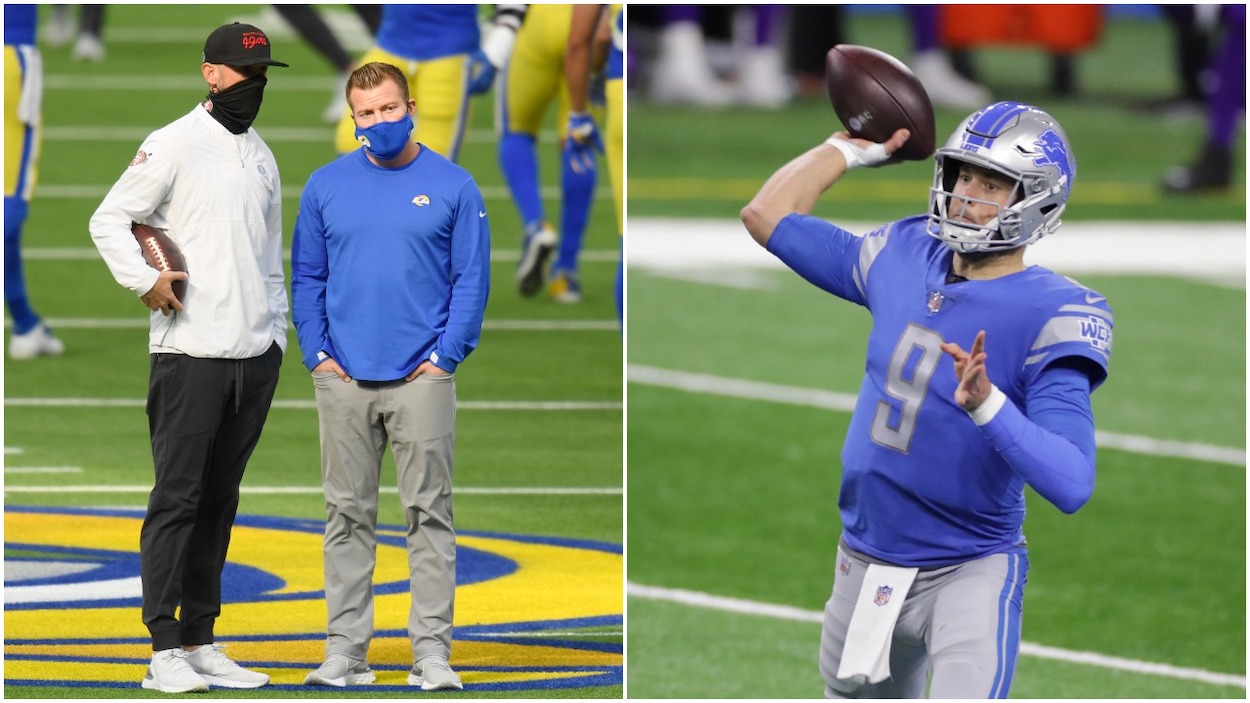 McVay and Shanahan go back a long way. Shanahan hired McVay as an offensive quality control coach, effectively the offensive coordinator's personal assistant, in 2010 when Shanahan was OC under his father in Washington.
Shanahan joined McVay on the Flying Coach with Sean McVay and Peter Schrager podcast, and they talked about their time working together, what they look for in QBs, and their play-calling philosophies. The conversation eventually turned to Stafford.
Shanahan revealed he was also interested in Stafford. The Niners coach said he "studied Stafford hard" and that, "He's better than I had realized. He was the man, and he's underrated to me."
Shanahan also shared that he was in Cabo on vacation with his wife when McVay and Stafford were also in the resort town hammering out a deal at a different hotel. Shanahan wanted to make a play, but it didn't work out. 
On the podcast, he told McVay and Schrager about how the weekend went down from his perspective: 
I was trying to get involved in it. … I remember on Saturday, I was so stressed out, and finally we talked to someone, and it was like seven at night, and they were like, 'No, nothing's happening at the earliest till tomorrow. So you can finish your night.' So I'm like, 'All right, I'm done.' Put my phone down, talk to Mandy, 'Let's go out to dinner, let's have some drinks.'… A half an hour later, a buddy of mine calls me, he's like, 'I'm just telling you, if you want Stafford, you need to get ahold of him right now.'… I turned on my phone, and it was all over. It wasn't fun.
ESPN 2021 quarterback rankings have the Rams' new QB at No. 6 for 2021
Pairing a talent like Stafford with an innovative offensive mind — arguably the most innovative in the league — is getting people excited.
ESPN's Jeremy Fowler released his list of the top 10 quarterbacks in the NFL for 2021, and Stafford has already jumped up from last year. In 2020, the list made him the No. 10 QB in the league. Now, he's risen to No. 6. That puts him just one spot behind Josh Allen and ahead of Dak Prescott, Lamar Jackson, Justin Herbert, and Kyler Murray.
Fowler wrote in the piece:
And to think the 'friends of Sean McVay' boost doesn't apply to just coaching. Stafford moved up four spots for no other reason than his move to the Rams via trade could align him closer to the greats.
At 33, Matthew Stafford doesn't have a ton of miles left on the odometer, but with the way pocket passers are lasting these days, he could still have a solid five years or more. With McVay in his helmet calling the plays, he could easily surpass the team success he found in Detroit in just a few short years.
All stats courtesy of Pro Football Reference and Sports Reference.