Josh Allen Continues to Follow in Doug Flutie's Footsteps
Buffalo Bills legend Jim Kelly started his last game at QB for the franchise in 1996. Since then, Bills fans have watched a parade of halfway decent, uninspiring, or downright terrible quarterbacks step under center in Orchard Park. One of the best of the mediocre bunch was Doug Flutie, and current Bills QB Josh Allen is taking a play out of his playbook.
Flutie took Buffalo by storm in the late 90s and, while he or the team never reached the heights Kelly did at the beginning of the decade, Flutie became a beloved figure in the town. Allen is certainly following in Flutie's footsteps already as he tries to walk in Kelly's shoes as well.
Doug Flutie became a cult hero in Buffalo
After Kelly left in '96, the Bills played a season with the very forgettable Todd Collins and Alex Van Pelt starting at QB. In 1998, the Bills traded the No. 9 overall pick in the draft and a fourth-rounder to the Jacksonville Jaguars for QB Rob Johnson, per the Los Angeles Times.
Johnson was a strapping 6-foot-4 California native out of USC. When the Bills traded for him, he had a grand total of one start under his belt for an injured Mark Brunell.
During the same offseason, the Bills signed the former Heisman Trophy-winning Flutie. Convention wisdom was that he was too short and not a good enough passer for the NFL, but the 5-foot-10 QB dominated the CFL in his time up north.
For three seasons, the golden boy and the little guy battled it out for the Bills' starting spot. Although Flutie's record was 21-9 in his 30 starts in Buffalo and Johnson's was 9-17 in 26 starts, the latter kept getting chances to justify the considerable draft pick price tag.
Along the way, the fans in Buffalo fell in love with the diminutive Flutie. He was so popular he even got his own breakfast cereal called Flutie Flakes. The Boston College product thought the cereal would sell a few thousand boxes for charity, according to ESPN.
Bills fans bought 2.8 million boxes.
Josh Allen is bringing back Josh's Jaqs
Hopefully, for Bills fans, Allen is following in Kelly's footsteps on the field. Off the field, though, Allen is already continuing Flutie's legacy.
In 2021, Allen is once again partnering with PLB Sports & Entertainment, the company that made Flutie Flakes, to release the second edition of Josh's Jaqs. The cereal is "a red and blue frosted fruit roll profile" cereal, according to the Livingston County News.
The cereal will be available at Western New York supermarkets, Wegmans and Tops, during the football season. A part of the proceeds will go to Oishei Children's Hospital in Buffalo, a charity Allen has worked with a lot in the past.
It thrills the 25-year-old QB from Wyoming to have a personalized breakfast food named in his honor:
It's very surreal to have your own cereal. It's something as a kid you always dream of when you grow up seeing athletes on other cereal boxes and Olympic Champions, USA gold medalists. It's a very humbling experience, and to have my own cereal box with two different editions is just awesome.
We'll see if Allen starting his day with a big bowl of Josh's Jaqs will get him ready for a potential MVP season in 2021.
Allen is already the best Buffalo Bills QB since Jim Kelly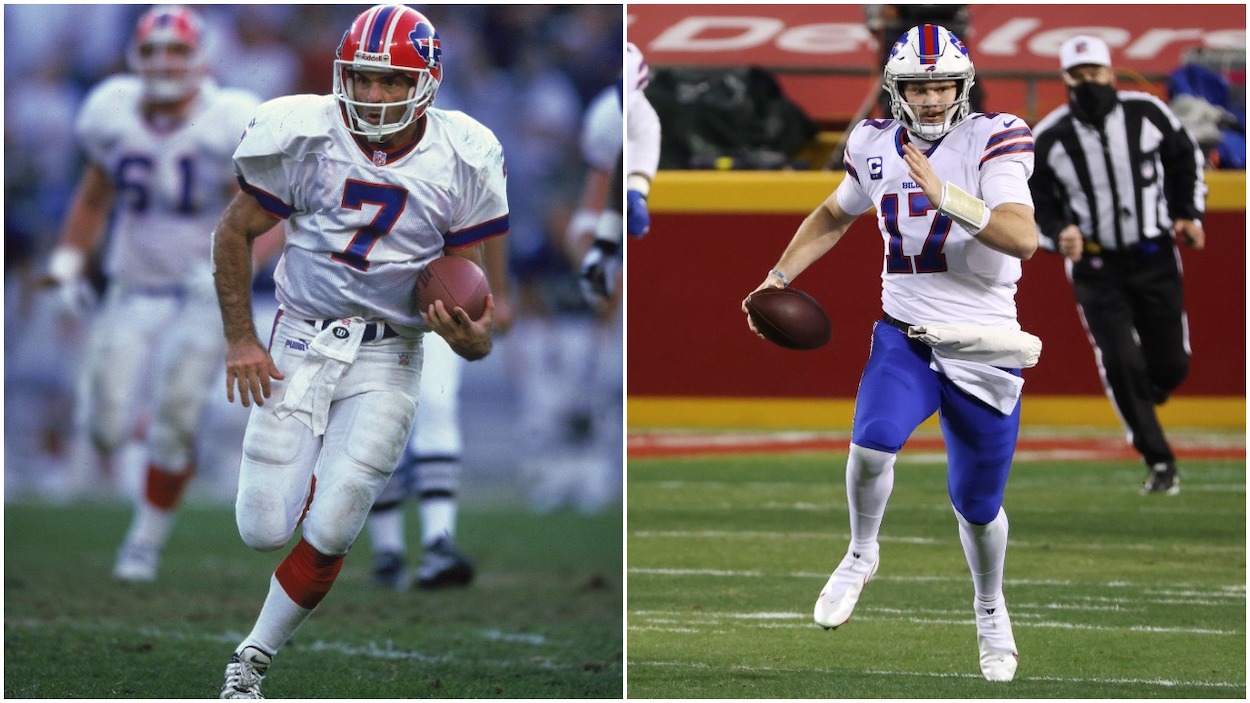 Jim Kelly led the Bills to four straight Super Bowls in the early 90s. He retired as the Bills' all-time leader in passing yards, passing touchdowns, and just about any other QB number you want to look at. He still holds most of these franchise records today.
In 2020, Josh Allen made the leap from prospect to top NFL QB and became the second-best signal-caller in franchise history in the process. His 2020 stat line included 4,544 passing yards, 37 touchdowns, a 69.2% completion percentage, and just 10 interceptions. He also added 421 rushing yards and eight more TDs that way.
Allen is starting the 2021 season one of the betting favorites to win the MVP Award, and pundits almost unanimously regard the Bills as the best team in the AFC East. It is an excellent spot to be, but it means big expectations for the young passer.
It is a hugely important season for the QB if he hopes to have the success Kelly did and end up in Canton, Ohio someday. Bills fans will hope he can do that, though, while also emulating Flutie and raising money for a great cause.
All stats courtesy of Pro Football Reference
RELATED: Buffalo Bills' Cole Beasley Is Becoming the Face of the NFL Anti Vaxxer as He Attacks the League: 'It's a Joke'