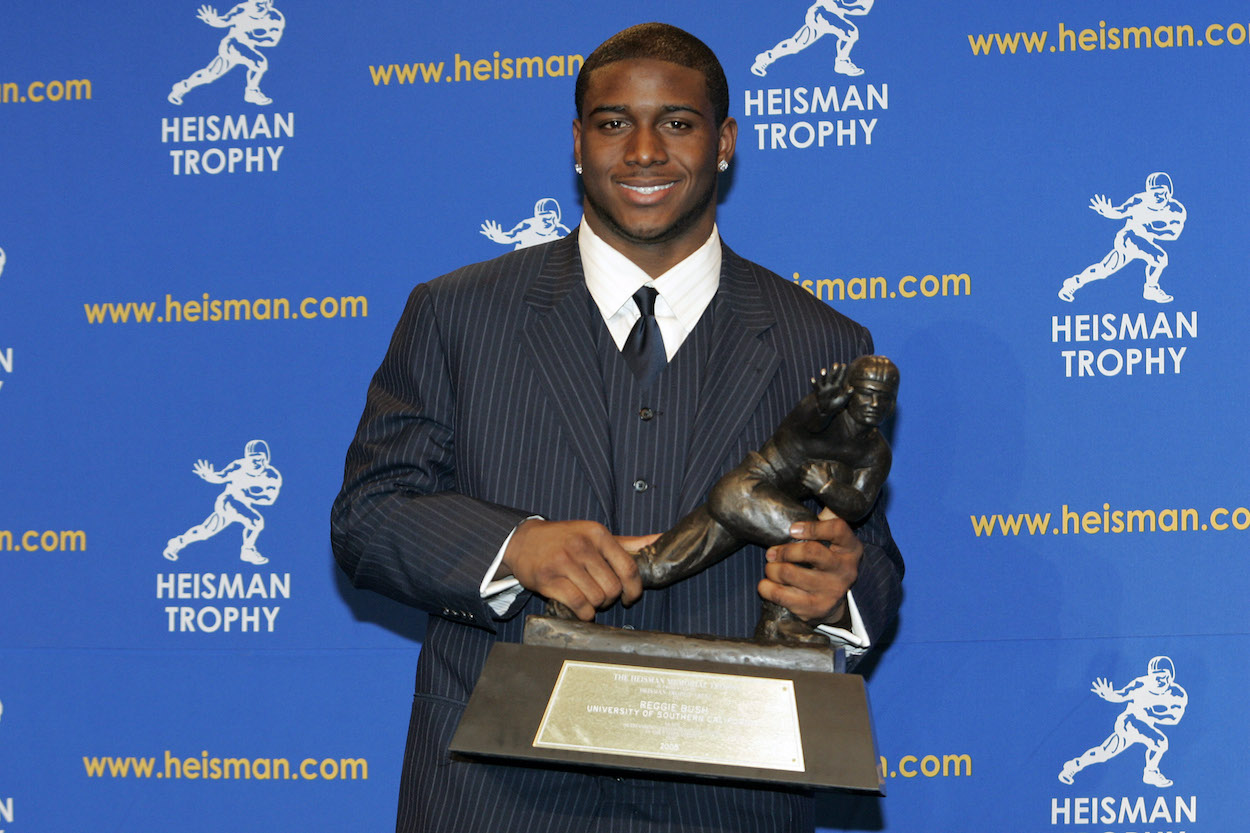 Twitter Is Demanding the NCAA Give Reggie Bush's Heisman Trophy Back After NIL Ruling
More than a decade ago, Reggie Bush's Heisman trophy was taken away from him. Now, as college athletes are being able to be paid for their NIL right, social media is chastising the NCAA and demanding that Bush is allowed to get his trophy back.
When the Supreme Court ruled that preventing college athletes from cashing in on their name, image, and likeness (NIL) rights, many celebrated this big win for student-athletes. It also started another, more grassroots campaign. Social media began demanding that the NCAA give former college football running back Reggie Bush's Heisman Trophy back.
Bush won the trophy in 2005, affirming his spot as one of the best and most exciting college players of all time. Years later, after finding that Bush and his family took improper benefits while playing for the USC Trojans, the NCAA stripped him of the trophy. Now Twitter is demanding they give it back.
Reggie Bush won the 2005 Heisman Trophy then had it taken away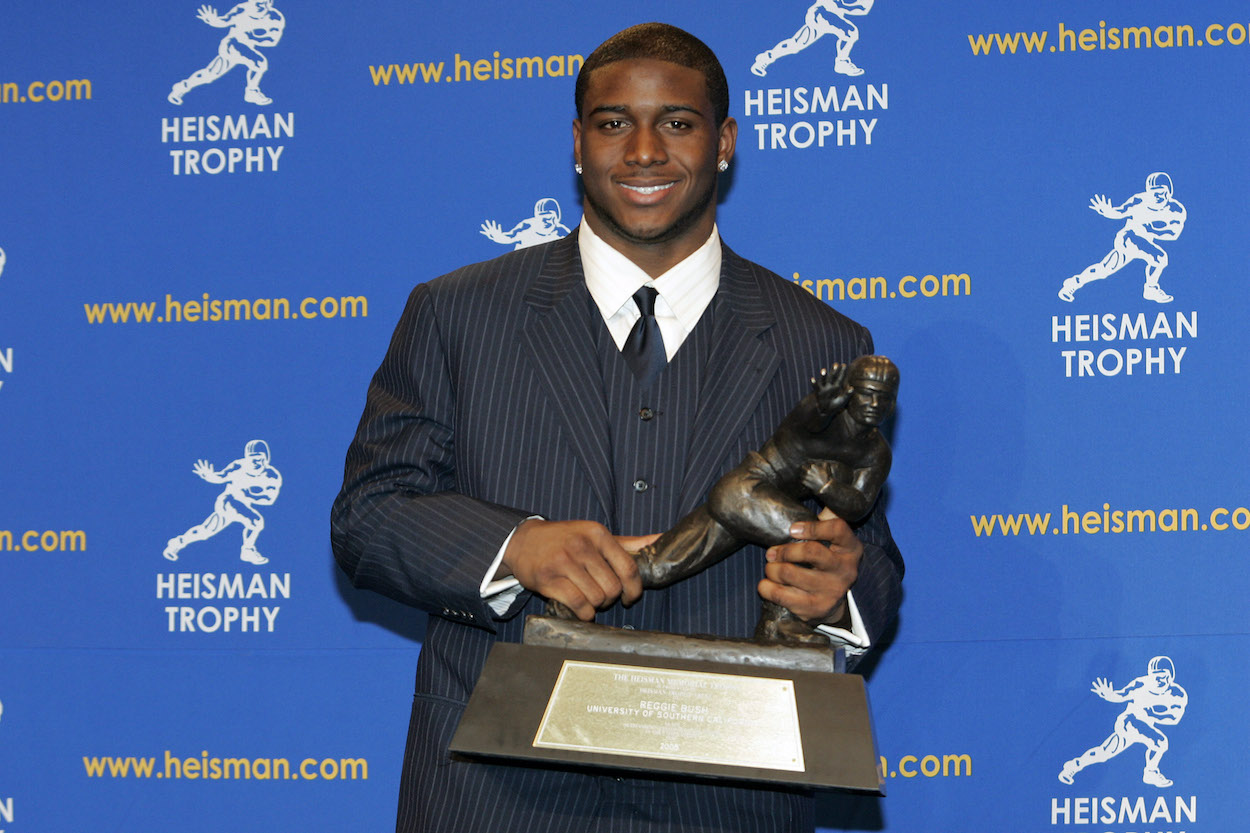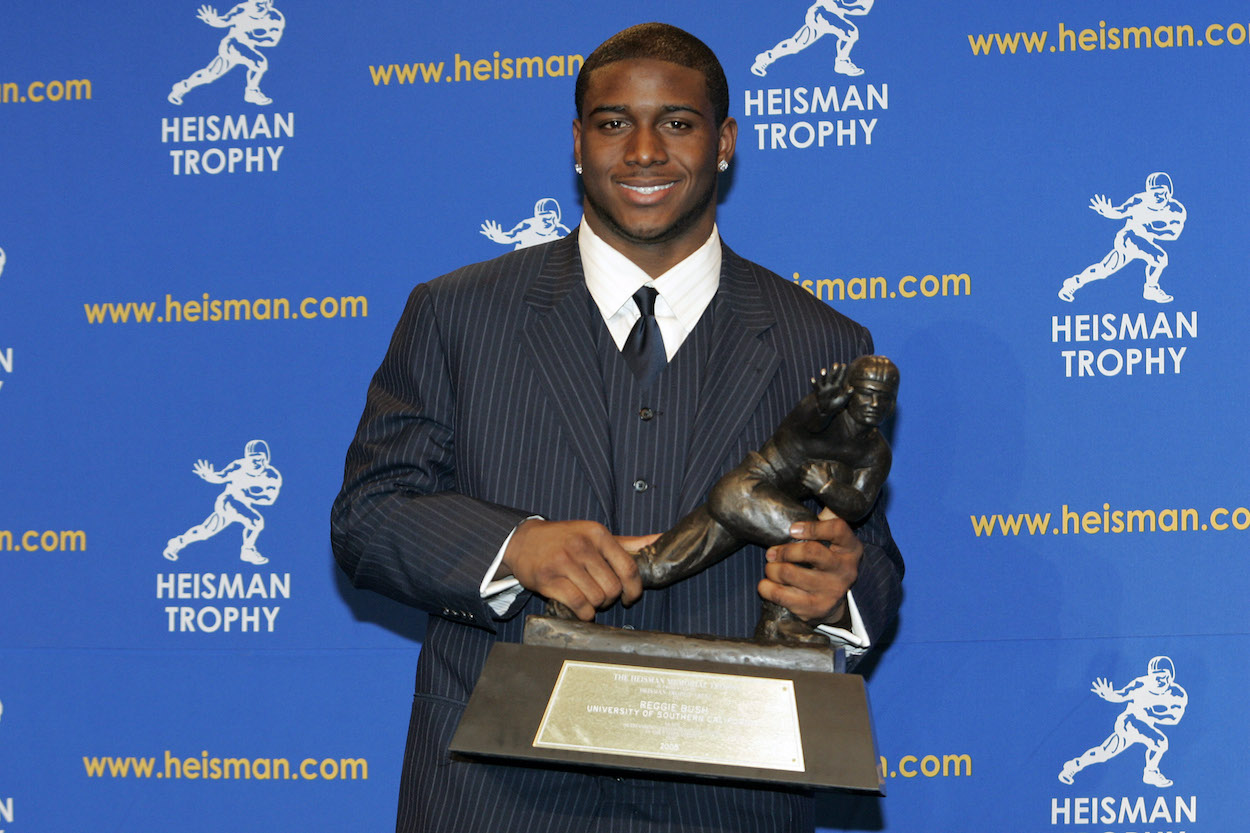 The 2005 Heisman Trophy race featured one of the most star-studded casts in the history of the award. In addition to Bush, the field also included Texas quarterback Vince Young, Bush's own QB Matt Leinart, and Notre Dame signal-caller Brady Quinn.
Bush reeled off highlight-reel runs all season and helped lead USC to an undefeated regular-season record. He produced 2,218 scrimmage yards and scored 18 touchdowns that season. The team would ultimately lose the National Championship with a Rose Bowl loss to Young and the Longhorns in a college football classic. However, Bush took home the Heisman hardware before that happened.
The New Orleans Saints drafted Bush No. 2 overall in the 2006 NFL draft. Shortly after, a marketing agency sued Bush to recoup $300,000 it paid him and his family while at USC, per ESPN. The case settled, but it launched an NCAA investigation.
In 2010, when the NCAA finally finished the investigation, it concluded that Bush and USC basketball player O.J. Mayo took improper benefits. The result was a host of sanctions against USC, including retroactively ruling Bush ineligible for the 2005 season.
As a condition of winning the Heisman, student-athletes must be in good standing with the NCAA and, since Bush was no longer in good standing back in 2005, the Heisman Trophy Trust stripped Bush of the award. The running back returned the trophy in 2010.
Twitter is demanding that the NCAA give back Reggie Bush's Heisman Trophy
One of the unexpected consequences of the NIL ruling is that Bush's travails came back into the spotlight more than a decade after he settled the issue.
As online media and cable TV pundits debated what these new rules meant for current college athletes, Twitter exploded in a chorus of, "give Reggie Bush his Heisman back!"
Athletes, celebrities, sports media, and fans all joined together to demand sports justice for Bush. Bleacher Reports' Taylor Rooks tweeted, "Give Reggie Bush his Heisman trophy," while ESPN's Field Yates retweeted a question about which athlete should be on the cover of a college football video game if it comes back writing, "Reggie Bush. Give him his Heisman Trophy back too."
Fellow Heisman Trophy winner and improper benefits-taker Johnny Manziel wrote on Twitter, "Give Reggie Bush his Heisman back while we're at it." OutKick's controversial Clay Travis retweeted this and added, "It was always dumb they took Reggie Bush's Heisman. But now that name, image and likeness is legal it's insane. Give him the Heisman back." And, San Francisco 49ers tight end George Kittle added, "Hey @NCAA give @ReggieBush his @HeismanTrophy back. Do the right thing!!!"
Even LeBron James retweeted a passionate defense of Bush by former college basketball player (and NCAA scofflaw) Richard Jefferson with simple speak emojis.
Reggie Bush tweeted a brief statement saying he and his team have reached out to both the Heisman Trust and the NCAA to no avail before also tweeting, "I never cheated this game. That was what they wanted you to believe about me."
NCAA players can now get paid for their name, image, and likeness 
Whether Bush gets his Heisman back or not, what is for certain is that the NCAA is entering a bold new world with the new NIL rules. According to ESPN, NIL is:
Name, image, and likeness rights are also frequently called an individual's right to publicity. NCAA athletes will be able to accept money from businesses in exchange for allowing the business to feature them in advertisements or products. Athletes also will be allowed to use their own status as a college athlete to promote their own public appearances or companies for the first time.
These rights are something that all American citizens enjoy. The courts ruled the NCAA was infringing on these rights for their student-athletes.
The rule has already gone into effect, and athletes are quickly cashing in, per ESPN. Twin Fresno State basketball players Hanna and Haley Cavinder, ACC quarterbacks D'Eriq King and McKenzie Milton, Iowa basketball player Jordan Bohannon, and Nebraska volleyball player Lexi Sun are among the first to sign deals or otherwise take advantage of the new rules.
These rules mark a new era in college sports, but the NCAA will find a way to screw this up if the past is prologue. One step they could take to show that they get the situation and what they did in the past is wrong is to give Reggie Bush's Heisman Trophy back.
Like Sportscasting on Facebook. Follow us on Twitter @sportscasting19