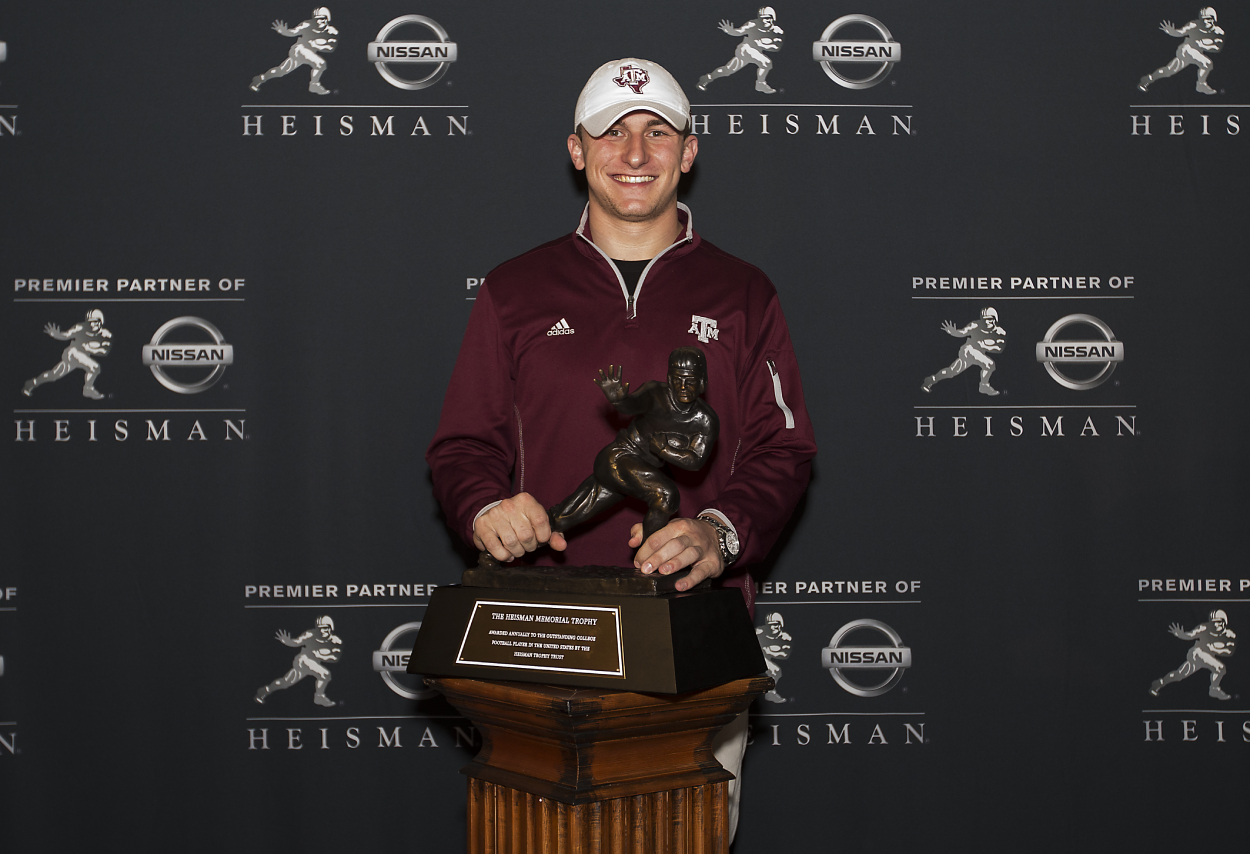 Johnny Manziel Says He May Have Never Won the Heisman Had It Not Been for a Fake ID and Some Tequila
Johnny Manziel won the Heisman Trophy at Texas A&M in 2012. He recently said, though, that he may have never won the Heisman had it not been for a fake ID and some tequila. This talks about Manziel's Heisman season and what a fake ID and tequila had to do with it.
During his college career at Texas A&M, Johnny Manziel was one of the most electric athletes in college football history. He led the Aggies to some great heights and ultimately won the Heisman Trophy during his redshirt freshman season. However, Manziel was known for loving to party, and he recently admitted that he might have never won the Heisman in 2012 had it not been for a fake ID and some tequila.
Johnny Manziel won the Heisman Trophy at Texas A&M in 2012
Johnny Manziel came out of nowhere at Texas A&M in 2012. While he played great throughout the entire year, Manziel really became a household name when he helped the Aggies defeat the No. 1-ranked Alabama Crimson Tide, 29-24. Manziel ultimately shocked Bama by throwing for 253 yards and two touchdowns while also running for 92.
Overall during that 2012 season, Manziel threw for 3,706 yards, 26 touchdowns, and nine interceptions. He dominated on the ground, though. Manziel ran for 1,410 yards and 21 touchdowns that year, which played a significant role in the Aggies going 11-2 and winning the Cotton Bowl over Oklahoma.
All of this success also helped Manziel win the 2012 Heisman Trophy. He beat out guys like Manti Te'o from Notre Dame, Braxton Miller from Ohio State, and Jadeveon Clowney from South Carolina.
However, he may have never won the Heisman had it not been for a fake ID and some tequila.
A fake ID and some tequila led to him winning the Heisman Trophy
According to a 2013 USA Today article, police arrested Manziel in June 2012 after he had gotten into a fight and then gave them a fake ID. USA Today reported that Manziel showed the police a driver's license that had a 1990 birthday. Manziel's birthday is Dec. 6, 1992.
Manziel later pleaded guilty to a misdemeanor charge in 2013, per USA Today.
That night was probably not a great one for Manziel. Texas A&M even initially suspended him for all of 2012. Coach Kevin Sumlin, though, ended up writing a letter on Manziel's behalf, and the QB was ultimately reinstated.
However, despite the trouble he may have caused for himself and his team, the arrest may have actually led to Manziel winning the Heisman during that 2012 season.
"Fake ID, a couple Irish car bombs, and Patron don't really mix," Manziel said on the March 24 episode of the Ball Don't Lie podcast. "… I got arrested, and the next day, my parents came [and picked me up], and I sat down with coach Sumlin. They made me run gassers every single day. Even if we had two-a-days, I had to run before and after."
Manziel said that he was the fourth-string QB once the team's fall camp started, but running helped him win over the starting job — and the Heisman.
"I outrushed Todd Gurley in the SEC — nuts," Manziel said. "[1,410 rushing] yards, led the SEC in rushing. I believe all that was directly correlated to me running those sprints at the beginning of the year and being in the dumbest shape on the team. … I got punished, and I won a Heisman for it."
That's an interesting way to look at it. Johnny Manziel then continued to shine at Texas A&M, too, but things didn't really work out in the NFL. 
Johnny Manziel had another great season at Texas A&M
Texas A&M didn't have as great a season in 2013 as it did in 2012, but Johnny Manziel still balled for the Aggies. His passing numbers improved significantly, as he threw for 4,114 yards, 37 touchdowns, and only 13 interceptions that season. His rushing numbers, though, took a hit. Manziel only ran for 759 yards in 2013, compared to the 1,410 yards he ran for the year before.
Manziel's play in college then led to him going to the Cleveland Browns in the first round of the 2014 NFL draft. However, his NFL career did not last very long. Manziel threw for 175 yards and two interceptions in five games and two starts in 2014. Then, in nine games and six starts in 2015, Manziel threw for 1,500 yards, seven touchdowns, and five interceptions. He also ran for 230 yards on 37 attempts.
Following his mediocre play through his first two seasons, as well as some off-field issues, the Browns released Manziel in 2016. He has not played in the league since then.
Johnny Manziel may have had a disappointing NFL career. His college career, though, was absolutely electric and it appears that a fake ID mixed with some tequila ultimately helped lead to that collegiate success.
Stats courtesy of Sports Reference and Pro Football Reference