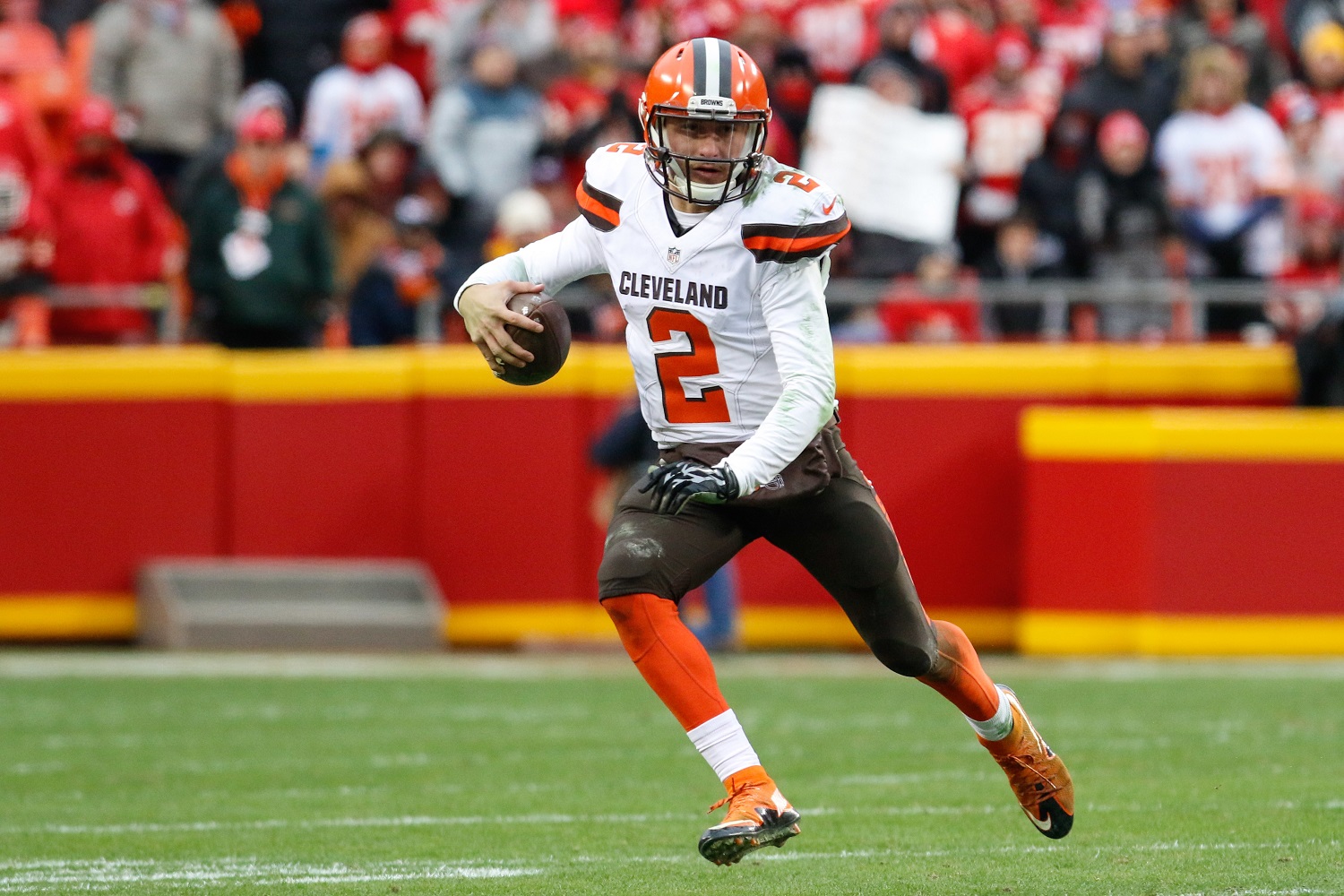 Tom Brady and LeBron James Couldn't Save Johnny Manziel, the QB Admits
The combination of ineffective play on the field and questionable behavior off it ended Johnny Manziel's career with the NFL's Cleveland Browns after two seasons.
Even the much-maligned Ryan Leaf squeezed 25 games out of his career. So, it says something about how badly Johnny Manziel screwed up that he only lasted 14 games after the Cleveland Browns made him a first-round NFL draft pick in 2014.
Based upon his comments in a recent podcast, it appears that Manziel is coming around to owning up to his foolishness.
Johnny Manziel was a Cleveland Browns mistake
There were certainly warning signs about Johnny Manziel well before the Cleveland Browns made the Texas A&M quarterback the 22nd pick of the NFL draft in 2014. His animated behavior on the field was more endearing to Aggies fans than to opponents, and the NCAA investigated reports Manziel accepted money to sign autographs after his freshman season.
Manziel was 21 years old and had just 26 college games under his belt when he turned pro. That didn't make him nearly ready enough for the responsibility of running an NFL offense while acting like a leader on and off the field.
After signing his four-year, $8.25 million contract, Manziel couldn't beat out a largely ineffective Brian Hoyer in his rookie season. Despite frequent injuries to Josh McCown the following year, Manziel was unable to establish himself as the future of the franchise. He was 2-4 as a starter with seven touchdown passes and five interceptions.
His release became a mere formality after Manziel was seen in Las Vegas the day before the 2015 finale, which he was expected to sit out due to a concussion, USA Today reported. The Browns released him on March 11, 2016.
Tom Brady and LeBron James couldn't save Johnny Manziel
Johnny Manziel was about as exciting as a quarterback could be in his high school and college days. The various iterations of his pro career, beginning with the Cleveland Browns and extending into a brief CFL stint and the Alliance of American Football, weren't nearly as captivating.
There's a reason to believe, though, that "Johnny Football" may have found a new starring role. That's because Manziel and Mike Stud have rolled out a new podcast called Ball Don't Lie, and Manziel obviously has a wealth of stories to share.
The debut episode included what had to be a difficult admission. Manziel conceded he was his own worst enemy during his short-lived NFL career.
"I was at the point in 2014-2015 when I was playing for the Browns, and President Barack Obama, LeBron James, anybody, Tom Brady, no matter who it was on the face of the Earth, if they came up and said something to me, I think it would have been in one ear, out the other type of experience," Manziel said, as transcribed by BroBible.com. "I had multiple people try to save me, but at the end of the day, they couldn't save me from myself because I had this mindset of what I thought it was supposed to be."
He has a second career in mind
Aside from doing the new podcast, Johnny Manziel, 28, is passing time these days playing in the newly launched Fan Controlled Football. In the meantime, he's prepping for a new career. Manziel, who claimed last year to carry a 2 handicap, wants to make it in pro golf before he turns 40 years old.
"I think it is a very uphill battle, but that's what I'm setting for my goals," Manziel said. "I have 12 years to try and make a PGA Tour event."
It's not outside the realm of possibility, provided Manziel learned his lesson from washing out in the NFL.  
"I thought I could get by doing the bare minimum and still get the perks of being (a professional athlete)," Manziel admitted.
Like Sportscasting on Facebook. Follow us on Twitter @sportscasting19.