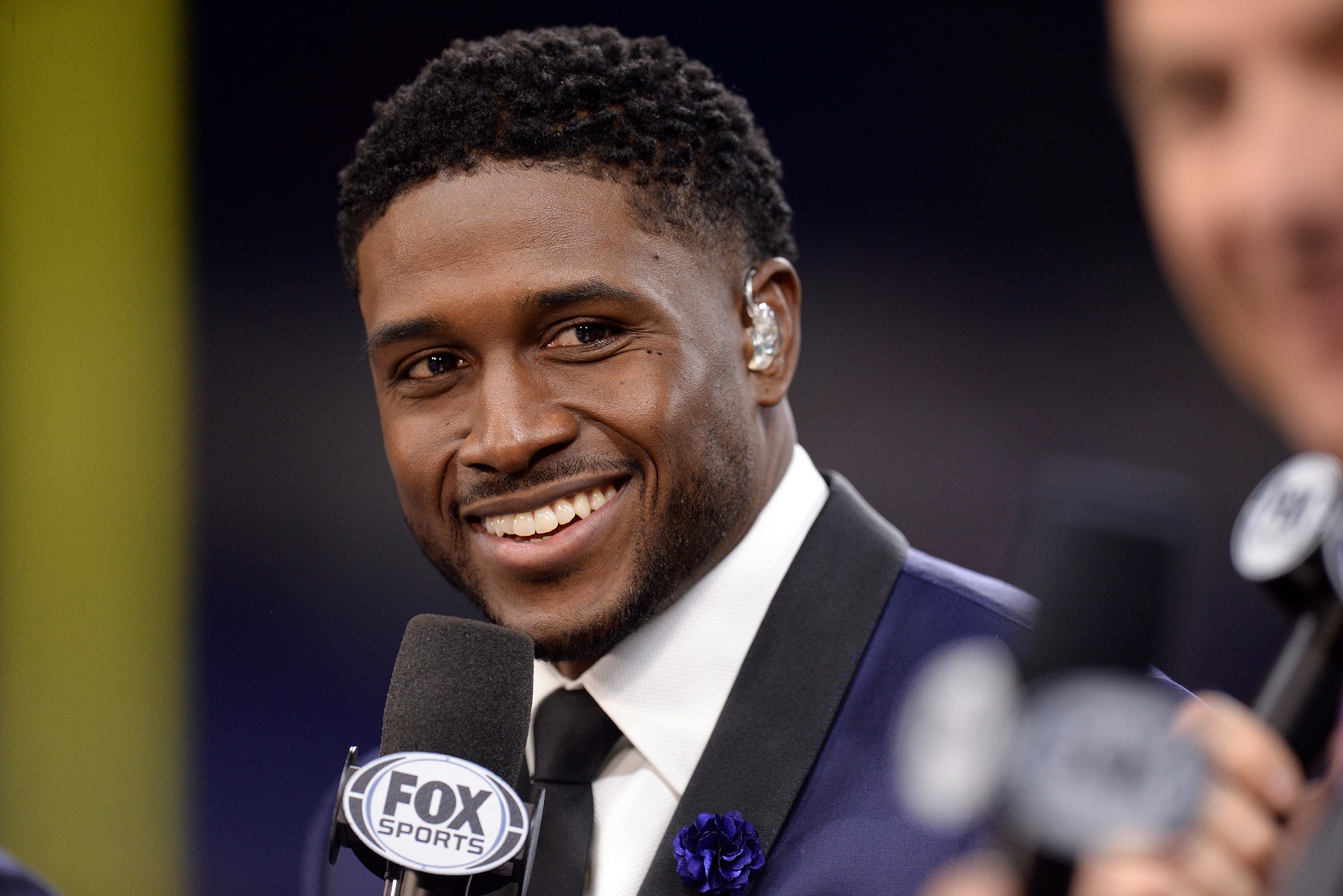 That's Not What Fox Sports Meant When They Asked Reggie Bush for a Sleeper Pick
Fox Sports analyst Reggie Bush, the former USC star, appeared to fall asleep at halftime of the Texas vs. Texas Tech shootout.
There was the usual array of snoozefests on a college football Saturday, but Reggie Bush managed to fall asleep during the shootout of the day. The Fox Sports production crew caught Bush nodding off during halftime of Texas' thrilling win over Texas Tech.
Reggie Bush was a must-see college running back
Reggie Bush arrived at USC in 2003 as one of the most highly regarded prospects in the country and piled up 1,331 all-purpose yards his freshman season. His sophomore season included Bush's first 200-yard rushing day in the regular-season finale against UCLA, and then the running back really took off as a junior.
Bush rushed for 294 yards against Oregon and 260 vs. UCLA to finish the regular season with 1,658 yards and 15 rushing touchdowns to beat out Texas quarterback Vince Young for the Heisman Trophy. However, reports of possible improprieties, including his parents living rent-free in a house owned by an agent, surfaced that spring.
The subsequent NCAA investigation resulted in USC being stripped of 14 victories, including its BCS championship over Oklahoma, and losing 30 scholarships. School officials announced they were permanently disassociating USC from Bush and removing memorabilia related to him – including the replica Heisman — from campus.
Bush renounced his Heisman in 2010 and returned the trophy in 2012. The school eventually reconsidered its distancing from Bush and announced on June 10, 2020, that the former star was no longer banned.
The NFL and a television career followed
Bush, the No. 2 overall pick by the New Orleans Saints in 2006, played 11 NFL seasons. He had a pair of 1,000-yard years and ended his career with 5,490 yards on the ground and 477 receptions.
Bush, who won a Super Bowl with the Saints, retired after the 2016 season with the Buffalo Bills,
Fox Sports hired Bush as a college football studio analyst before the 2019 season, working alongside retired coach Urban Meyer and former Trojans teammate Matt Leinart on Saturdays and contributing to the network's talk shows during the week.
Reggie Bush appeared to be catching up on his sleep
Some fans may find it difficult to get excited about the 2020 college football season. The Big Ten and Pac-12 only recently reversed decisions to drop the sport for the fall and won't be back for another month. That has contributed to gaps in fan interest through large swaths of the country.
Still, as they say, the show must go on. Fox Sports has started its weekly TV schedule, and the network had a beaut of a game to show Saturday as Texas rallied against Texas Tech late in the fourth quarter and then won a high-scoring affair in overtime.
Reggie Bush gets some credit for picking Texas to win early in the day. Though the eighth-ranked Longhorns were favored by more than two touchdowns, early-season games and intrastate rivalries have a way of generating upsets.
However, the former college great had trouble staying awake during halftime. The studio cameras caught Bush appearing to doze off despite a 31-21 score at the time, leading to a humorous video clip and some playful jabs from his colleagues.
Bush took it in good spirits and poked fun at himself on Twitter.
"You know what I think I'll actually take that second coffee!" he tweeted.
By the way, Texas won, 63-56.
All stats courtesy of Pro Football Reference.