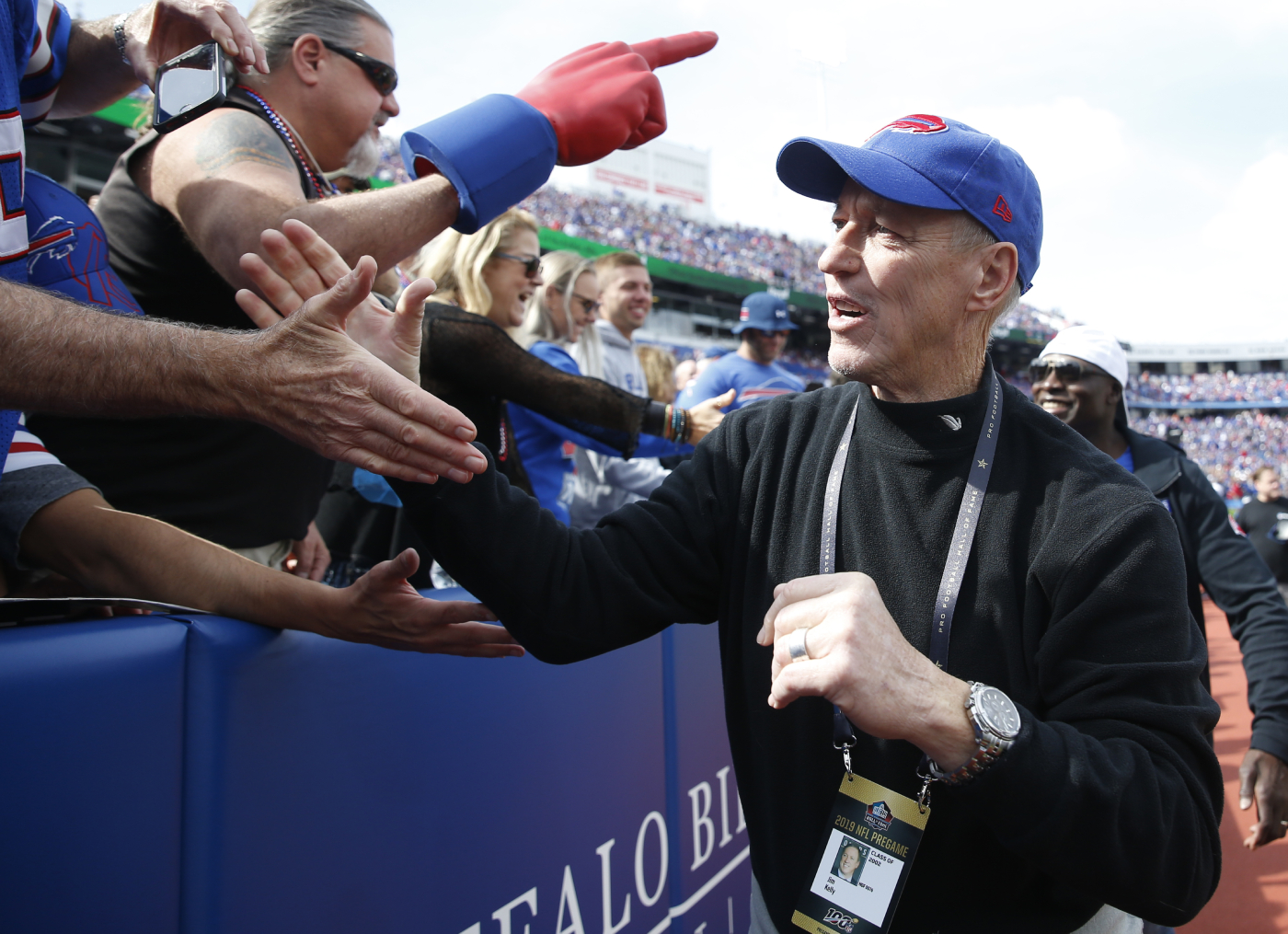 Jim Kelly Doesn't Give a Damn About His Buffalo Bills Records
Former Buffalo Bills quarterback and NFL Hall of Famer Jim Kelly doesn't care about his team records being broken by Josh Allen.
Jim Kelly, the quarterback who led the Buffalo Bills to four straight Super Bowl appearances, doesn't care about his records. In fact, he wants them to be broken. Current Bills quarterback Josh Allen is already breaking some Kelly records and the Hall-of-Fame quarterback is happy to see them go.
Jim Kelly's football career
After an outstanding college football career at Miami, the Buffalo Bills selected quarterback Jim Kelly with the 14th overall pick in the 1983 NFL draft. Kelly made it clear he didn't want to play for a cold-weather team so he was happy when the Bills passed on him with the 12th pick. The Bills, however, also had the 14th pick and used it to select him.
Instead of joining the Bills, Kelly played for the Houston Gamblers of the USFL. The league folded after the 1985 season and Kelly joined the Bills, who still had his rights. Kelly started all 16 games for the Bills in 1986, going 4-12. The following season, he went 6-6 in 12 starts and made the first of his five Pro Bowls. In 1988, he had his first winning season, compiling a 12-4 mark, and returning to the Pro Bowl.
During the 1990-93 seasons, Kelly guided the Bills to four straight Super Bowl appearances. They lost all four games, but the Bills and their K-Gun offense was tough to stop. In 1991, Kelly led the league in touchdown passes with 33. He is known for being one of the toughest quarterbacks to ever play the game. Kelly was inducted into the Pro Football Hall of Fame in 2002.
Kelly's been battling cancer in retirement
In May of 2013, former Buffalo Bills quarterback Jim Kelly was diagnosed with cancer in his upper jaw. According to The Associated Press, Kelly looked at the cancer diagnosis the same way he would a football game. He went right at it.
"I'm down at the bottom. But I will rise to the top again," Kelly said. "I am extremely confident in my road to recovery. I plan to tackle this challenge head-on, as we Kellys always do. 'We caught it in time. It's just another challenge for me and I know I'll beat it."
He's been right, although it hasn't been easy. He was deemed cancer-free after surgery, only to see it return in March of 2014. The process repeated again and the cancer came back in 2018. In 2019, he was deemed cancer-free once again.
Jim Kelly doesn't care about his records
During a recent interview on The Irish Show With Jim Kelly, the former Buffalo Bills quarterback got candid about Josh Allen breaking some of his records. Kelly was asked what he thought about Allen and then was asked how he felt about some of his team records being broken.
"Josh Allen is amazing," Kelly said. "That arm he has is unmatched. Patrick Mahomes has a strong arm but there's nobody like Josh Allen. His athletic ability sometimes gets you in trouble because he runs so much but he's cut that back a lot. The accuracy – he went from the worst in the NFL to the best in the NFL this year and is one of the best ever.
"He broke a lot of my records and people go, 'are you mad that he broke your records?' and I say, 'are you crazy?. Heck no. If he's breaking my records, that means we're winning football games." Jim Kelly remains a true Buffalo Bills fan well after his playing days.