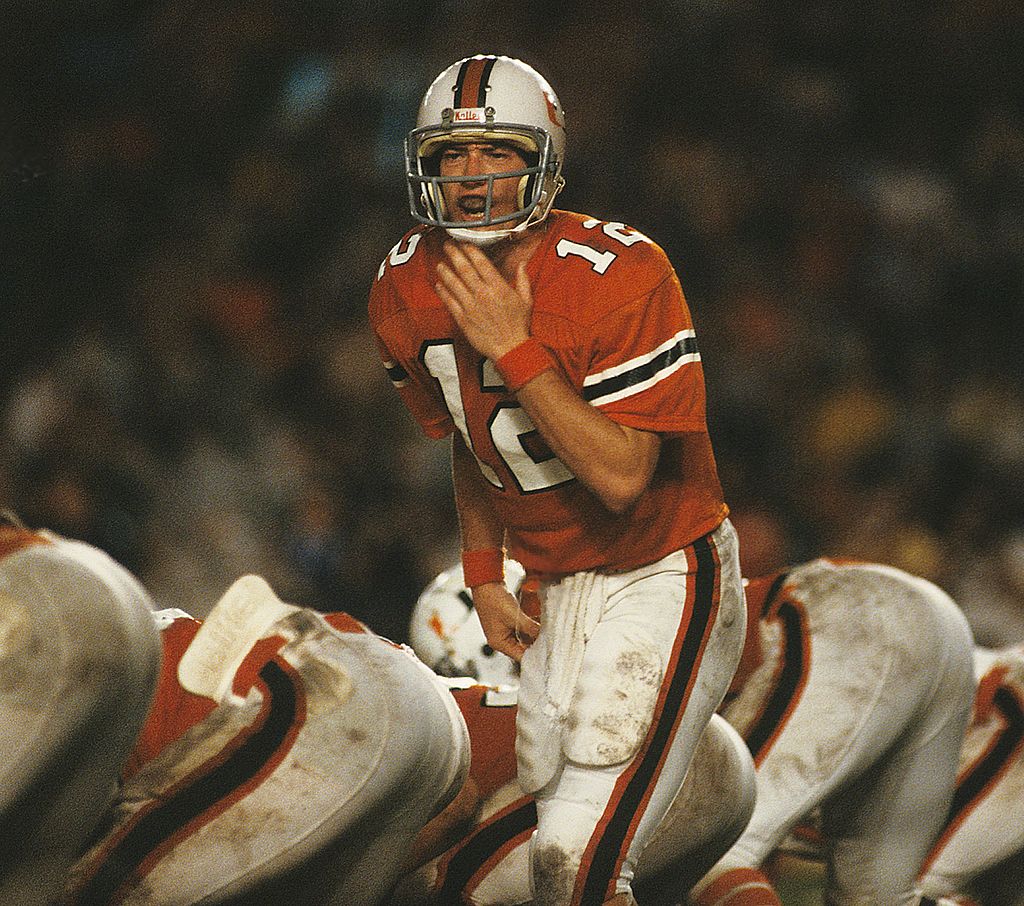 The Buffalo Bills Were One of Three Teams Jim Kelly Didn't Want to Play For
Jim Kelly said there were three NFL teams he didn't want to play for coming out of college and the Buffalo Bills were one of them.
The 1983 NFL draft is arguably one of the best in the history of the league, especially when it came to quarterbacks. John Elway was the top selection and future NFL quarterbacks Dan Marino, Jim Kelly, Tony Eason, Ken O'Brien, and Todd Blackledge followed – and that was just the first round. Elway was selected by the Baltimore Colts, but refused to play for them and went on to have a Hall-of-Fame career with the Denver Broncos. Kelly, who went on to enjoy a Hall-of-Fame career in Buffalo, almost didn't because he listed the Bills as one of three teams he did not want to play for.
Jim Kelly's football success
After a successful four-year career at the University of Miami, quarterback Jim Kelly went on to enjoy the same success in the NFL with the Buffalo Bills. Kelly enjoyed an 11-year career in Buffalo where he went 101-59 as a starter and helped his high-powered offense get to four straight Super Bowls.
From 1990-93, Kelly compiled a 48-13 regular-season record and led the Bills to those Super Bowl appearances. Kelly, along with running back Thurman Thomas and wide receiver Andre Reed, put together one of the most explosive offenses in the league. Kelly threw for more than 35,000 yards in his career, along with 237 touchdowns. He was inducted into the Pro Football Hall of Fame in 2002.
Before his time in Buffalo, Kelly enjoyed two seasons playing in the now-defunct USFL with the Houston Gamblers. In two seasons, he threw for 83 touchdowns and 9,842 yards. The league then folded and Kelly went to play in the NFL.
Kelly was hoping not to get drafted by the Buffalo Bills
When John Elway was selected first overall by the Baltimore Colts, he quickly stated he didn't want to play for them, triggering a question from Kelly's agent. Kelly's agent was with the quarterback and his parents as they watched the draft on television and asked Kelly if there were any teams he didn't want to play for. "Oh yeah, I don't want to play for the Minnesota Vikings," Kelly said, according to Chris Brown of the Bills' team website. "I don't want to play for the Green Bay Packers and I don't want to play for the Buffalo Bills."
Kelly knew he had some leverage as he had already been selected by the Chicago Blitz in the USFL. The Bills had the No. 12 and No. 14 picks in the draft and selected tight end Tony Hunter with the 12th pick. "I remember jumping up out of my seat and I hit my mother who was sitting on the right arm of the recliner and I knocked her right off the chair," said Kelly. "I felt so bad, I quickly picked her up off the floor and I'm apologizing, 'Sorry mom I'm just glad I'm not going to play for Buffalo.'"
The Bills then selected Kelly two picks later. "Within minutes the phone calls came and with me being politically correct I was saying how excited I was to be a Buffalo Bill," Kelly recalled. "And when I hung up I said, 'We need to call the USFL and see what other options we have.'"
Kelly said he was close to signing a deal with the Bills, but was interrupted by a USFL representative who said the league wanted him to play and it would allow Kelly to play for whichever team he wanted. Kelly agreed to play for Jack Pardee and his up-tempo style of play in a warm-weather climate in Houston.
A Buffalo Bill for life
The USFL folded after Kelly played two seasons and the Bills still owned his NFL rights so he wound up inking a deal with the team. It turned out to be one of the best deals he ever signed. He's called Buffalo home ever since and said he has no intention of going anywhere else.
"There's a number of reasons," Kelly said. "I hope you've got enough ink in that pen. No. 1, my son is laid to rest there. No. 2, my wife is from there. No. 3, I love it there. No. 4, I have a beautiful log lodge out in the woods with a lot of land to hunt, and there's great hunting in western New York. Plus, I still am employed by the Buffalo Bills. But, to be honest with you, I really like it."
Kelly has gone through some difficult times while in Buffalo. He lost his 8-year-old son Hunter to Krabbe disease. He's suffered through three bouts of cancer. Through it all, he's had great support from his Buffalo family. He'll be a Buffalo Bill for life.