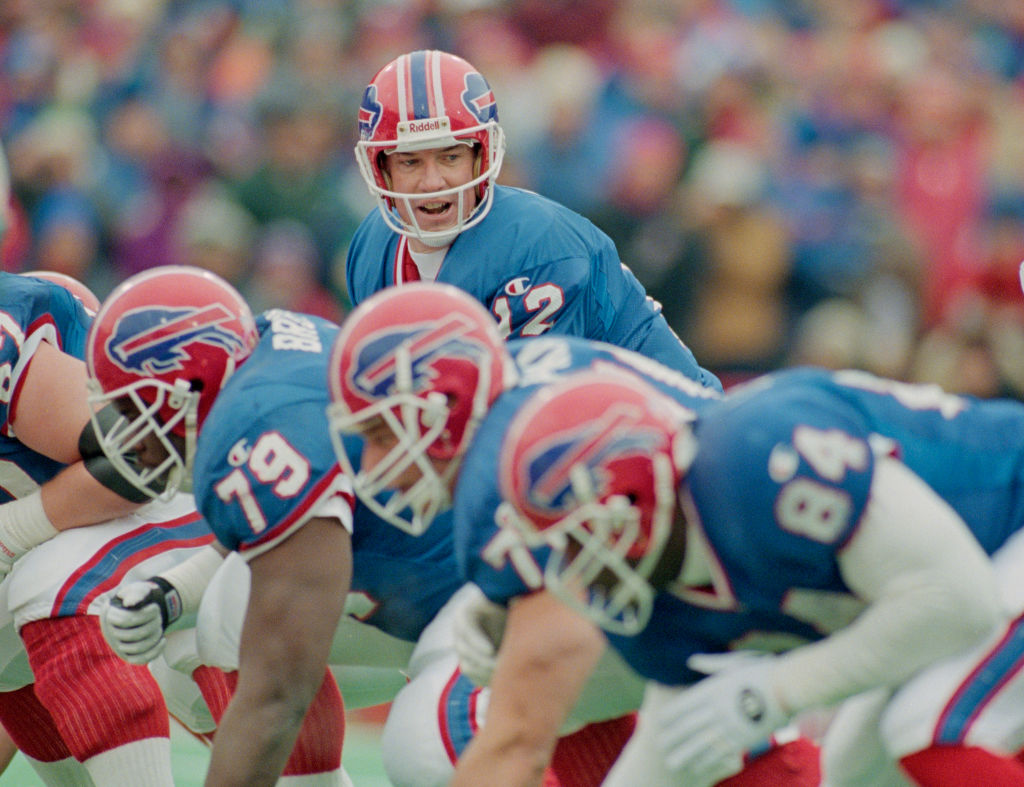 Jim Kelly, After Battling Cancer, Is Living His Life the Same Way He Played Football
Former Buffalo Bills quarterback Jim Kelly has battled cancer, but is living his life the same way he played football.
Jim Kelly is one tough guy. The former quarterback of the Buffalo Bills was known for his perseverance and faced-paced attack while helping the Bills get to four Super Bowls in his Hall-of-Fame career. That same description can be used to describe the former quarterback off the field.
Jim Kelly's football career
In Jim Kelly's 11 seasons with the Buffalo Bills, the former quarterback compiled a record of 101-59 and played in four Super Bowls. Kelly began playing professionally in the USFL for the Houston Gamblers before beginning his NFL career in 1986.
In Kelly's first season with the Bills, he threw for 3,593 yards and 22 touchdowns, making an immediate impression. Where Kelly really made his mark was a four-year stretch between 1990-93 where he compiled a 48-13 regular-season record and took the Bills to four straight Super Bowls.
In his 11 seasons in the NFL, Kelly was a five-time Pro Bowler. In 1991, he led the league in touchdown passes with 33. During the 1990 season, he led the league in completion percentage at 63.3 percent. Kelly may not have been one of the flashy or more athletic quarterbacks in his day, but he certainly was one of the toughest. And he was a winner.
Kelly's initial cancer diagnosis
In May of 2013, Jim Kelly was diagnosed with cancer in his upper jaw and he approached the diagnosis like would approach anything else – head on. He knew he was in for a challenge, but Kelly has always learned to accept challenges. "I'm down at the bottom. But I will rise to the top again," Kelly said at the time. "I am extremely confident in my road to recovery. I plan to tackle this challenge head on, as we Kellys always do."
Maybe Kelly got that approach from his parents or maybe he got it from his 8-year-old son Hunter who died on Aug. 5, 2005, from Krabbe disease. When Kelly was inducted into the Pro Football Hall of Fame in 2002, he ended his Hall of Fame speech with a tribute to his son and his toughness, saying "It has been written throughout my career that toughness is my trademark. Well, the toughest person I've ever met in my life is my hero, my soldier, my son, Hunter. I love you, buddy."
After surgery, Kelly announced in July that he was cancer-free only to have it return in March of 2014. Again, Kelly fought the battle head-on and in August of that same year, doctors said there was no sign of cancer in Kelly. In March of 2018, the cancer had again returned and Kelly underwent surgery to reconstruct his jaw. Again, Kelly said he was going to fight hard and did. He was again deemed cancer-free in January of 2019.
Kelly still living his life the way he always has
In his football career, Jim Kelly was battered and bruised but always bounced back. He's been living the same way since that initial cancer diagnosis back in 2013.
In an interview in June of 2019 courtesy of GoErie.com, Kelly said he's always been fast-paced, both on and off the field and he doesn't intend to change that. "That's why I ran the no-huddle offense, that fast-paced offense," he said. "That's the way my life has always been."
Kelly realizes that after he has seen cancer come and go multiple times, he has no idea what the future holds. He does know that the one thing he can control is his outlook and he plans to live in the present and not wonder about what-ifs. "It's part of my life so I just fight on and keep going," he said. "I don't know what tomorrow holds, but I have a smile on my face today."