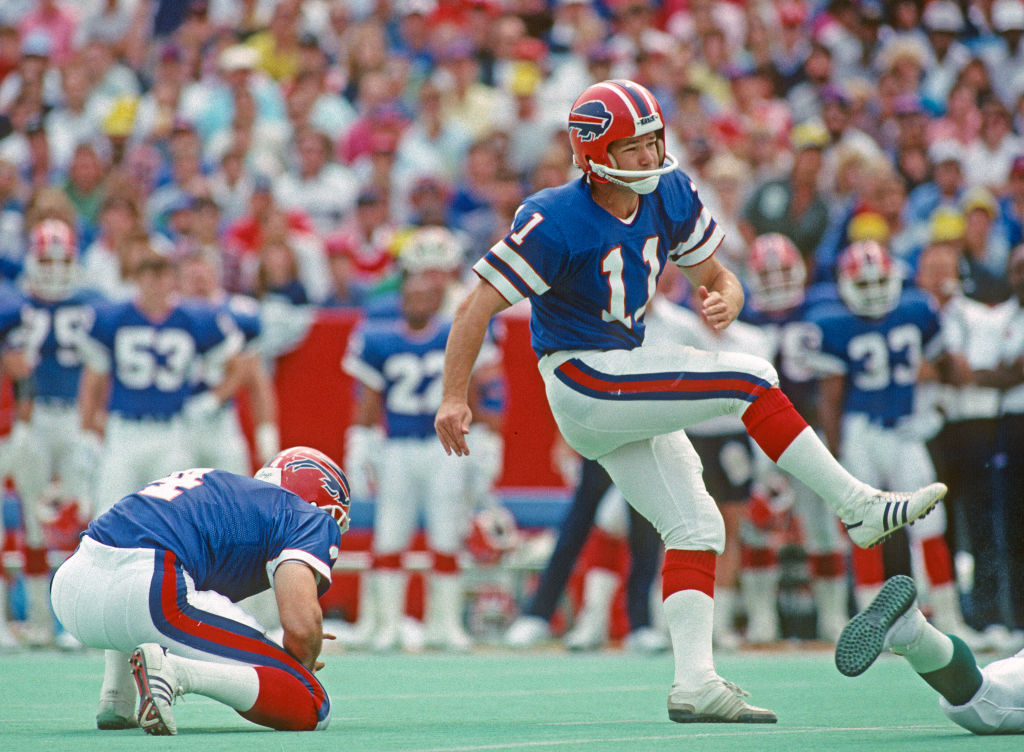 Does 'Wide Right' Haunt Buffalo Bills Kicker Scott Norwood?
Scott Norwood missed a 47-yard field goal in the closing moments of Super Bowl XXV against the New York Giants.
Scott Norwood succeeded more often than he failed in his NFL career, a fact often ignored because of the Buffalo Bills placekicker's unsuccessful last-gasp attempt to win Super Bowl XXV.
His miss from 47 yards came to be remembered as "Wide Right" and obscured the fact that there were worse culprits than Norwood in the first of the Bills' four consecutive Super Bowl losses.
'Wide Right' wasn't the Bills' only mistake in Super Bowl XXV
Super Bowl XXV, played with the Gulf War in progress, ended with the New York Giants defeating the Buffalo Bills, 20-19, after Scott Norwood's 47-yard field-goal attempt with eight seconds remaining missed. The kick came to be known as "Wide Right" and received disproportionate blame for the first of Buffalo's four straight losses in NFL title games.
An objective review of the game reveals several more significant factors contributed to the one-point loss.
For starters, the Giants climbed back into the lead with a 75-yard drive that chewed up 9:33 to start the third quarter and controlled the ball for 40:33 overall.
Although the teams' total yardage was nearly identical, Buffalo went just 1-for-8 on third-down conversions. The Giants neutralized star defensive lineman Bruce Smith and converted four third downs on the third-quarter touchdown drive that wouldn't have been possible without receiver Mark Ingram breaking multiple tackles on a third-and-13 play to move the chains.
The Bills did drive 61 yards after getting the ball back with 2:16 left on the fourth quarter, but they left Norwood with a 47-yard kick on the natural grass of Tampa Stadium.
Scott Norwood had a solid pro football career
Scott Norwood began his pro football career in 1983 with the Birmingham Stallions of the now-defunct United States Football League. He joined the Buffalo Bills in 1985 and was their placekicker in their first two Super Bowl seasons.
All seven of Norwood's NFL seasons came with the Bills, and he finished 133-for-184 (72.3%) on field-goal attempts, He made 80.5% of his attempts inside 40 yards and converted 97.5% of his extra-point attempts.
His 44-yard field goal proved to be decisive in the 1991 victory over the Denver Broncos in the AFC Championship Game.
Norwood was selected All-Pro after the 1988 season.
Scott Norwood has overcome 'Wide Right'
Scott Norwood lasted one more season with the Buffalo Bills following the "Wide Right" kick and did not play in another NFL game. Norwood and his wife moved their family to Virginia, and he kept a low profile for several years while working in insurance sales and trying to move beyond the memory of the miss that came to define his career.
He gradually re-engaged with the team and former Bills players and has been a guest at card and memorabilia shows, where he's sometimes asked to sign pictures related to the missed kick. A columnist reported this year that he adds "Wide Right" to the autograph if fans request it.
 "I'd be lying if I said that's an enjoyable experience, but it's part of the history of my career, and it's clearly a historic moment in Bills history, so I've learned to cope with it as best I can. I can't deny that kick happened. And most people are good about it, not confrontational. So, I sign the photo and keep moving on."

Scott Norwood
Said former Bills general manager Bill Polian: "It's been a rough go, but he's handled it better than anybody could have ever imagined. He is what he's always been: a great person, a level-headed, empathetic guy." Now 59, Norwood helps run a friend's landscaping company and recently began teaching physical education at an elementary school.