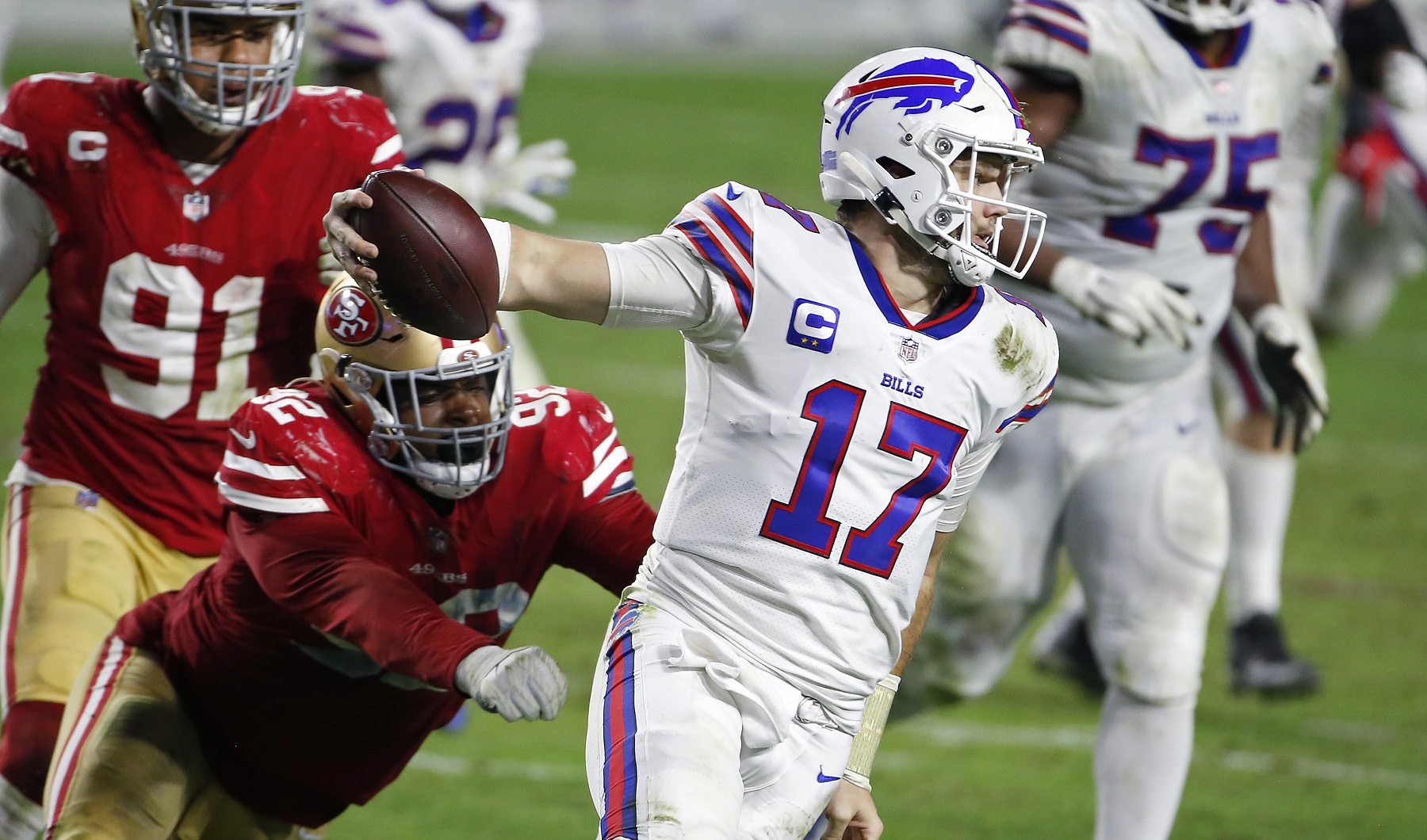 Buffalo Bills Hero Jim Kelly Makes a Bold Prediction About Josh Allen
Hall of Fame quarterback Jim Kelly is predicting a great future for Buffalo Bills signal-caller Josh Allen.
Quarterback Josh Allen is taking the Buffalo Bills to places they haven't seen in a long time. A franchise that hadn't won 10 games in a season this century has now done it twice in a row. Could their first postseason victory since the 1995 season be next? Is there a Super Bowl on the horizon?
No less an expert than Hall of Fame quarterback Jim Kelly thinks Allen could blow past all the numbers he rang up in the course of taking the Bills to four straight Super Bowls beginning with the 1990 season.
Josh Allen and the Buffalo Bills are for real
Their NFL Week 14 victory over the Pittsburgh Steelers confirms that the Buffalo Bills must be taken seriously. After a sluggish start in Orchard Park on national television, the Bills pulled the pieces together and scored a 26-15 victory that put the AFC East title and a playoff berth within easy reach. And with the Steelers suddenly slumping, locking down the home field in the first two rounds of the playoffs is also a possibility.
Josh Allen, maligned at times in his first two seasons out of Wyoming, completed 24 of 43 passes for 238 yards and a pair of touchdowns in a light drizzle and freezing temperatures.
At 10-3, the Bills' only losses this fall have been to the Tennessee Titans, Kansas City Chiefs, and Arizona Cardinals, the latter on the ridiculous DeAndre Hopkins grab of the "Hail Murray" heave. Victories over the Steelers and the Seattle Seahawks strongly suggest Buffalo can mix it up with the big boys when the playoffs roll around.
Josh Allen is new and improved
Comparisons to Ben Roethlisberger during his first two NFL seasons were based almost exclusively on Josh Allen's 6-foot-5, 235-pound frame. Although there were some bright spots along the way and he was limited by a lack of reliable receivers, Allen hadn't thrown for more than 266 yards in a game. Rather, he was more noteworthy for 1,141 yards and 17 touchdowns on the ground in those first 27 games.
But Allen has erased the doubts in 2020 while becoming one of the rare quarterbacks to excite the Buffalo Bills fan base since Jim Kelly retired after the 1996 season. Bolstered by the arrival of 100-catch receiver Stefon Diggs, he has thrown for 300 or more yards six times – twice going off for 415 yards.
For the season, Allen has completed 68.6% of his attempts for 3,641 yards and 28 touchdowns. He has taken a more conservative approach to running the ball, but Allen also has six TDs on the ground.
The emerging star has broken one of Jim Kelly's records
When you add in Josh Allen's catch against the Arizona Cardinals in the Week 10 loss, Josh Allen has accounted for 35 touchdowns this season on passes, runs, or receptions. That's one more than the 34 by Jim Kelly in 1991.
Kelly's team mark of 3,844 passing yards could be toast by late in next week's game against the Denver Broncos, and his record of 33 touchdown passes is also within reach by the conclusion of the season.
At just 24 years old, Allen has a ton of football left in him. It's a lock that the Buffalo Bills will pick up his fifth-year option, and a contract extension before his existing deal expires is also a logical possibility. That will give him time to start hunting some of Kelly's career marks like the 35,467 yards from 1986-96.
Kelly is 60 years old now and apparently recognizing the inevitability of Allen going on to purge his name from the Bills' record book. Jill Kelly went on Twitter to share her husband's thoughts moments after Buffalo defeated the Pittsburgh Steelers:
"And I quote, 'Josh is going to break every record I have.' Jim Kelly Love to hear it!! GO BILLS!
Like Sportscasting on Facebook. Follow us on Twitter @sportscasting19.