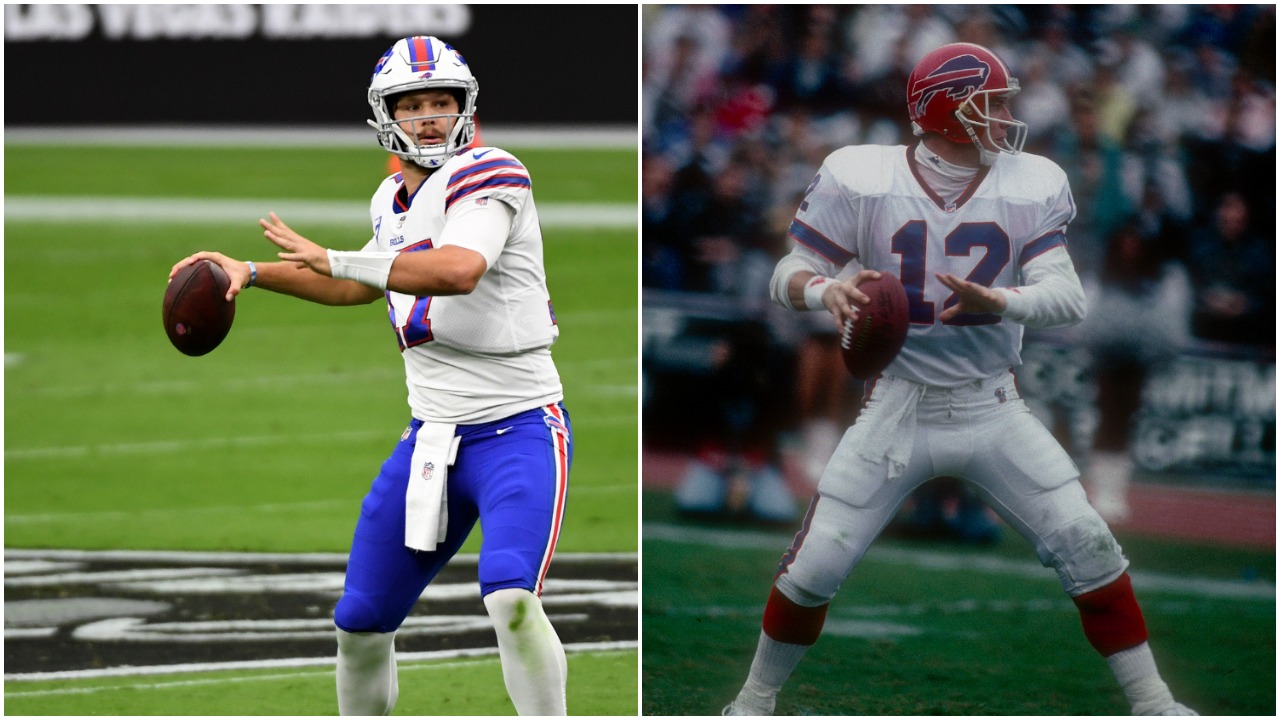 Through 32 Starts, Josh Allen Has Very Similar Numbers to Buffalo Bills Legend Jim Kelly and Some Are Even Better
Comparing the first 32 NFL starts of Hall of Fame Buffalo Bills quarterback Jim Kelly and current starter Josh Allen.
Following Tuesday night's game against the Tennessee Titans, Josh Allen has now started 32 games for the Buffalo Bills, the equivalent to two full seasons. While Allen didn't look his best in Buffalo's 42-16 loss to Tennessee (he actually had his worst game of the 2020 season), he still has the Bills off to a 4-1 start for the second consecutive season and seems to be the first true franchise quarterback since the great Jim Kelly retired following the 1996 season.
So with that in mind, we decided to take a look at the first 32 starts of both Josh Allen and Jim Kelly and the numbers are quite similar. Actually, Josh Allen is actually better in a number of areas.
How many quarterbacks have started for the Buffalo Bills between Jim Kelly and Josh Allen?
So before we get to the statistics of Josh Allen and Jim Kelly, we thought it might be fun to see just how many starting quarterbacks the Buffalo Bills have gone through since No. 12 retired. So just how many is it? Here's a look at the list.
Todd Collins
Alex Van Pelt
Doug Flutie
Rob Johnson
Drew Bledsoe
J.P. Losman
Kelly Holcomb
Trent Edwards
Ryan Fitzpatrick
EJ Manuel
Thad Lewis
Jeff Tuel
Kyle Orton
Tyrod Taylor
Matt Cassel
Nathan Peterman
Derek Anderson
Matt Barkley
So that's 18 different quarterbacks that have started at least one game for the Bills since Jim Kelly called it quits. And, again, that doesn't include Josh Allen. That list also doesn't include LeSean McCoy, who technically was the starting QB for Buffalo in Week 8 of the 2018 season. The Bills lined up in the Wildcat for their first play on offense that week with McCoy at quarterback and Derek Anderson at receiver. So including Allen and McCoy, Buffalo has had 20 different starting quarterbacks since 1996.
Jim Kelly through 32 starts
Jim Kelly is easily the greatest quarterback in Buffalo Bills history. Over the course of 11 seasons, Kelly led the Bills to four Super Bowl appearances and holds just about every franchise passing record there is to hold, including wins (101), passing yards (35,267), touchdown passes (237), completions (2,874), and pass attempts (4,779). He was a five-time Pro Bowler, a three-time All-Pro selection (one First Team, two Second Team), and was inducted into the Pro Football Hall of Fame in 2002.
So how did Jim Kelly fare in his first 32 starts?
Record: 14-18
Passes Completed: 608
Passes Attempted: 1,019
Completion Percentage: 59.7%
Passing Yards: 7,284
Touchdown Passes: 43
Interceptions: 33
Josh Allen through 32 starts
Taken with the seventh overall pick in the 2018 NFL draft, Josh Allen made his first start for the Buffalo Bills in Week 2 of his rookie season. He was forced to miss four games with an elbow injury but had a solid rookie campaign. He became the first quarterback in Bills history to lead the team in both passing and rushing and led all NFL quarterbacks with eight rushing touchdowns.
He's started every game over the past two seasons and although he certainly didn't have his best on Tuesday night against the Titans (he actually tripled his interception total for the year simply by throwing two), his numbers through his first 32 starts look very similar to those of Jim Kelly.
Record: 19-13
Passes Completed: 565
Passes Attempted: 955
Completion Percentage: 59.2%
Passing Yards: 6,678
Touchdown Passes: 44
Interceptions: 24
As you can see, some of Josh Allen's numbers through 32 starts are actually better than Jim Kelly's. He has a better record, more touchdowns, and fewer interceptions. He only trails in completion percentage by half a point and if you look at the passing yards, it may seem like a big difference as Kelly had 606 more yards through his first 32 starts. But if you average that out, it's only 18.9 yards per game.
All stats courtesy of Pro Football Reference