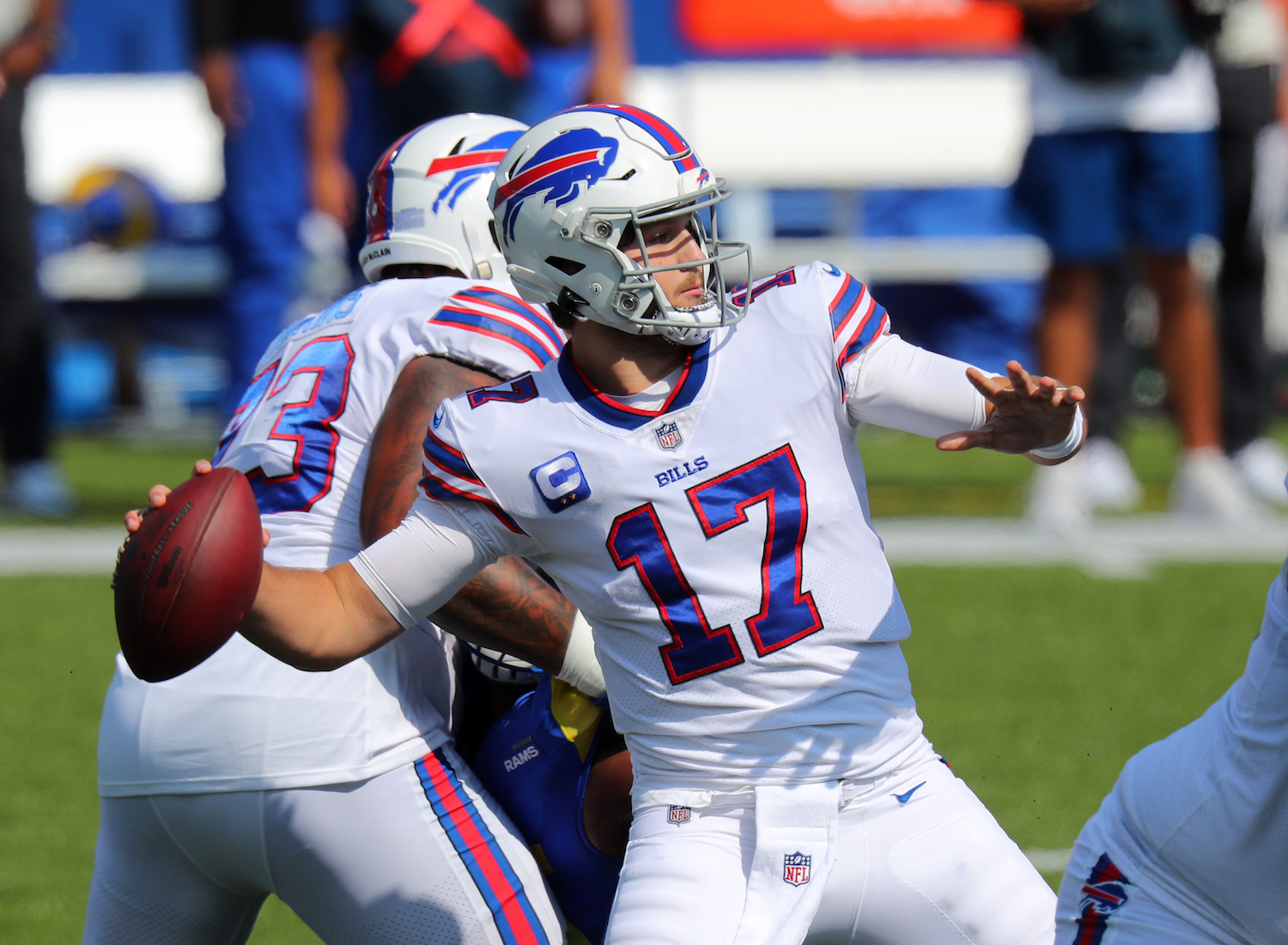 What Is Josh Allen's Net Worth?
Josh Allen is a top 5 NFL quarterback. He's making $750,000 this year and has a diverse business portfolio. What is Josh Allen's net worth?
Josh Allen is one of the top NFL quarterbacks this season and in the middle of the MVP conversation with the likes of Aaron Rodgers and Russell Wilson. And he's just 24 years old. Pretty impressive for a guy who had little to no interest from colleges coming out of high school and junior college and is just starting his third NFL season.
Since the Buffalo Bills selected Allen with the No. 7 overall pick in the 2018 NFL draft, his career trajectory has been ascending at an accelerated rate.  In addition to his success on the field, he's made good business decisions off it and is involved in a variety of ventures. All of it combined, he's done well for himself financially in just a few years. What is Josh Allen's net worth? 
Josh Allen struggled to have any colleges give him a look
Josh Allen grew up a Fresno State fan because he lived just over a half-hour away. He dreamed of one day playing there. He never received any scholarship offers from the Bulldogs or any other Division 1 school for that matter. He opted to attend Reedley College, a junior college, because he had a family connection with one of the football team's assistant coaches.
Despite putting up crazy stats and sending a mass email to every FBS school and its staff in America, Allen received offers from Eastern Michigan and Wyoming. Allen opted to play for the Cowboys.
Josh Allen started his final two seasons in Wyoming and put up impressive numbers. He finished his career throwing for 5,066 yards and 44 touchdowns in those two years where he guided the Cowboys to appearances in the Poinsettia Bowl and the Famous Idaho Potato Bowl. 
Josh Allen becomes star with Buffalo Bills 
In the 2018 NFL draft, the Buffalo Bills traded up from the No. 12 pick to the No. 7 slot and selected Josh Allen behind quarterbacks Baker Mayfield and Sam Darnold, but before Lamar Jackson. Allen arrived for his first season in Buffalo and challenged for the starting role but was relegated to backup behind Nathan Peterman. 
After Peterman's sub-par performance in the season opener, Allen was elevated to starter in Week 2 and has been in that role since. He suffered an elbow injury during his rookie season and missed four games but has started in every other game.
In 2019, Josh Allen established himself in Buffalo as the team leader guiding the Bills to a 10-6 record and a berth in the playoffs, just the second time the franchise reached the postseason since 1999. Individually, Allen finished the season throwing for 3,089 yards and 20 touchdowns with nine interceptions. He also rushed for 510 yards and scored nine touchdowns. 
Allen has a diverse business portfolio including his own cereal
On the field, Josh Allen likes to distribute the ball to an assortment of Buffalo Bills receivers. Off the field, he is equally diverse in his involvement with a variety of business interests.
He is under contract with Nike, is one of eight ambassadors with the New Era Cap Company, and is the spokesperson for an auto dealership in the Buffalo and Rochester areas. In July 2020, he was announced as a shareholder for a Buffalo-based golf ball manufacturer and golf entertainment company. 
Following in the footsteps of quarterbacks Jim Kelly and Doug Flutie, Allen has his own brand of cereal in 2020 called Josh's Jaqs. Proceeds go to support the Oishei Children's Hospital in Buffalo, where Allen is a spokesperson and visits with the children to uplift their spirits.
Allen's salary in 2020 is $750,000 and part of a four-year $21.1 million deal he signed in 2018 with a $13.5 million signing bonus. His football salary and bonuses combined with all of his business dealings, Josh Allen has a reported net worth of $5 million.