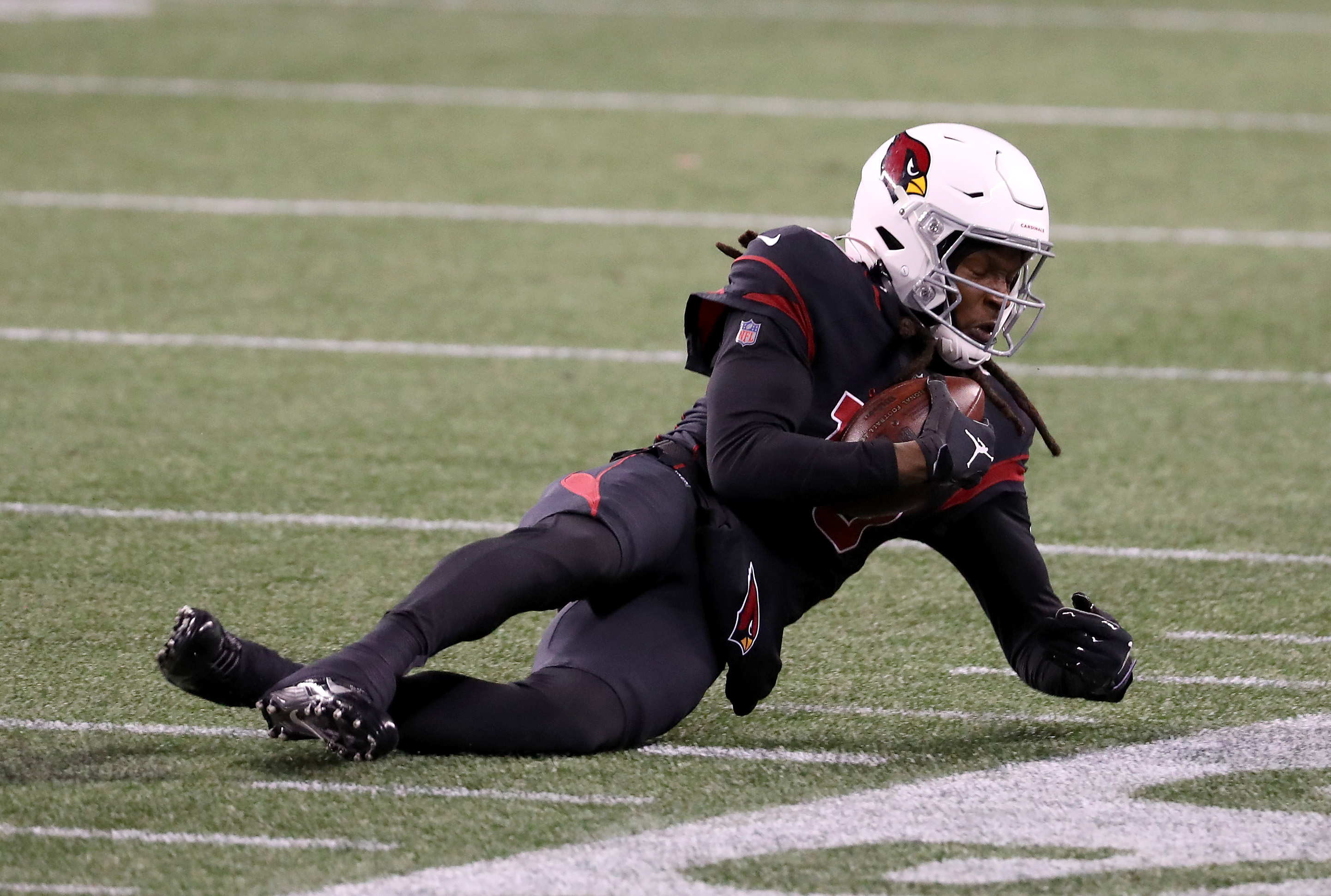 DeAndre Hopkins Continues to Troll the Houston Texans
Arizona Cardinals standout wide receiver DeAndre Hopkins continues to troll his former team, the Houston Texans.
DeAndre Hopkins is a man of few words. His social media posts are quick and to the point. Then they are sometimes deleted. The Arizona Cardinals wide receiver took yet another shot via Twitter at his former team, the Houston Texans, as they played their Thanksgiving Day game against the Detroit Lions. Then he apparently deleted the tweet.
DeAndre Hopkins has become one of the NFL's best
DeAndre Hopkins played his college football at Clemson. He was drafted in the first round of the 2013 NFL draft when the Houston Texans selected him with the 27th overall pick. Hopkins, a 6-foot-1, 212-pound wide receiver, has spent eight seasons in the NFL, the first seven with the Texans.
Hopkins started all 16 games during his rookie season. He caught 52 passes for 802 yards and a pair of touchdown receptions. The following year, Hopkins had the first of his five 1,000-yard seasons when he hauled in 76 passes for 1,210 yards and six scores.
Hopkins had his best season in 2018 when he caught a career-high 115 passes for a career-high 1,572 yards. He also collected 11 touchdowns, making his second straight Pro Bowl. He has four Pro-Bowl appearances. Hopkins was traded to the Arizona Cardinals in the offseason. He has 72 catches and four touchdowns through 10 games.
Hopkins was surprisingly traded after the 2019 season
It was a trade that didn't seem to make a whole lot of sense for the Houston Texans. They dealt DeAndre Hopkins, arguably one of the top wideouts in the game, to the Arizona Cardinals and didn't get a whole lot in return. Maybe they didn't want to pay him or maybe there was some friction in the locker room, but Hopkins was sent packing.
Former Texans head coach and GM Bill O'Brien was the one who pulled the trigger. In return, the Texans got oft-injured running back David Johnson, a second-round pick in 2020, and a fourth-round pick in 2021. The Cardinals also received a fourth-round pick in the 2020 draft.
After an 0-4 start to the 2020 season, O'Brien was fired by the Texans. Since then, they have gone 4-3 and have won their last two games. Although his touchdown catches (4) are down, Hopkins is well on his way to another 1,000-yard season. Through 10 games, he has 72 receptions for 912 yards. The Cardinals are 6-4.
Hopkins continues to take subtle digs at the Texans
Since the surprising trade of DeAndre Hopkins to the Arizona Cardinals, Hopkins has had a difficult time avoiding the rear-view mirror. He's posted several short posts on social media that clearly have to do with the Houston Texans. When his former team played on opening night against the Kansas City Chiefs and lost 34-20, Hopkins put out a one-word message on Twitter, saying "Grateful."
When Bill O'Brien, the man who traded Hopkins to the Arizona Cardinals, was fired after Week 4 this year, Hopkins, again, chimed in via Twitter. Although he didn't mention anyone by name, Hopkins simply tweeted, "Wish bad on no man."
On Thanksgiving, an unprovoked Hopkins once again had the Texans on his mind. During the Texans game against the Detroit Lions, Hopkins sent out yet another tweet aimed at his former team. In the since-deleted tweet that occurred during Thursday's Texans vs. Lions game, Hopkins wrote, "I'm thankful for the @AZCardinals believing in me enough to trade (for) me for a 2nd rounder." Although Hopkins is in Arizona, he's showing he always has Texas on his mind.