Dak Prescott Gives a Gruesome Account of Trying to Re-Set His Own Compound Fracture on the Field
The now-infamous Dak Prescott injury happened just nine months ago. The Dallas Cowboys QB suffered one of the most gruesome injuries in NFL history: A compound fracture and a dislocated right ankle.
Prescott is excited and ready to go as the opening kickoff of 2021 gets closer. He is also more willing to talk openly about the injury and share shocking details about the moments after it happened.  
The Dak Prescott injury happened in Week 5 of the 2020 NFL season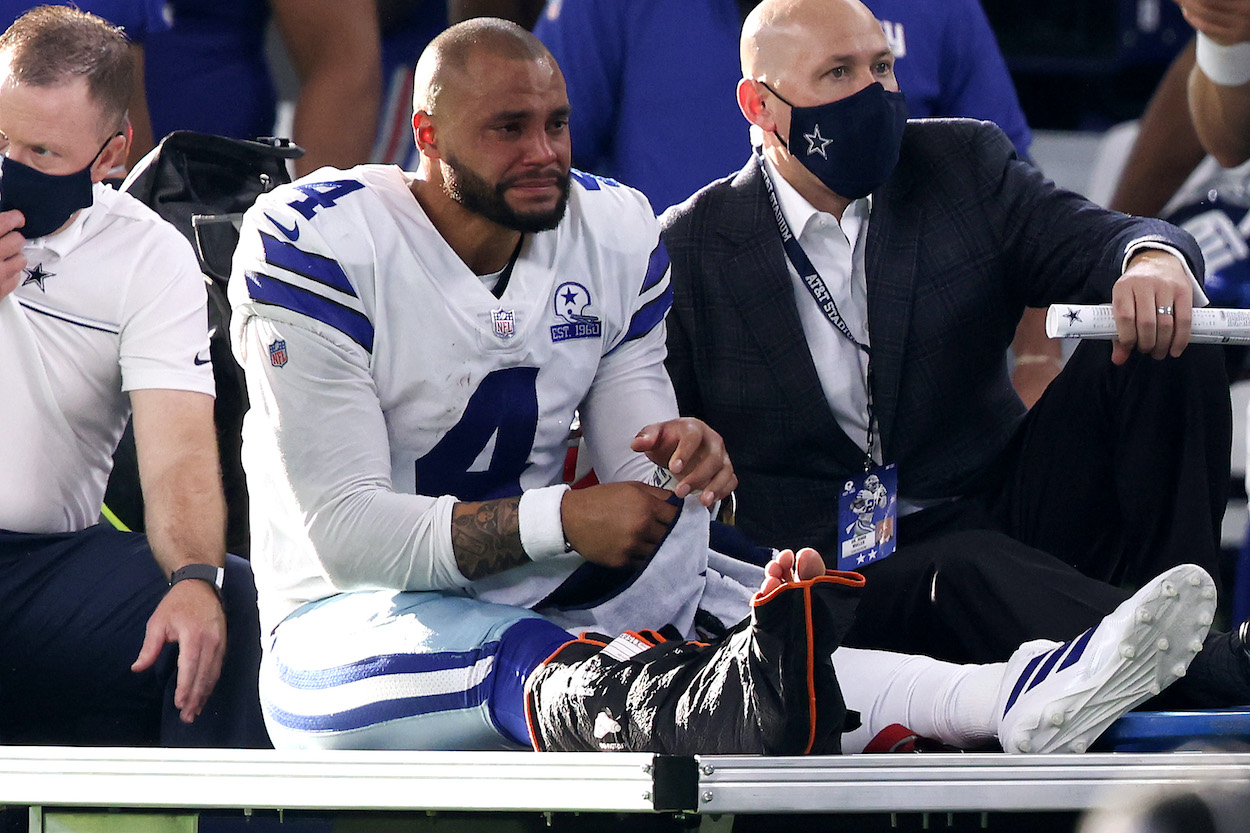 In Week 5 against the rival New York Giants, Prescott scrambled out of the pocket with just over six minutes left in the third quarter, per ESPN. Giants cornerback Logan Ryan chased down the former Mississippi State star and, when the players untangled, Prescott found his foot pointed in a very unnatural direction.
The diagnosis for the Cowboys QB1 was a dislocated ankle and a compound fracture, meaning his bone broke through his skin.
Dallas actually went on to win the game 37-34 on a last-minute field goal drive orchestrated by backup Andy Dalton. However, the damage to the Cowboy's season was done. The team lost the next four games in a row and six of their next seven. The 'Boys finished the season 6-10.
Prescott had emergency surgery on the ankle and left the hospital the next day with a three-to-six-month timetable for recovery.
Prescott says he tried to re-set the ankle by himself on the field
Prescott sat down with Sage Steele on ESPN+'s Up Close with Sage Steele and discussed the moments immediately following the disturbing injury.
The first thing the QB thought was, "get off the field."
This instinct comes from his mother's teachings when he was young. She always told him to get off the field, no matter how bad he was hurting. Then he revealed the lengths he went to in order to attempt this:
Yeah, so I thought it was just rolled, and as I grabbed it and did that I just was like, 'I need to get off the field, so, I was trying to set it back myself. I was trying to hit it into the ground. I was trying to get off the field, and I knew it wasn't straight so I wanted to do that so I could get up. And when I couldn't that's when I just waved (to the sideline), 'I can't do this myself.' 
"[The trainers] came over, they put it back in place and that was a relief, right?" Prescott told Steele. "You can imagine the pain it was in and then it gets reset. I just remember over and over just saying, 'Thank God.'"
Prescott also said, "thank God for shock," which allowed him not to feel the intense pain like most would assume he did.
Only two NFL quarterbacks have experienced something like Prescott's injury
NFL QBs experience low-blows and terrible leg injuries regularly. Just last season, rookie sensation Joe Burrow sustained a torn ACL during a sack, and Washington QB Kyle Allen also went out with a bad-looking dislocated ankle.
Only two quarterbacks in NFL history truly know what Prescott is going through, though, sustaining an injury like this at the height of their careers. Ironically, both played for Dallas' rival now-Washington Football Team.
Former Washington quarterback Joe Theismann infamously broke his leg on Monday Night Football following a hit from Lawrence Taylor in 1985 and never played football again. Thirty-three years later, Alex Smith suffered a compound fracture as well. He developed infection complications during surgery and almost lost his leg or possibly his life. However, he made a heroic comeback in the 2020 season.
Prescott's injury happened at a significantly younger age than both these QBs, but he also relies on his legs more than both of them. He seems confident going forward, though, that he'll be able to regain his form.
For what it's worth, both the Cowboys and Las Vegas have faith in Prescott too. Jerry Jones rewarded Prescott with a huge new deal in the offseason, and Vegas has Prescott as the favorite to win 2021 NFL Comeback Player of the Year.
Like Sportscasting on Facebook. Follow us on Twitter @sportscasting19
Related: Dak Prescott Reveals the Exact Date Cowboys Fans Will Know How the Season Is Going