Dak Prescott Reveals the Exact Date Cowboys Fans Will Know How the Season Is Going
Dak Prescott knows what he's looking for in this year's Dallas Cowboys and he knows what week he needs to see it by. Prescott has targeted Week 5 and statistics show that, by that point, Cowboys fans will have a pretty good idea of how the season is going and if the playoffs are possible.
Dallas Cowboys quarterback Dak Prescott is back from a gruesome injury that cost him most of the 2020 season. The team brought back most of its important players and drafted some good ones. They look ready to make a real playoff push in 2021.
Prescott seems fired up for the season and thinks if the Cowboys show improvement early, it could mean big things for the team. He even revealed exactly how many games it would take for fans to know how the season is going.
Dak Prescott says the Cowboys are focused on the first five games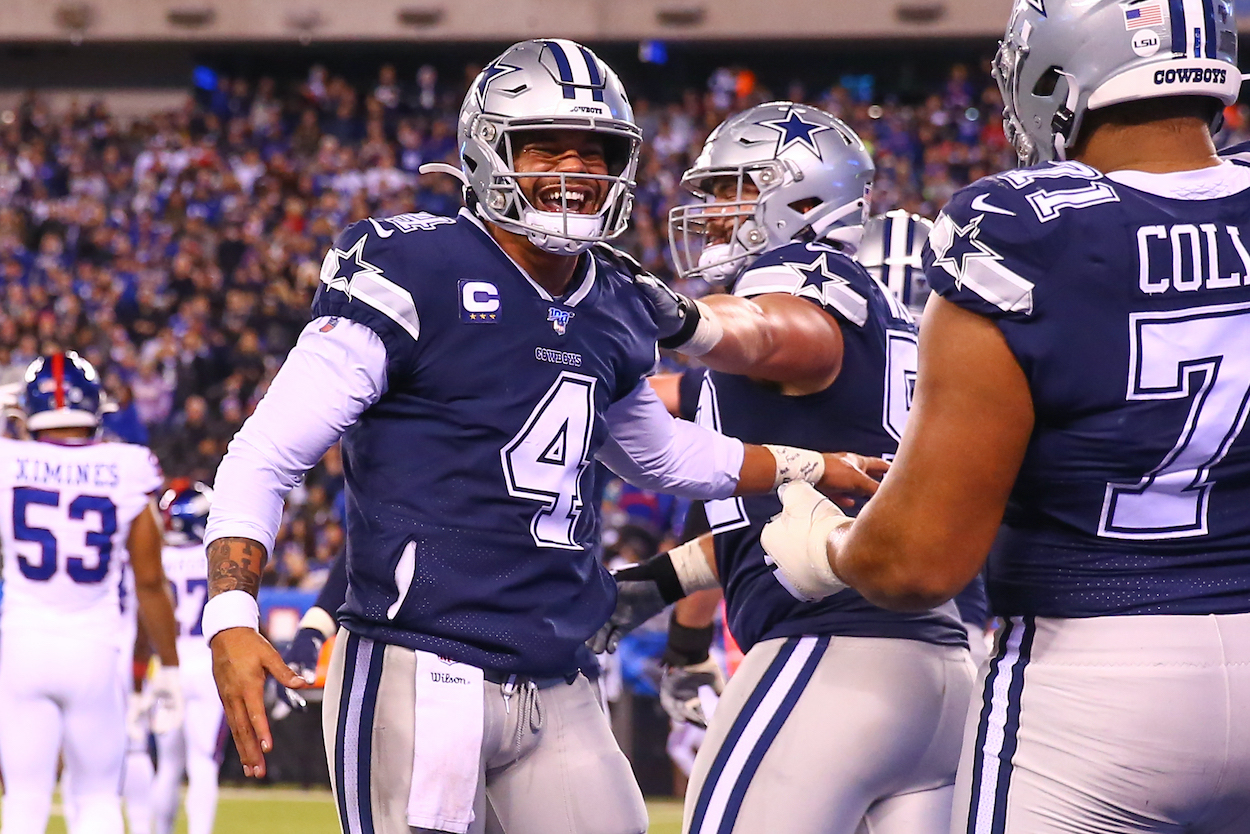 Local Dallas sports reporter Newy Scruggs of NBC 5 DFW caught up with Prescott and an even and asked the question fans want to know heading into the 2021 season, "What should we expect? What do YOU expect?"
Prescott told Scruggs what he is looking for. He also pinpointed the exact timeline he's focusing on to start the season: 
Improvement, a lot of improvement, obviously from last year to this year, but deeper than that from those first five games. Take those first five games and just say we're going to be better than that as a team. We're going to play more complementary football from defense to offense to special teams, and then we're going to have a healthy team. 
Once Dallas has five of (for the first-ever time) 17 games under its belt, it sounds like Prescott believes that the team will have a good handle on who they are and what they are capable are.
That makes the first five Cowboys games critically important.
Who do the Dallas Cowboys play in the first five games? 
The Dallas Cowboys open the season playing the first game on the entire NFL 2021 slate against Tom Brady and the defending Super Bowl Champions Tampa Bay Buccaneers on Thursday, September 9.
Maybe the Bucs still have a Super Bowl hangover from their boat parade, but Brady and the squad should be ready to roll Week 1 at home with a full training camp.
Next comes a second-consecutive road game against second-year sensation Justin Herbert and the Los Angeles Chargers. It will make for another difficult (but winnable) matchup for the 'Boys.
The first five weeks end a lot easier than they start for Dallas. The team has three straight home games at Jerry World against teams that may be among the worst in the league. Weeks 3, 4, and 5, they take on Jalen Hurts and the Philadelphia Eagles (4-11-1 in 2020), Sam Darnold and the Carolina Panthers (5-11), and Daniel Jones and the New York Giants (6-10), respectively.
How will the Cowboys' record after week five affect their playoff chances? 
Because the 2021 season will be the first 17-game schedule, older statistics and models won't be as accurate or as predictive as they have in the past. However, they are still worth looking at to get a feel for how things may turn out.
Fivethirtyeight produced a chart in 2013 of NFL teams' playoff chances by record. It is for a 16-game season, but it will still give fans (and Prescott) a general idea of the Cowboys' playoff chances after Week 5 based on their record.
Only one team in NFL history, the 1992 San Diego Chargers according to the Houston Chronicle, has ever made the playoffs after starting 0-4. So, if the Cowboys start 0-5, they can kiss the playoffs goodbye.
With a losing record in those first five games, their chances aren't that great either. At 1-4, there is a 6% chance of making the playoffs, and at 2-3, there's a 22% chance. If they can flip that record to the other side of .500 and go 3-2, then they'd have a 48% chance.
If the Cowboys can start out hot, then the playoffs will look much more realistic. A 4-1 team has a 74% chance of making the playoffs in a 16-game season. Teams' that start 5-0 reach the postseason 90% of the time.
Like Dak Prescott says, if Dallas can improve, play good football, and stay healthy (as well as win all three winnable games and at least one other), then 2021 will be a "very, very special" season for the Dallas Cowboys.
Like Sportscasting on Facebook. Follow us on Twitter @sportscasting19