Dak Prescott Sends Cowboys Fans Into a Frenzy With Assertive Message About Upcoming Season: 'It's Going to Be Very, Very Special'
Dallas Cowboys fans have been desperately waiting for their beloved team to return to their glory days. The Cowboys haven't won a Super Bowl in 25 years. Since then, they haven't even made it past the NFC Divisional Round despite making the playoffs 10 times over that span.
"America's Team" hasn't been America's best for more than two decades, but after hearing Dak Prescott's recent comments on the upcoming NFL season, Cowboys fans should already be drawing up a parade route through downtown Dallas.
Dak Prescott set to return in Week 1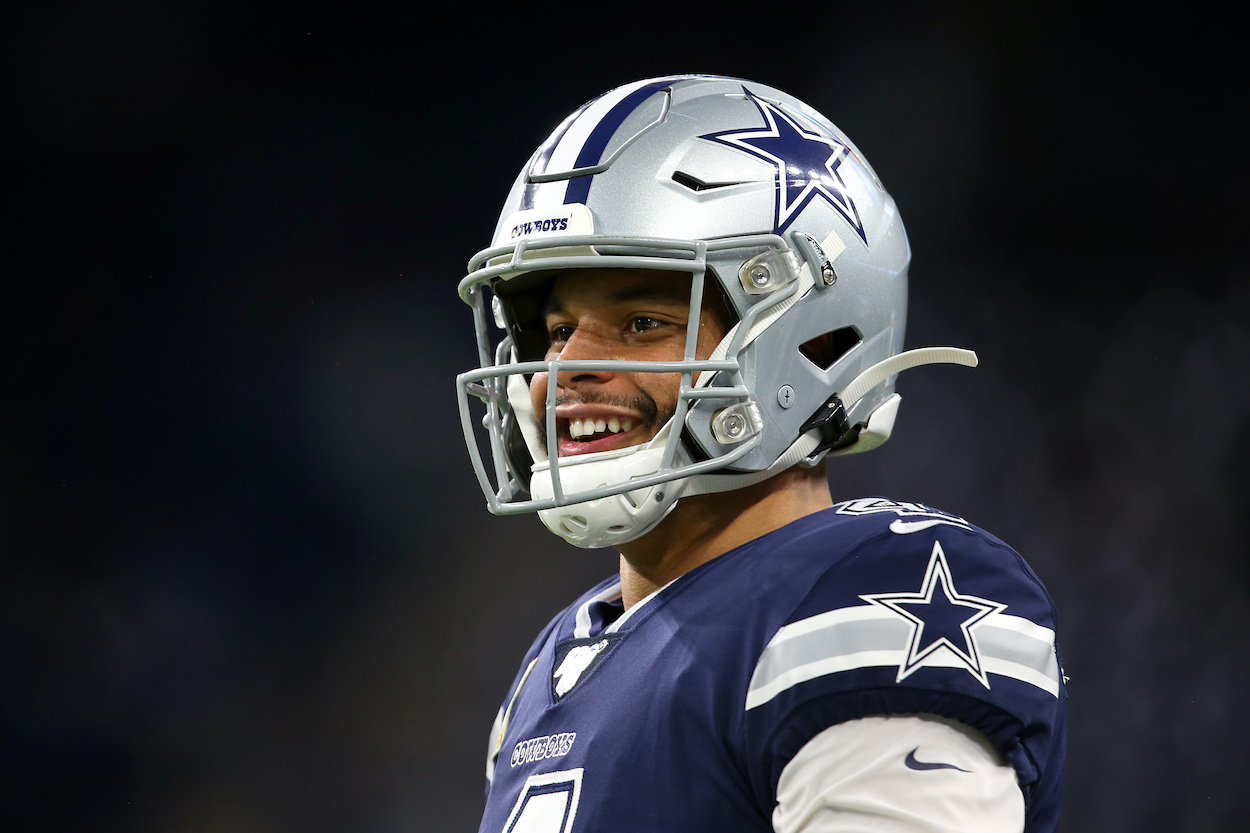 The Cowboys had a disappointing 2020 season at 6-10, but they most likely would've made the playoffs if Prescott didn't go down with a season-ending ankle injury in Week 5.
Luckily for Cowboys fans, though, Prescott's injury came early enough in the season that he'll be 100% healthy and ready to go by Week 1 later this year. The star quarterback even said he could play a full game right now if he had to, and he's completely put the injury behind him.
"I've buried the injury," Prescott said after a practice earlier this offseason. "Honestly, guys, you know me, from the point of practice, from the point of just moving forward and going about my life, I've buried it mentally. And I think you guys and a lot of people around have to help me in burying it as well as we move forward."
With Prescott back under center, the Cowboys are once again the favorites to win the NFC East in 2021.
Prescott sends Cowboys fans into a frenzy with assertive message
Cowboys fans must be feeling anxious about Prescott's long-awaited return to the field this coming season. Will he look the same as he did pre-injury? How will his ankle fare after taking its first in-game beating? How long will it take him to return to his old self?
But there might be no reason to fear. Prescott is confident his injured ankle won't affect his play in 2021, and he sees big things coming from the team as a whole this season.
"Improvement, a lot of improvement, obviously from last year to this year, but deeper than that from those first five games," Prescott recently told Newy Scruggs of NBC 5 DFW. "Take those first five games and just say we're going to be better than that as a team. We're going to play more complementary football from defense to offense to special teams, and then we're going to have a healthy team. We've all approached the offseason. We approached the season the right way. We're just excited. We're excited that hopefully, we can stay healthy, we can get good fortune on that end. And we can just put everything we've worked hard for together on all stages and all phases of the game. We're excited for this year.
"It's going to be very, very special for us and for Cowboys fans."
How can Prescott make this season "very, very special" for the Cowboys?
Prescott just placed a ton of pressure on his shoulders with his recent comments. Cowboys fans expect to compete for the Super Bowl every year, so a "very, very special" season would be nothing less than just that: A Super Bowl victory.
If the Cowboys are going to win their first Lombardi Trophy since 1996, Prescott will need to play at an MVP level. Defense isn't going to win championships for this Dallas team. First-round draft pick Micah Parsons should clean up some of their issues from last season, but the Cowboys still have question marks regarding the secondary and the pass rush.
Dallas will be forced to outscore opposing teams in order to reach the playoffs and go on a Super Bowl run, and Prescott is more than capable of doing just that with the weapons he has around him.
Prescott talked the talk, but can he walk the walk in 2021?