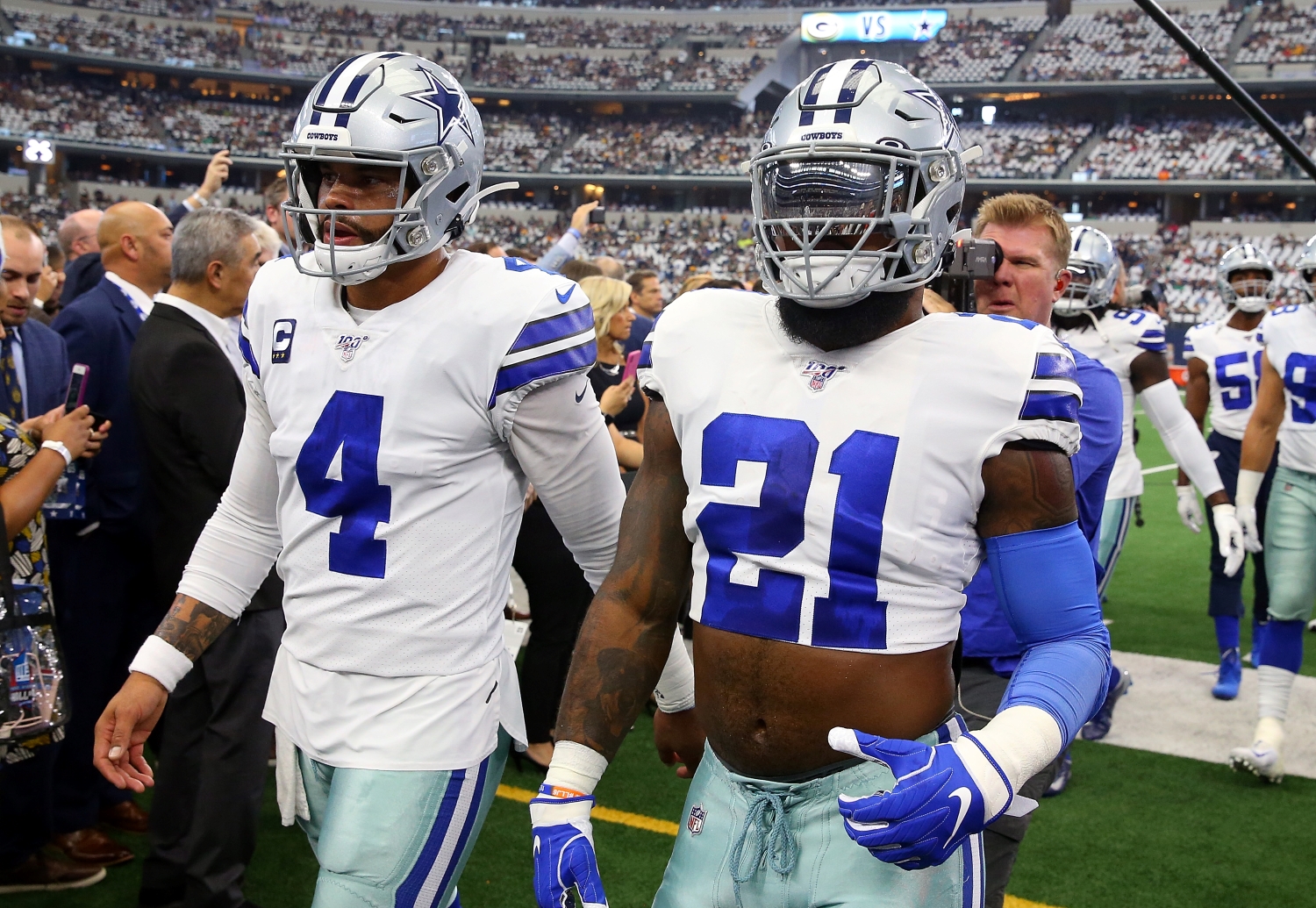 Dak Prescott's Scouting Report on Ezekiel Elliott Sounds Like a Nightmare For the Rest of the NFL
Ezekiel Elliott needs to prove his 2020 season wasn't a sign of things to come. According to Dak Prescott, the Dallas Cowboys running back looks primed for a big year.
The Dallas Cowboys committed significant financial resources to make Ezekiel Elliott happy. But last season, Jerry Jones didn't get what he paid for.
Will Elliott bounce back and live up to his lucrative contract? Or will opposing defenses discover he's not the same player he was when he entered the NFL in 2016?
Based on Dak Prescott's personal scouting report, linebackers around the league shouldn't be looking forward to encountering Elliott in the hole this season.
Ezekiel Elliott seems to be trending in the wrong direction
Running backs don't have a great track record of lasting long in the NFL. Considering how much physical punishment they take, that makes total sense. Still, it's safe to say the Cowboys didn't expect Elliott to start trending in the wrong direction before his 26th birthday.
Two seasons ago, Elliott totaled 1,357 yards and 12 touchdowns on 301 carries. He also caught 54 passes for 420 yards and two touchdowns. However, his production took a dramatic dip in 2020. And as much as the Cowboys' injury problems along the offensive line didn't help, it's impossible to ignore Elliott's disappointing season based on some other key numbers.
The former Ohio State star finished the year with a career-low 979 rushing yards in 15 games. He also tied his career-low by scoring only six rushing touchdowns.
In reality, Elliott's numbers have declined on an annual basis. His rushing-yards-per-game average went from 108.7 as a rookie to 98.3 in his second season in Dallas. That number dropped to 95.6 in 2018. Elliott averaged 84.8 rushing yards per game in 2019 before that number plummeted to 65.3 last season.
Oh, he also went from averaging 5.1 yards per carry in 2016 to a career-worst mark of 4.0 yards per carry in 2020.
The rest of the NFL should be on high alert after hearing Dak Prescott's scouting report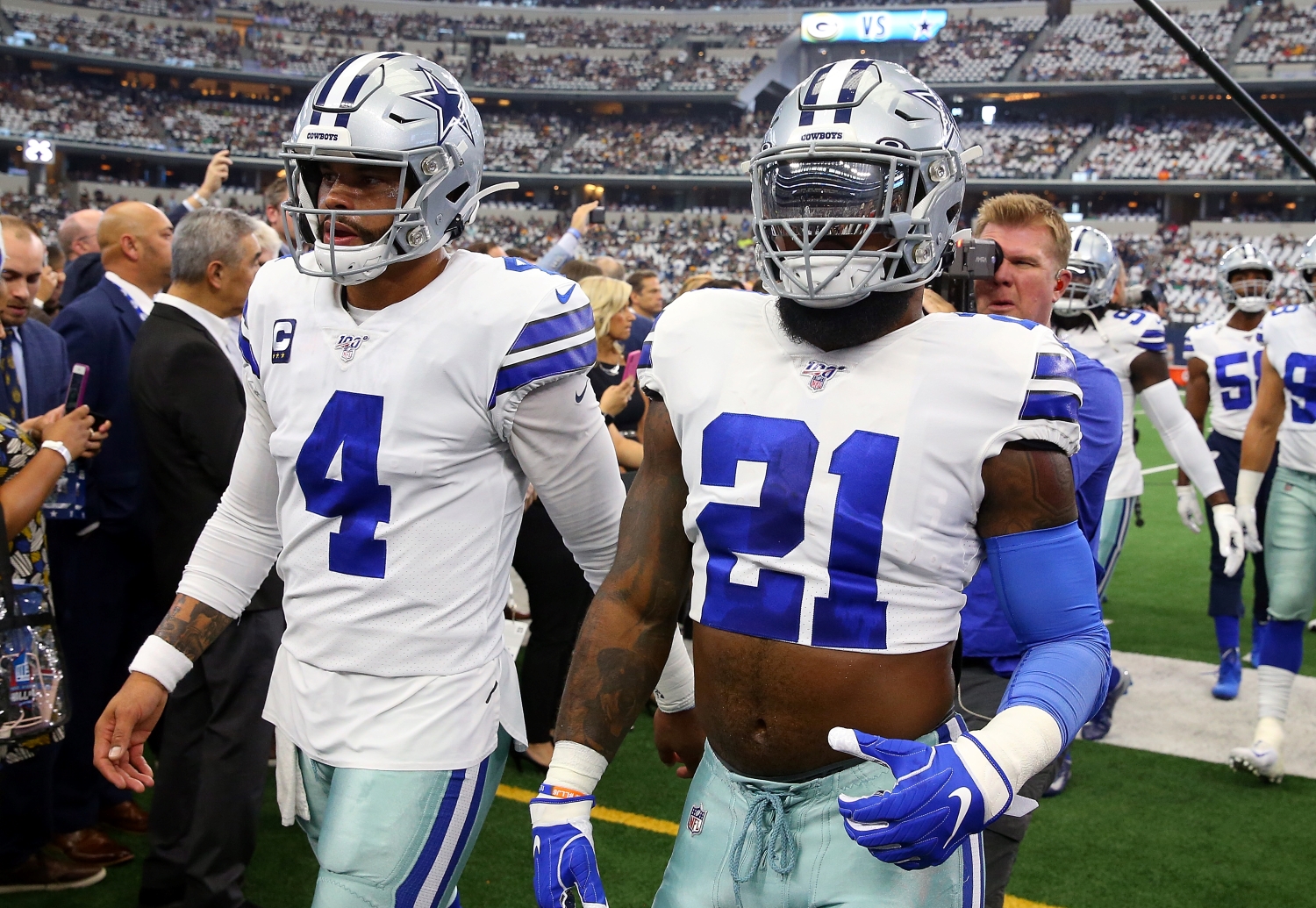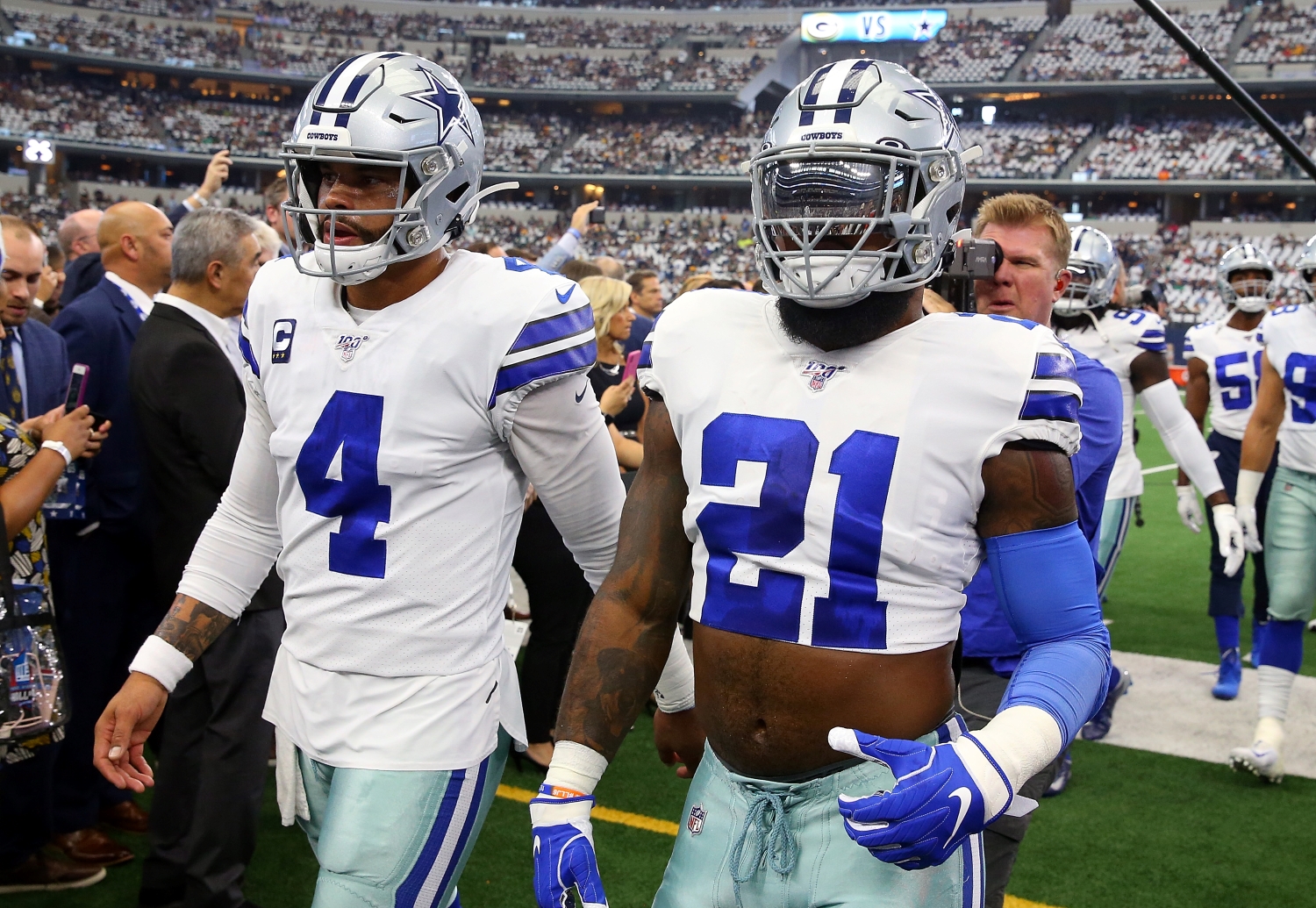 Needless to say, the numbers aren't trending in the right direction for Elliott. However, that doesn't mean his days as an elite running back are over.
In fact, Elliott may quickly erase concerns about a potential decline. If his quarterback's scouting report is accurate, the rest of the NFL could be in for a nightmare whenever the Cowboys dial up the run.
"Zeke looks great," Prescott told The Dallas Morning News. "He's in the best shape of his life. Looking fast. Everybody's seen the clips of him working out independently with his running back coach. His cuts, just how explosive he is. Excited to have a full year with him again and getting him healthy throughout the whole season."
The whole "best shape of his life" line gets thrown around a lot, but Elliott will be a much bigger threat if that statement proves true. He looked like he lost a step (maybe even two) last season, and his overall quickness and agility have waned in recent years. At his best, though, the 6-foot, 228-pound Elliott has the ability to carve up defenses with his combination of size, power, and explosion.
"When Zeke's healthy and Zeke's doing his thing, he's the best running back in the league," Prescott said. "It's just exciting to see him in the best shape of his life, or best shape he's been in the NFL. That's going to be special for us moving forward."
Can Prescott and Elliott carry the Cowboys to a playoff berth?
A healthy, motivated, and more in-shape version of Elliott can only mean good things for the Cowboys. But will he and Prescott succeed in carrying the team to a playoff berth?
Much of that depends on the health of the offensive line. Can future Hall of Famer Tyron Smith hold down the left tackle spot for a little while longer? Or is it time for him to call it a career?
Meanwhile, will La'el Collins actually make an appearance this year? While Smith played two games before he landed on injured reserve, Collins didn't take a single snap in 2020. After undergoing hip surgery in October, he has to prove he can still play at a high level after missing an entire season.
If the veteran tackles remain healthy, Prescott and Elliott both have a much better chance of living up to their lucrative contracts. Dallas has a trio of exciting receivers (Amari Cooper, Michael Gallup, CeeDee Lamb), and a rock-solid tight end in Blake Jarwin. So Prescott clearly has enough weapons in the passing game.
Plus, Elliott can make an impact as a receiver.
But at the end of the day, Jones didn't give the three-time Pro Bowler a $90 million contract extension to catch passes out of the backfield. And if Elliott doesn't start trending in the right direction as a pure running back, the Cowboys may have to consider moving on from him.
For the sake of Elliott's future in Dallas, Prescott's scouting report better be right.