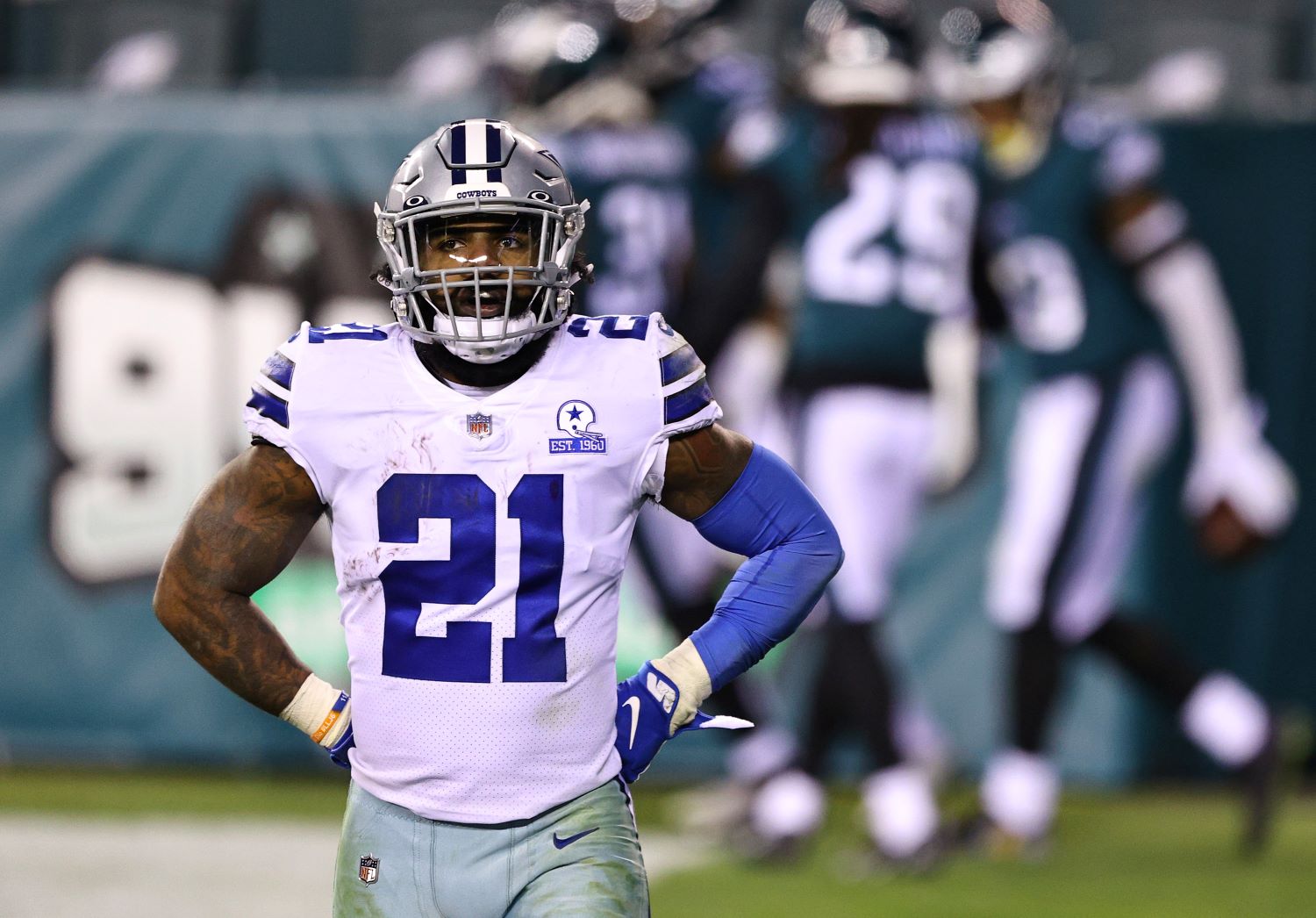 Ezekiel Elliott Just Got Put on Blast By a Longtime Member of the Dallas Cowboys
A longtime member of the Dallas Cowboys just put disappointing RB Ezekiel Elliott on blast, but will that lead to better play on the field?
Ever since he signed a record-setting contract extension in September 2019, Ezekiel Elliott has faced tremendous pressure to live up to his massive deal. While the Dallas Cowboys running back did earn his third Pro Bowl berth last season, he has been a massive disappointment this year.
Needless to say, Jerry Jones might have some regrets about committing $90 million to Elliott. And with the team's top weapon struggling to deliver on Sundays, a longtime member of the Cowboys just put Zeke on blast in a very public manner.
Ezekiel Elliott turned his early stardom into a life-changing raise
Ezekiel Elliott entered the NFL with a ton of hype. After all, he put together a stellar career at Ohio State that included nearly 4,000 rushing yards and 44 touchdowns.
The talented running back wasted no time showcasing why the Cowboys used the fourth overall pick on him. In his rookie season, the 6-foot, 225-pounder led the NFL in carries (322) and rushing yards (1,631) while punching in 15 rushing touchdowns. Of course, Dak Prescott stole some of the spotlight by throwing for 23 touchdowns and just four interceptions while leading the Cowboys to a surprising 13-3 record.
Elliott bounced back from an abbreviated 2017 campaign with another Pro Bowl season that included a league-high 1,434 rushing yards. However, he scored just nine total touchdowns in 15 games.
But after the Cowboys picked up his fifth-year option, Elliott held out for a long-term deal. And ultimately, Jerry Jones gave it to him.
On Sept. 4, Elliott signed a six-year, $90 million contract extension that included $50 million guaranteed. The deal represented the largest-ever for the running back position.
The struggles continue for the three-time Pro Bowler
Ezekiel Elliott got his wish and got paid last season. He actually played all 16 games for the first time in his NFL career. And while he put up excellent numbers, that has not been the case in 2020.
In fact, the 25-year-old is in the midst of easily his least-effective season since he entered the league in 2016.
Elliott has surpassed 100 rushing yards only once all season. He has been held to less than 50 rushing yards in five games, including a 48-yard outing against the Cincinnati Bengals on Sunday.
Overall, the fifth-year pro has averaged 3.9 yards per carry—more than half a yard lower than his career average. In addition, he has found the end zone just five times as a ball-carrier.
On film, the veteran back looks less explosive, especially when having to change direction. He has struggled to covert in goal-line situations. And perhaps most alarming: Elliott has fumbled six times on 211 carries.
Needless to say, the Cowboys expected more from one of the highest-paid players on the team.
Elliott just got put on blast by former Dallas defensive lineman Marcus Spears
It's too early to say that Ezekiel Elliott is already past his prime, but he clearly has taken a step back in his fifth NFL season. Some of that blame falls on an offensive line that has been decimated by injuries. Plus, the revolving door at quarterback hasn't helped.
But for a longtime member of the Cowboys, those issues don't excuse Elliott's lackluster performance. And on Tuesday, former Dallas defensive lineman and current ESPN analyst Marcus Spears put the highly-paid running back on blast on national television.
"Zeke was supposed to be the shining armor with everything that transpired. He was supposed to overcome the offensive line," Spears said on ESPN's Get Up! "I know it's a tough situation for Zeke Elliott, but he was supposed to be the mainstay and the catalyst around all the turmoil that's going on in that franchise right now, especially with the injuries and things that have transpired from an offensive standpoint. He's not living up to it."
Spears, who spent the first eight years of his NFL career with the Cowboys, didn't just acknowledge that Dallas has a problem with Elliott. He took things even further by bringing up the running back's massive contract extension that he signed only after holding out.
"It further pisses me off. We're talking about Zeke Elliott getting his money after going to Cabo and Dak doesn't have his check," Spears said. "It is crazy to me that that is transpiring."
He wrapped up with, "When you are costing your team games, when you are costing them opportunities, that's when you get into that area of, 'Oh, we made a mistake.'"
All statistics courtesy of Pro Football Reference.