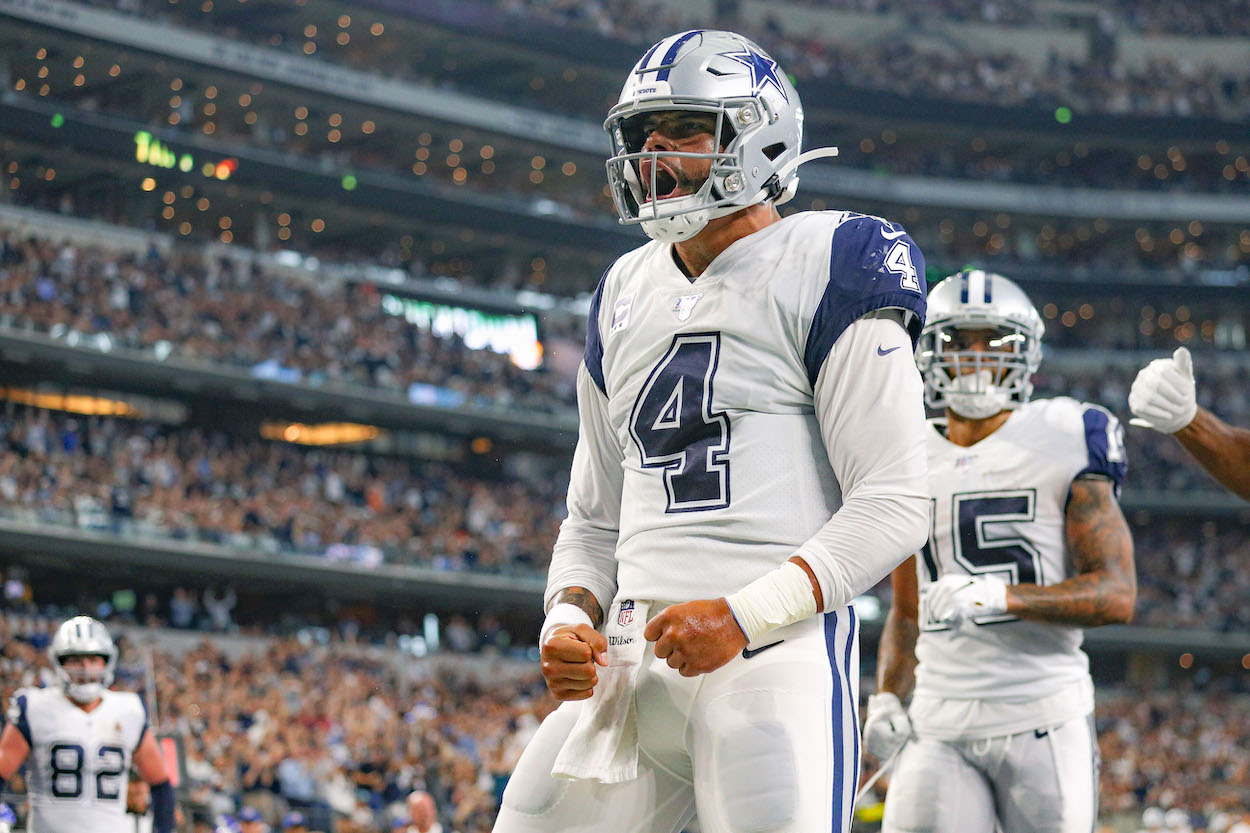 Dak Prescott Can Finally Focus on His Ultimate Goal With the Cowboys After Lifting a $160 Million Weight Off His Shoulders
Dak Prescott has finally signed his longterm deal with the Dallas Cowboys, and he's already shifted his focus to winning the Super Bowl.
After months and months of uncertainty about his future in Dallas, Dak Prescott is finally on his way to becoming a Cowboy for life. Prescott recently agreed to a four-year, $160 million contract with the Cowboys, and now he can shift his focus to his ultimate goal of bringing the Lombardi Trophy back to Dallas.
Dak Prescott signs historic deal with the Cowboys
At long last, the Dak Prescott contract saga is finally over. On Wednesday, Prescott signed a four-year contract with the Cowboys worth $160 million. The star quarterback will earn $126 million in guaranteed money, including $75 million in year one of the deal, which sets a new NFL record.
Prescott's new contract includes a no-trade clause and a no-tag provision, signaling the two-time Pro Bowler wants to be in Dallas for the foreseeable future.
With the $160 million weight finally lifted off his shoulders, Prescott now has only one goal in mind — winning a Super Bowl.
Dak Prescott shifts focus to his ultimate goal with the Cowboys
After signing his record-breaking contract, Prescott spoke to reporters on Wednesday about the great relief he's feeling, his health heading into the 2021 season, and his goals for the future now that the financials are sorted out. For Prescott, the goal is simple. It's time to bring Dallas another Super Bowl.
"That's my plan, get a parade in Dallas," Prescott told reporters Wednesday. "As a competitor, you watch people celebrate, you watch people do what you want to do and there's not too many more things that light a fire under you than somebody having what you want. And every year we're not in the playoffs, or we didn't make that run, that's just more fire to it.
"You throw on there that I was holding my leg and didn't have a chance to be out there while guys were doing what was taken away from me, I'm just excited to get out there and show you what this team can do. The next big press conference we have is hopefully in another year after that big parade. So there you go."
When asked about how he's progressing after suffering a season-ending ankle injury last year, Prescott responded with what should be music to Cowboys fans' ears.
"I'm healthy," Prescott said. "I'll control what I can control. I'll follow the doctor's orders the whole time. Put my own work ethic into it. I'm healthy, I'm getting close. I'll be ready when it matters."
Dak Prescott confirms he wants to spend his entire NFL career with the Dallas Cowboys
If the four-year, $160 million commitment wasn't enough, Prescott confirmed Wednesday that he wants to spend his entire career with the Dallas Cowboys.
"I'm excited to be here, to never leave, and excited for what this organization, what this team, what the fans are going to get," Prescott said. "I'm excited just to go do it and just to know that this is my home, I'm not leaving. I'm a Cowboy and this is only the beginning…"
"I think this partnership says it, right? That ensures their faith in me, and as I've said, as a guy that lives by faith, just knowing that you have a family, have an organization that wants you at the forefront, go do it, that's everything. Because I want to give them everything that they want, everything that they invested in. If I manifest it, if I put everything in, it'll happen on the back hand. I'm just excited to be on the front end of this, and we'll all be celebrating when it pays off."