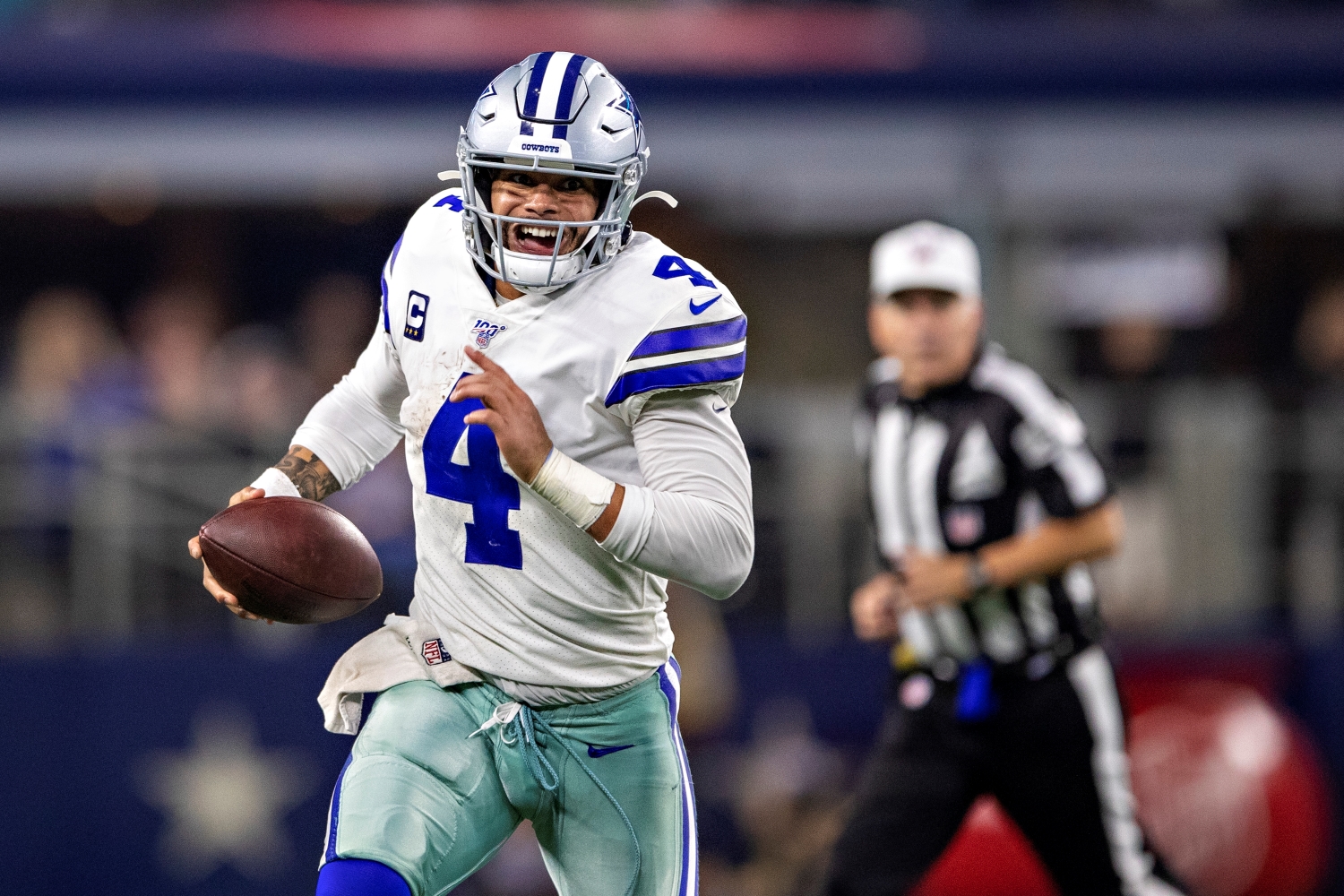 Dak Prescott's Dad Sends Inspiring Message After the Cowboys Invest $160 Million in His Son's Future
The father of Dallas Cowboys quarterback Dak Prescott delivered a dynamite quote after his son secured a $160 million contract.
The Dallas Cowboys made sure to address their most important problem first this offseason. Instead of dragging out negotiations with Dak Prescott, Jerry Jones took care of business on Monday by ensuring the star quarterback won't suit up for another NFL team anytime soon.
And after his son secured a $160 million contract from one of the most popular franchises in pro sports, Nat Prescott delivered a dynamite quote that revealed how much his family really loves the Cowboys.
Dak Prescott and Jerry Jones finally got a long-term deal done
Dak Prescott couldn't convince the Cowboys to meet his asking price last offseason. Although securing a substantial raise via the franchise tag represented a positive step forward for the talented dual-threat signal-caller, he suffered a sizable setback when he sustained a season-ending injury in Week 5 against the New York Giants.
Speculation immediately arose about whether the Cowboys would have further hesitation about signing Prescott to a long-term deal.
And for the last few weeks, it did not seem like Dallas narrowed the gap at the negotiating table.
Then Monday arrived.
With free agency right around the corner, the Cowboys fully committed to their two-time Pro Bowl quarterback's future. ESPN's Adam Schefter first broke the news about Prescott agreeing to a four-year contract that will make him the highest-paid quarterback in the NFL behind only Patrick Mahomes.
The star quarterback's dad delivers dynamite quote after his son secures $160 million contract
Dak Prescott only made $2.7 million on his four-year rookie deal. Last season, he made $31.4 million on the franchise tag.
Thanks to a record-setting $66 million signing bonus, the 27-year-old will make a whopping $75 million in cash in 2021. Prescott's $160 million contract reportedly includes $126 million guaranteed and a no-trade clause.
With his son securing his financial future, Dak Prescott's dad spoke to Calvin Watkins of The Dallas Morning News and delivered a dynamite quote that had a distinct Cowboys flair to it. And based on his father's words, it sure sounds like the star quarterback dreamt of playing in Dallas from a very early age.
"I am a lifelong Cowboy fan and I raised the kid a Cowboy fan," Nat Prescott told Watkins. "At five years old he told me he will be a quarterback for the Cowboys. I don't think God gives you those types of gifts to make them incomplete."
Of course, Dak Prescott has never hid the fact that he grew up as a big fan of Jerry Jones' team. During a 2017 appearance on The Dan Patrick Show, he explained how his dad influenced his early NFL fandom.
"My dad's a huge Dallas Cowboys fan. So, I grew up really not – I would say not having a choice – but he gave us all choices because my other brothers weren't Cowboys fans. But just kind of rolled with my dad and it's all panned out," he told Patrick.
Can the highly-paid quarterback bring a Super Bowl title to Dallas?
For Dak Prescott and his family, Monday represented years of hard work and sacrifice. As a lifelong Cowboys fan, the talented quarterback has the security of knowing he will remain in Dallas for more than just another year.
Now that he secured a $160 million contract, Prescott must deliver a Super Bowl title. Because until he hoists the Lombardi Trophy standing on stage next to Jerry Jones, his ridiculously expensive deal will look like a massive overpay.
With only Mahomes in front of him in terms of average annual salary, Prescott faces tremendous pressure to justify the Cowboys' record-setting investment. Considering he's only surpassed 23 passing touchdowns once and has never even earned a second-team All-Pro selection, it's fair to question whether Dallas will regret paying him elite money.
Moving forward, the Cowboys must solidify an offensive line that got decimated by injuries a year ago. Luckily for Mike McCarthy, the skill positions appear well-stocked.
Unfortunately for Dallas, the defense needs upgrading at every level.
So while the Cowboys just checked the biggest box off their offseason to-do list, they have more work to do to build a Super Bowl-caliber squad.
All statistics courtesy of Pro Football Reference.