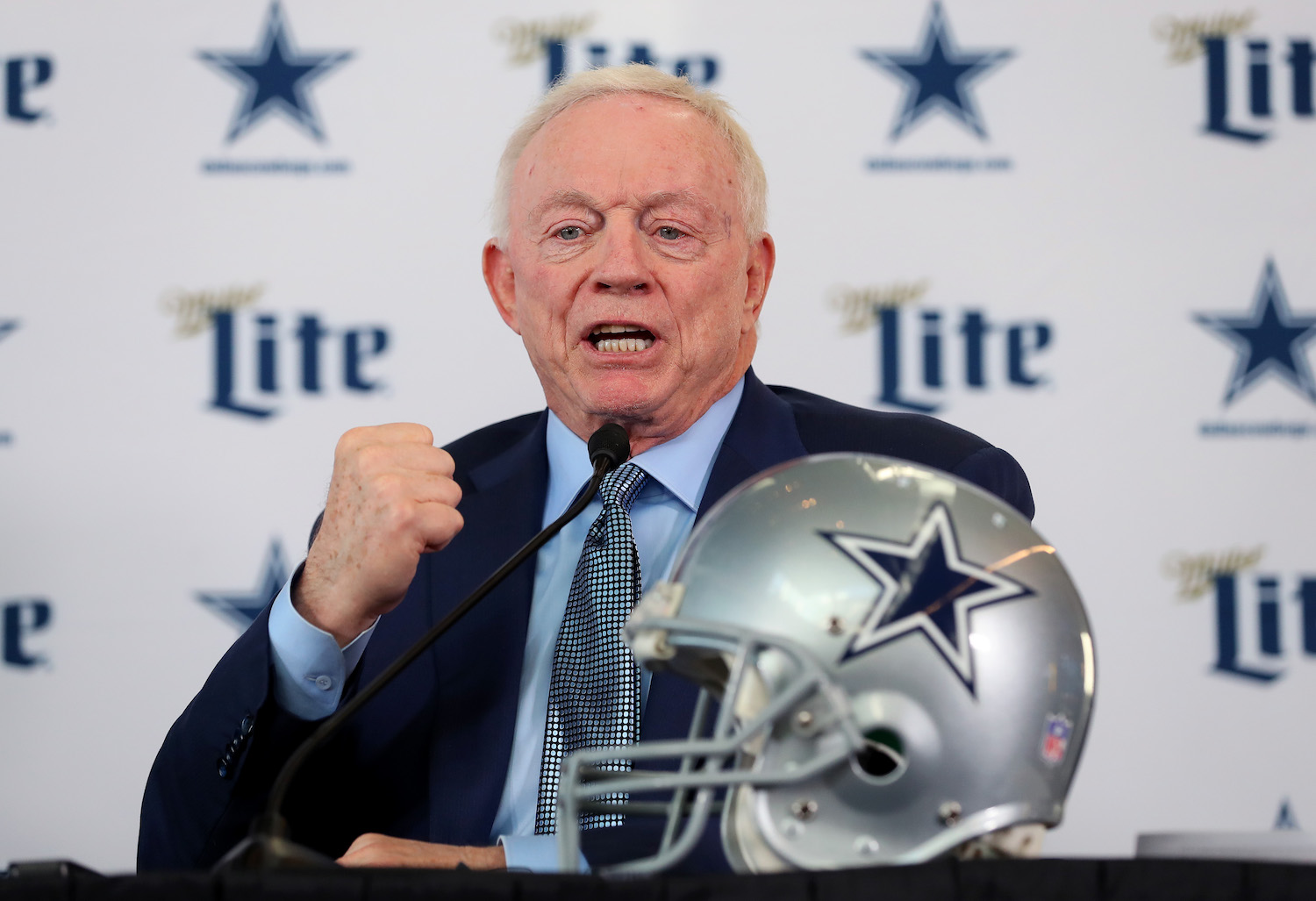 Jerry Jones Goes on Various Tangents and Bizarrely Talks About Killing Somebody During Dak Prescott Press Conference
Dallas Cowboys owner Jerry Jones talked about Dak Prescott's new deal during a press conference and went on various tangents, including why he would want to kill someone.
After Dallas Cowboys owner Jerry Jones claimed for more than a year how he wanted to lock quarterback Dak Prescott into a long-term deal, the organization finally got it done, signing Prescott to a four-year, $160 million contract on Tuesday. 
Less than 24 hours later, the Cowboys held a press conference talking about the new deal, which included Prescott, as well as Stephen and Jerry Jones fielding questions from reporters. The longtime Cowboys owner made several interesting comments during the more than hourlong media event, including the most curious remark, which drew nervous laughter from those attending when he talked about killing somebody. 
Jerry Jones and Dallas Cowboys sign Dak Prescott  
Dallas Cowboys fans have heard it over and over for more than a year. Jerry Jones has repeatedly assured Cowboys nation that he would work out a long-term deal with Dak Prescott. Last year's deadlines came and went. 
This year, in the closing hours before the franchise tag deadline, Jones and the Cowboys finally pulled it off, signing the two-time Pro Bowl quarterback to a four-year, $160 million deal, with $126 million guaranteed. 
Jones said while the numbers are eye-popping, he said it's a classic case of you get what you pay for. 
"The truth is most anything that I've ever been involved in that ended up being special, I overpaid for, every time, to the end," Jones said in the Wednesday press conference. "Anytime I've tried to get a bargain, I got just that, it was a bargain in a lot of ways and not up to standard. And so, the other thing, that our process of getting here from Dak's rookie deal, I knew that Dak wanted to be here and really no place else. I knew that and I think Dak knew how good he fit here, although I can understand his apprehension."
Jerry Jones makes bizarre statement about killing people 
Throughout the press conference, Jerry Jones bounced around from topic to topic in his freewheeling style, or "gift of gab" as he described it. At one point, around the halfway mark, he mentioned the obvious when talking about how the Dallas Cowboys made a significant decision building toward the future by signing Dak Prescott. 
He then talked about how he believes Prescott will help elevate the play of his teammates around him. Jones then randomly transitioned into Prescott and his critics.  
"I'd kill somebody if they put me through what guys go through in a draft when they look at their backgrounds and check everything, every neighbor, every friend they ever had," Jerry Jones said as his son Stephen chuckled. "I'd shoot somebody if they had that information on me. Dak gets that kind of scrutiny." Some in attendance laughed awkwardly at the comments.
Makes odd COVID-19 comments 
Toward the end of the press conference, one reporter asked Dak Prescott about this upcoming spring and how things might be different from last year where everything was done virtually after the pandemic had shut down all of sports. After the quarterback said it's vital for the team to work out together under second-year head Mike McCarthy, Jerry Jones offered up some of his thoughts on COVID. 
"Relative to the main restriction, which was a sensitivity toward health and COVID, the NFL was a huge success. Very few (player) COVID cases, very few. Nobody got sick. Some got COVID but they took their Tylenols and went on. It was a huge success."
While the NFL did ultimately play the full slate of games for the season, Jerry Jones forgot how multiple teams had outbreaks, including the Baltimore Ravens, which had to twice postpone their game with the Cowboys.
Like Sportscasting on Facebook. Follow us on Twitter @sportscasting19.