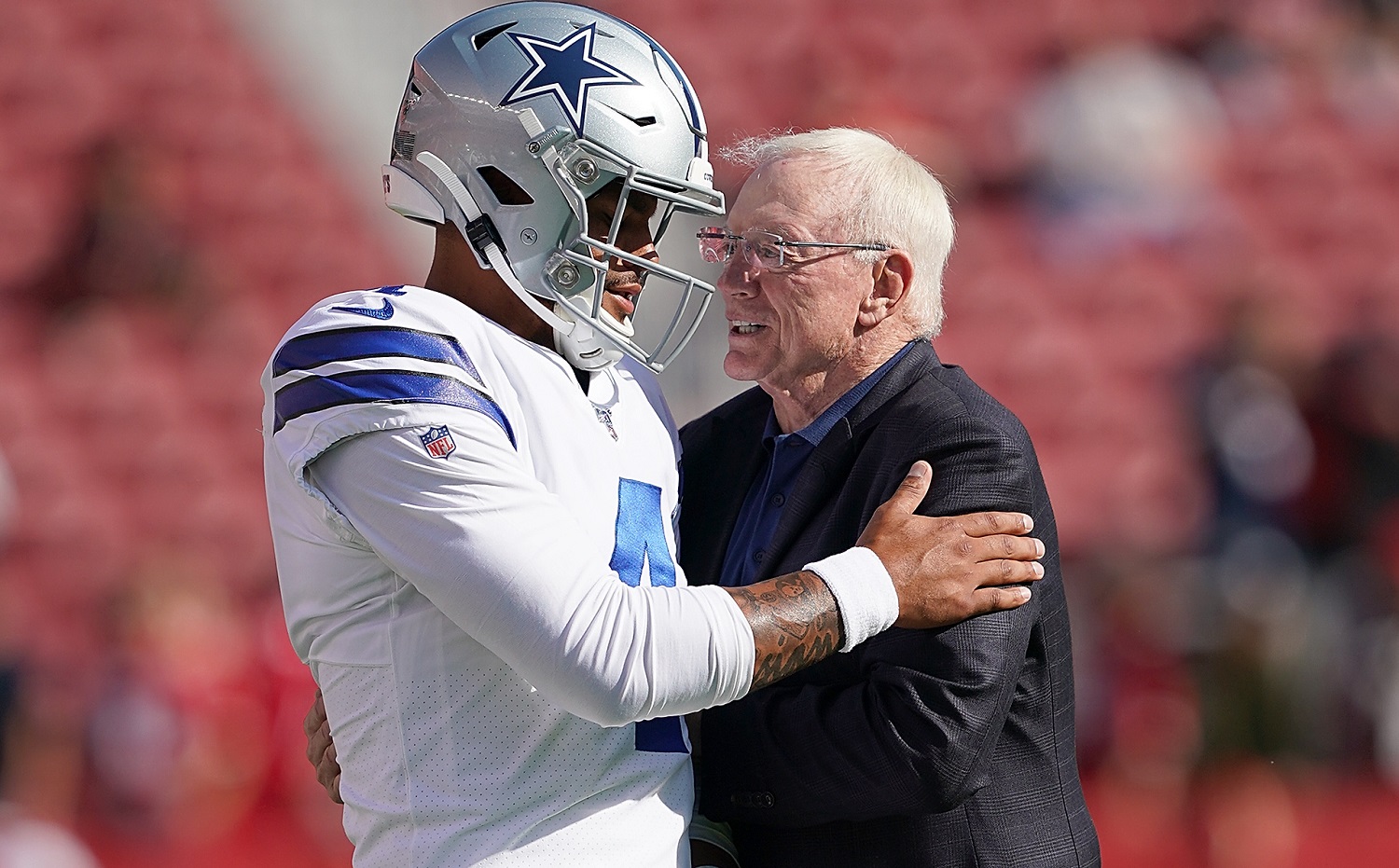 The Dallas Cowboys Are Facing a Fresh Quarterback Problem to Resolve
Dak Prescott and Jerry Jones have been negotiating contracts off and on for two years. The Dallas Cowboys owner has an even more pressing quarterback situation pending.
Barring a contract deal by 4 p.m. ET Tuesday, the Dallas Cowboys will presumably use the franchise tag on Dak Prescott at a cost of $37.7 million. It may be the newsier and more expensive issue that owner Jerry Jones faces this month, but it isn't the Cowboys' most crucial short-term issue concerning quarterbacks.  
Dak Prescott's contract is the Energizer bunny of negotiations
If it feels as though you've read about Dak Prescott's contract status with the Dallas Cowboys a thousand times in the past year, well, you've missed the other 5,000 stories on the subject.
With a fresh deadline for using the franchise tag on the horizon, the Cowboys and the quarterback are generating updates this week without there being actual news to report yet. It essentially boils down to the parties being exactly where they were a year ago.
With negotiations on a long-term deal stalled, owner Jerry Jones used the franchise tag on the fifth-year QB out of Mississippi State last March. The bump in pay — $31.4 million as opposed to a total of $4.9 million from his first four seasons combined – was sweet for Prescott, but the lack of a lengthy deal wasn't.
Barring a contract deal by 4 p.m. ET on March 9, 2021, the player and owner will head down the same path as last year. The Cowboys will slap the franchise tag on Prescott, this time at $37.7 million, and he'll wait as long as he can to sign it.
That will once again leave Prescott and Jones around a month to settle on an actual contract by the July 15 deadline. If nothing is resolved, it sets Prescott on a path toward free agency after the 2021 season.
The Dallas Cowboys are facing a fresh quarterback problem
The Dallas Cowboys' dropoff in the quality of quarterback play last fall was significant but not disastrous once Dak Prescott was lost for the season due to a Week 5 ankle injury. The Cowboys initially saw Andy Dalton, cut loose by the Cincinnati Bengals, as insurance against Prescott holding out. Instead, he was pressed into service for two-thirds of the season.
Dalton completed 64.9% of his passes and logged 14 touchdown passes to eight interceptions. Had the Dallas defense not been so unreliable and the offensive line not been so banged up, he would have fared better than 4-5 as a starter. When Dalton was also unavailable for two-plus games, Ben DiNucci and Garrett Gilbert failed to impress. That's not shocking since a lot of NFL teams lack a truly capable second QB, let alone a third.
Now, though, Jerry Jones and the Cowboys are facing the prospect of losing Dalton, who was on a one-year, $3 million contract. That's because John Clayton reported that Dalton is a "good candidate" to sign with the Denver Broncos next week.
The Broncos need someone to serve as a combination of a mentor and a threat to inconsistent starter Drew Lock.
"He still could be the starter in 2021," Clayton wrote regarding the incumbent. "But it's not necessarily a lock for Lock this time around."
Dalton would probably prefer to go to a team where the starting job would be his to lose, even as a one-year place-holder. Those opportunities are few and far between, but he has to at least explore options since beating out Prescott isn't a realistic possibility.
The Dallas Cowboys now face two deadlines
The key for the Dallas Cowboys is to resolve the Dak Prescott contract situation. But they have to square away the quarterback position as a whole. That leaves them with two deadlines.
If they apply the franchise tag to Prescott for the second straight year, then they must at least consider the possibility of drafting a quarterback in the 10th position of the first round. Doing that, though, requires having a No. 2 QB on hand, whether that's Andy Dalton (optimal), Ben DiNucci (less desirable), or someone else.
The final deadline comes on July 15. If he's not signed by then, the Cowboys have to figure that Prescott will not be back in 2022. As ESPN notes, another franchise tag – this time at $54 million – certainly seems implausible.
Like Sportscasting on Facebook. Follow us on Twitter @sportscasting19.