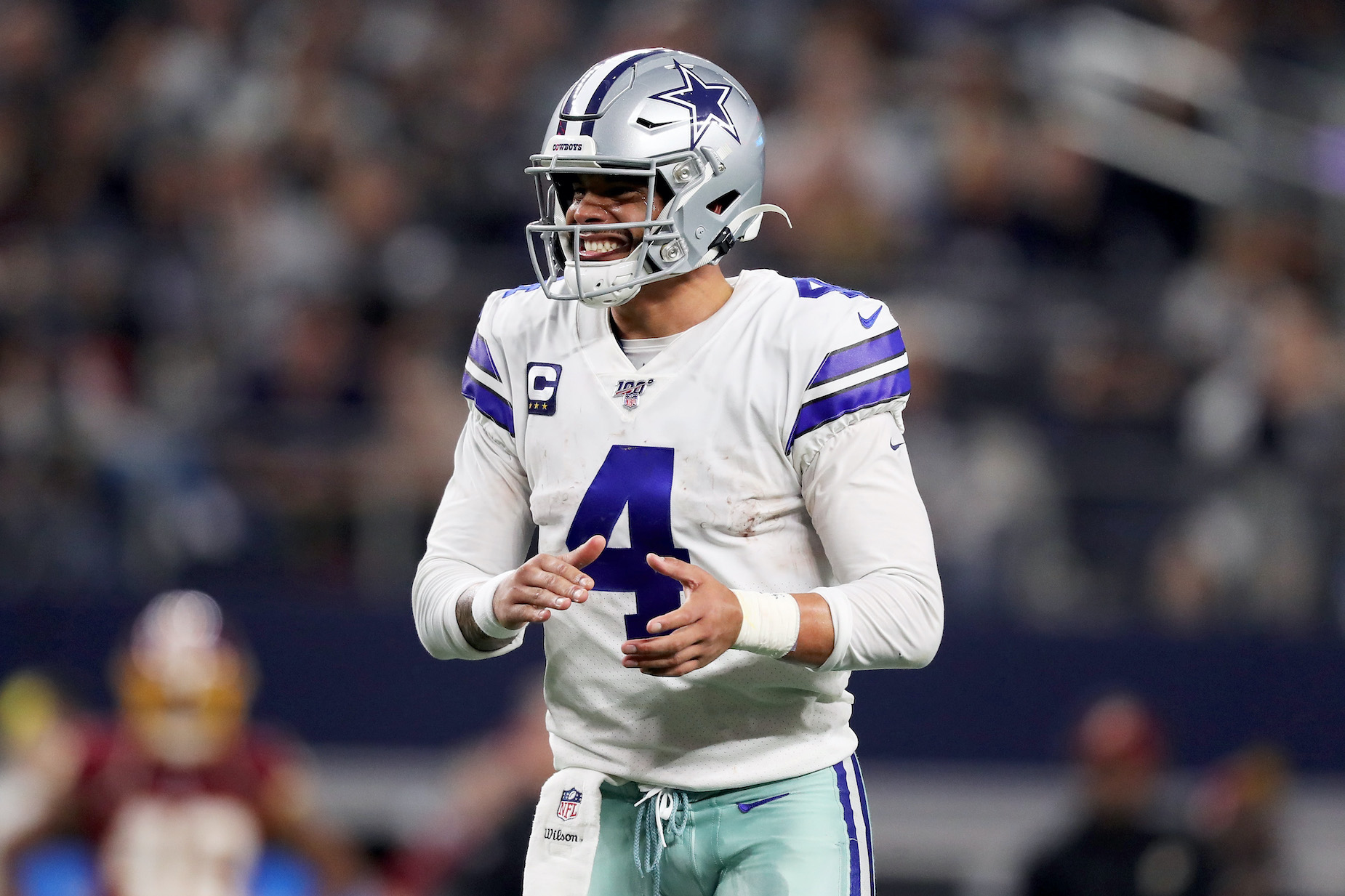 Cowboys Fans Could Have Another Reason to Feel Optimistic About Dak Prescott's Future in Dallas
While Dak Prescott still needs a new contract, Dallas Cowboys fans could have a new reason for optimism ahead of the 2021 campaign.
In the modern NFL, the best teams have a franchise quarterback who can lift them to the next level. That's both good news and bad news for the Dallas Cowboys. On one hand, they've seen Dak Prescott grow into a legitimate star during his time in Texas. On the other hand, though, they're still locked in contract negotiations with the free-agent QB.
In recent days, though, Dallas Cowboys fans have gotten a bit of good news about their potential franchise player. Not only are contract talks "better than they've been," but Dak Prescott could be back to full health as early as April.
Dak Prescott is still without a new contract
Under normal circumstances, Dallas Cowboys owner Jerry Jones has no problem opening his wallet and throwing money at a problem. Dak Prescott's contract negotiations, however, seem to be a different story.
After the 2019 NFL season, Prescott needed a new contract; since his rookie deal was expiring, the quarterback understandably expected a sizable raise. He and Jones couldn't come to an agreement on the length of the extension, however, so they settled on a one-year franchise tag and kicked the issue down the road.
During the 2020 campaign, Prescott got off to a hot start before suffering a brutal ankle injury. The Cowboys struggled without him under center, though, only increasing the quarterback's leverage.
Once the season ended, Prescott and Jones were able to return to the negotiating table. Early reports, however, suggested that the two parties were still at an impasse, unable to agree on the finer details of a new deal.
Things may be trending in the right direction for the Dallas Cowboys
As of early March 2021, Dak Prescott still hasn't signed a new deal with the Dallas Cowboys. Things, however, may finally be trending in the right direction for America's Team.
"Encouraging Dak Prescott news. I'm told he's been at the facility nearly every day rehabbing. So must not be that contentious folks," NFL Network's Jane Slater tweeted. "Secondly, [Cowboys COO] Stephen Jones and [Prescott's agent] Todd France have been talking and they are 'good talks' still nothing meaningful here but 'better than they've been."
Slater also noted that a second franchise tag might not be the end of the world, which would make sense if talks are trending in the right direction.
"I think he gets tagged and they still have a few months to get a deal done and Dak has time to decide whether he wants to sign it which he can wait til well into the summer for that," Slater added in a second tweet.
Dak Prescott's recovery timeline is another positive for the Dallas Cowboys
Progress at the negotiating table isn't the only positive Dak Prescott news, though, Dallas Cowboys fans can also take heart in the quarterback's recovery timeline.
According to Mike Fisher of SI.com, Prescott could be back to full health as early as April; another source added that the quarterback "should be fully involved in all offseason work."
While being healthy is irrelevant for the Cowboys if Dak doesn't sign a new contract, it does seem like things are starting to come together. With negotiations trending in the right direction and Prescott recovering nicely, it's within the realm of possibility to imagine the quarterback taking part in offseason workouts without holding a grudge, even if he's there on another franchise tag.
It goes without saying that there's still plenty of time for things to go wrong; when Jerry Jones is involved, there's always the chance of the unexpected. At this point, though, his options are running out. Short of a blockbuster trade or a complete breakdown of communication, Prescott should be a Cowboy when the 2021 season begins.
At this point, it seems safe to assume that Dak Prescott will be back to full health long before Week 1 of the season. As long as he's still wearing blue and white, that's something for Dallas Cowboys fans to be optimistic about.