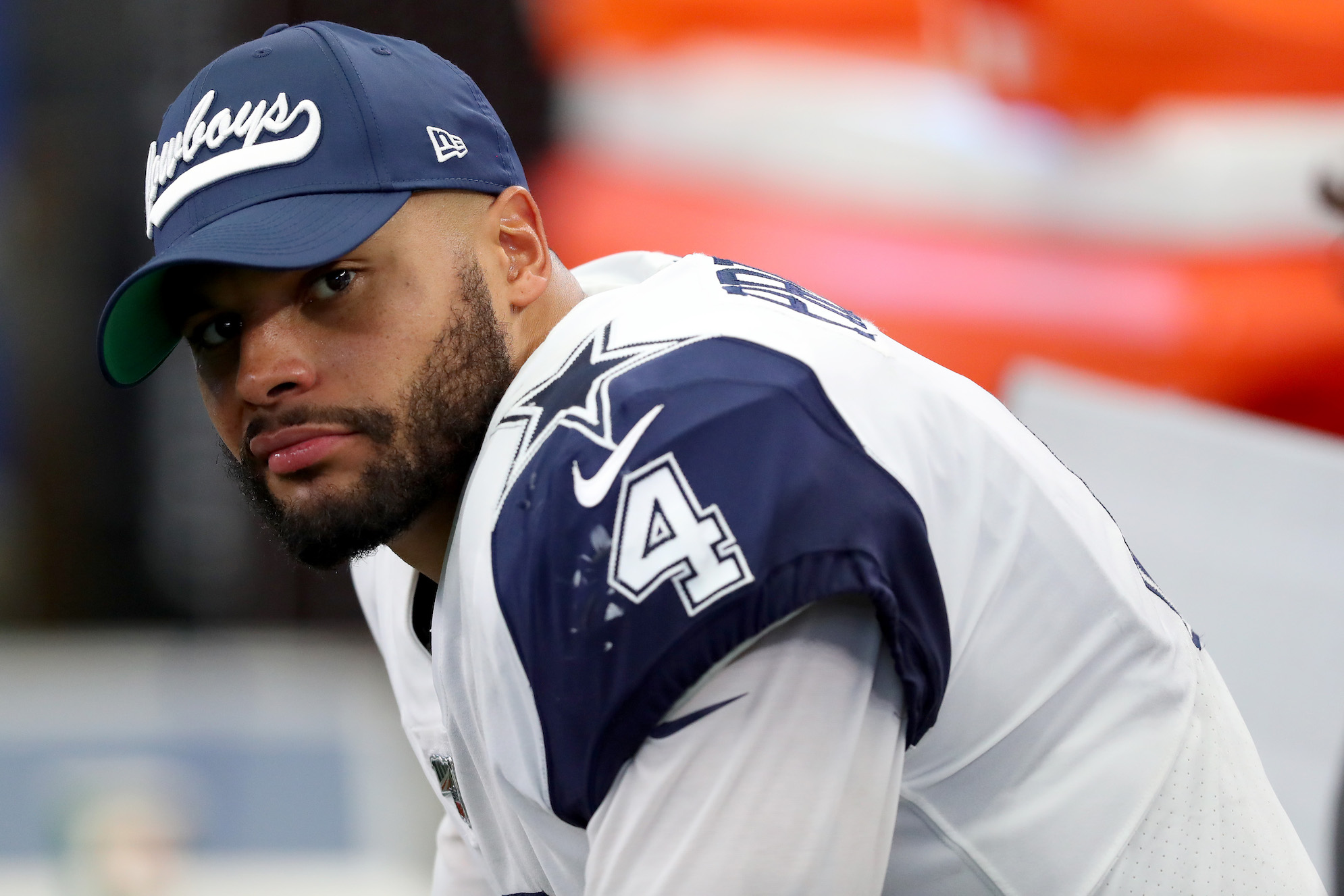 Dak Prescott Doesn't Deserve Pity Over His $31.4 Franchise Tag With the Cowboys
Dak Prescott was unable to reach a deal for a long-term contract by the July 15 deadline, but fans shouldn't feel bad for the Cowboys QB.
Dak Prescott and the Dallas Cowboys spent months negotiating a long-term contract, but the July 15 deadline to strike a deal came and went without much noise. Prescott will officially play the 2020 season under his exclusive franchise tag, and his future in Dallas is now up in the air. He will have to wait another year to sign a lucrative deal.
You shouldn't feel too bad for the young QB, though. He's still set to make over $30 million this season and has the chance to reach $54 million by 2022.
Dak Prescott and the Cowboys couldn't agree to a long-term contract
The Cowboys would've loved to lock Prescott into a long-term deal before he demands more money. Prescott also would've rather put his contract drama behind him so he can just play football.
Unfortunately for both sides, they were unable to reach a compromise by the July 15 deadline, meaning Prescott will play the upcoming season under his $31.4 million franchise tag. Sure, he could've made millions more by signing a deal before the deadline, but it's not all bad for the Cowboys' QB.
That $31.4 million is fully guaranteed. He could get hurt and miss the 2020 season and still make the entire amount of his contract. Going forward, Prescott can also make a record amount of money if he continues down the franchise tag path.
Prescott could make $54 million in 2022
Many fans might feel bad for Prescott after not getting the hundred million-dollar contract he deserved. He was second in the NFL in passing yards last season and has already made two Pro Bowls in his young career.
Although a long-term contract would've been ideal for Prescott, taking the franchise tag route could pay off massively for the Cowboys QB. If Prescott is tagged again in 2021, he will make $37.6 million. A year later, his transition tag would be worth $45 million and another franchise tag would pay him an insane $54 million.
It's feasible Prescott could make more money than even Patrick Mahomes over the next three years. Let's not feel sorry for him just yet.
Prescott has all the leverage in future contract negotiations
Although Prescott couldn't get a deal done this offseason, he's in a position of power for future contract talks with the Cowboys. If he plays it safe and stays on the franchise tag for the next few years, he'll make more than any other player in the NFL over that span.
Prescott can also command a massive contract if he puts together another dominant season in 2020. If he continues to put up numbers akin to the most prolific passers in the league, the Cowboys will have no choice but to pay him what he deserves.
If they don't, another team will. Prescott can easily skip town if he doesn't get the offer he wants by 2022. Some team out there will give it to him.
Prescott can become the league's highest-paid player quicker than you might think. The guaranteed money he can earn by accepting franchise tag after franchise tag would be record-breaking, so there's no reason to pity the QB for not getting the long-term deal he wanted.