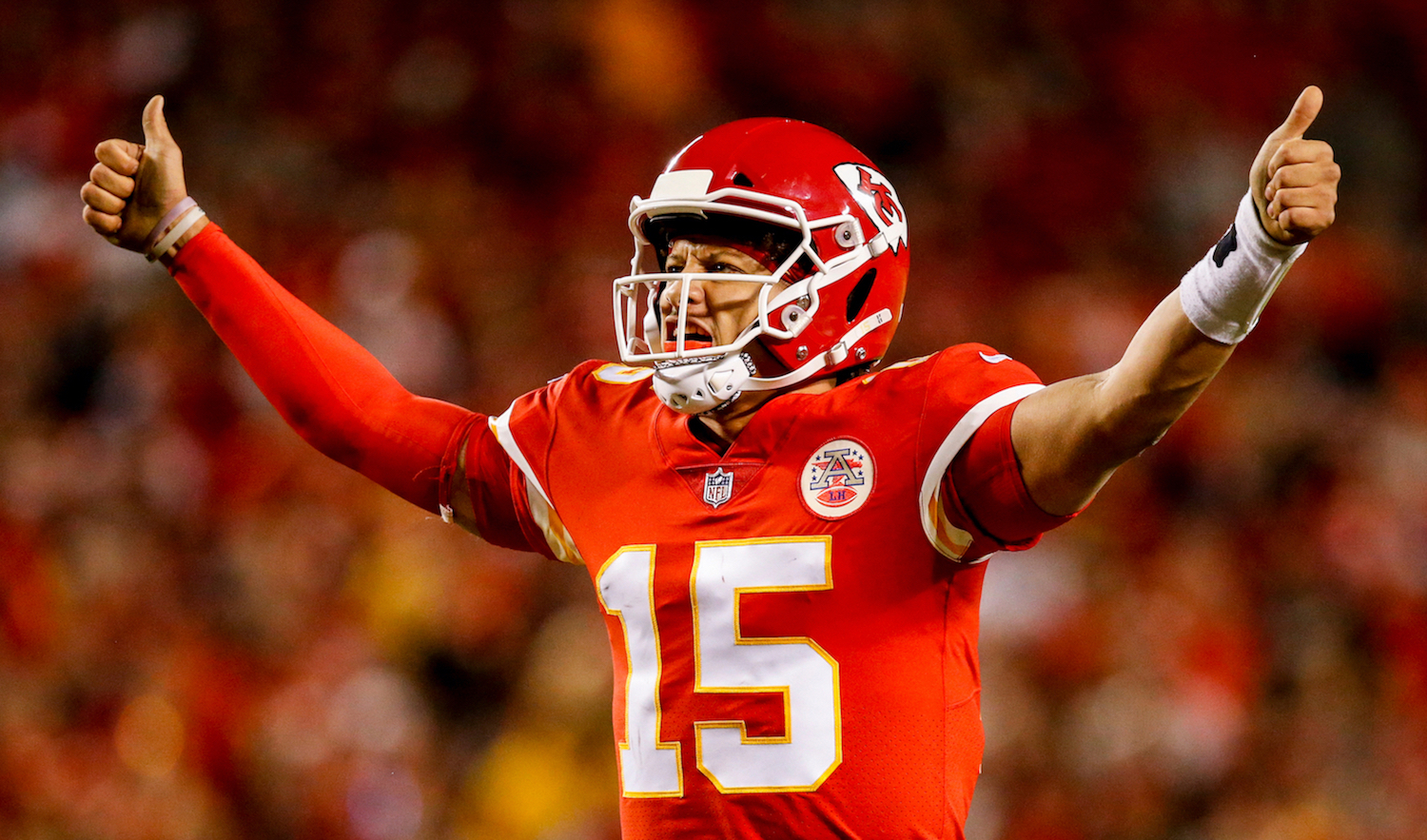 Patrick Mahomes Just Gave a Strong Endorsement of Dak Prescott's Talent
While some Dallas Cowboys fans are skeptical of Dak Prescott's talent, Patrick Mahomes just offered a strong endorsement of the quarterback.
As Spiderman's Uncle Ben once said, "with great power comes great responsibility." Perhaps no one understands that better than NFL quarterbacks. While guys like Patrick Mahomes and Dak Prescott have become rich and famous playing football, they're also under incredible pressure to lead their franchise to the promised land.
While Patrick Mahomes received a massive vote of confidence this offseason in the form of a massive contract extension, things were a bit different for Prescott. The Kansas City Chiefs quarterback, however, just gave Dak quite the endorsement.
Patrick Mahomes has grown into a legitimate NFL star
For decades, the Kansas City Chiefs simply couldn't draft a franchise quarterback. By landing Patrick Mahomes, however, the club made up for lost time.
After posting big numbers at Texas Tech, Mahomes entered into the 2017 NFL draft. While some analysts were skeptical of the young quarterback's fundamentals, the Kansas City Chiefs didn't mind. Thanks to an assist from the Buffalo Bills, KC traded up to snag Mahomes; that deal changed the course of NFL history.
After spending a season learning from Alex Smith, Mahomes took over the starting job. He seized the opportunity with both hands, throwing for 5,097 yards and 50 touchdowns, en route to the NFL MVP crown. In his second season as the club's starter, he, of course, helped the Chiefs win their first championship in 50 years.
This offseason, Kansas City inked Patrick Mahomes to a long-term extension. While there's room to debate the wisdom of committing that much money to one player, it ensures that the Chiefs will have a franchise quarterback for the next decade.
Dak Prescott has become a more divisive figure in Dallas
In Kansas City, Patrick Mahomes can do no wrong. Dak Prescott, however, is having a bit of a different experience in Dallas.
Prescott arrived in Texas in 2016 as a fourth-round pick, but quickly found himself running the Cowboys offense after Tony Romo went down injured. He's remained in the starting job ever since; while Dallas has struggled to make it over the hump, Prescott has posted strong individual numbers every season.
This offseason, however, Prescott and the Cowboys reached an impasse. When the quarterback's rookie contract expired, both sides failed to reach a compromise; that's left Dak playing this season on a franchise tag, rather than a longer-term deal.
That saga has sparked a bit of a debate about Dak Prescott's talent level and overall worth. Some Cowboys fans feel that the quarterback is clearly talented and represents the franchise's future. Others have branded him greedy and believe that his talent level doesn't warrant a pricy extension.
Patrick Mahomes paid Dak Prescott a pretty high compliment
While football fans can debate Dak Prescott's talent levels, Patrick Mahomes seems to think pretty highly of the Dallas Cowboys QB.
According to James Palmer of the NFL Network, Mahomes was "working on throws in a kind of a forward pitch style motion" during a recent practice. When the Chiefs quarterback was asked about it, he made reference to learning from other signal-callers, including Dak Prescott.
"I don't want to give away all my secrets," Mahomes explained. "It's stuff that I work on and stuff that we do. I try to find ways to get the ball to the receivers, tight ends, running backs, whoever it is, the quickest way possible. The pitch was one thing that we had kind of worked on and stuff like that."
Mahomes went on to say that he saw either Brett Favre or Aaron Rodgers use the technique, so he had been watching old Green Bay Packers games. His film study, however, didn't end there.
"I try to look at what guys have done before me," Mahomes continued. "I've looked at guys like Dan Marino and how he had success, and then I look at the guys that are playing around the league with Deshaun Watson and Lamar [Jackson] and Dak Prescott — all these guys that are having success, and I try to find what they do and try to take it out and put it into my game, so I can be a better player every single time I step on the field."
If Patrick Mahomes is watching someone's game tape in an attempt to play better, that's quite an endorsement. Regardless of what fans think, he clearly believes that Dak Prescott knows what he's doing.