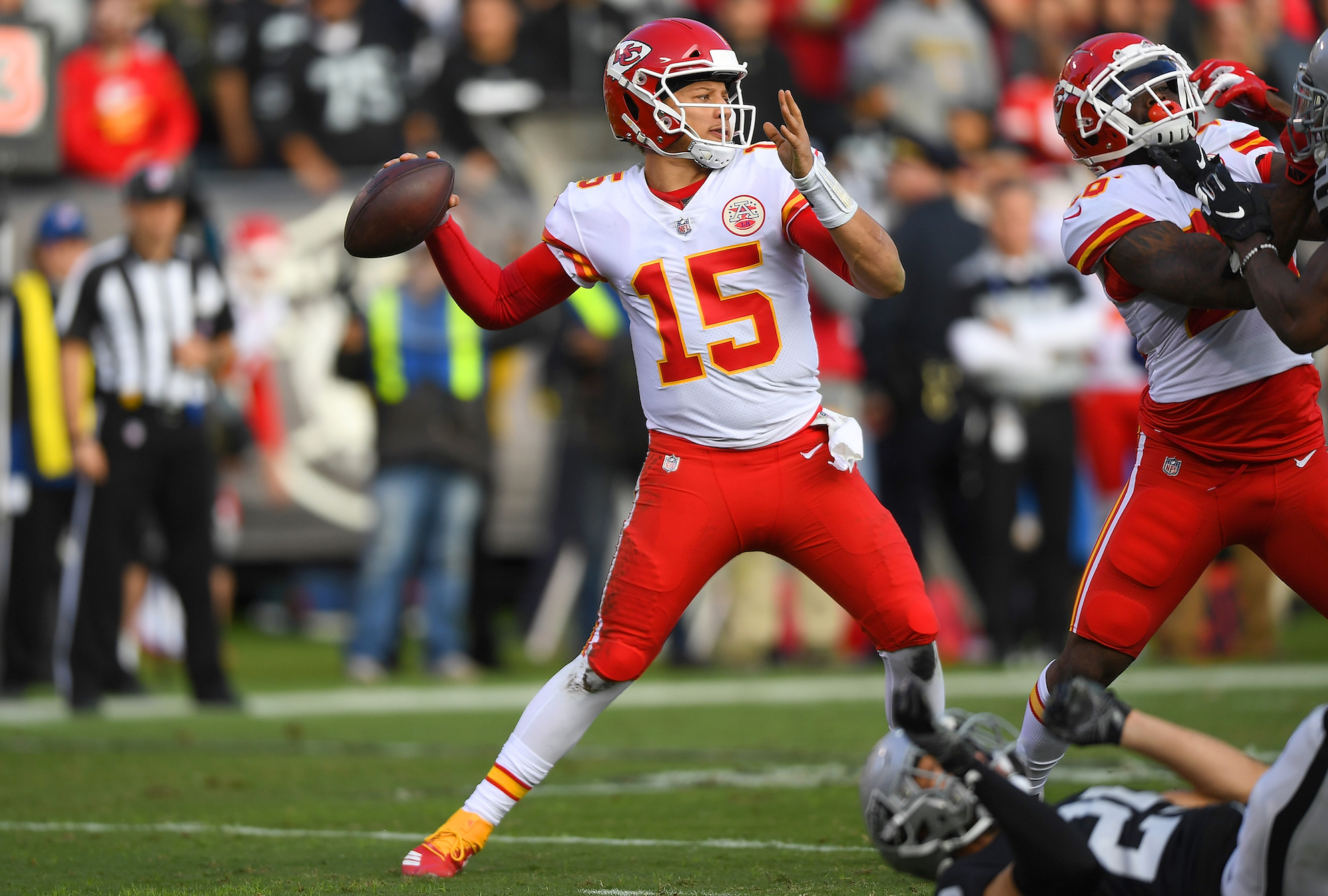 Patrick Mahomes Is Adding a New Throw to His Arsenal That Should Terrify NFL Defenses
Patrick Mahomes might be the most gifted QB in NFL history, and now he's adding a never-before-seen wrinkle to his passing game.
Patrick Mahomes might be the most gifted thrower of the football in NFL history. He can make throws falling out of bounds with defenders draped all over him that most quarterbacks can't make while standing in a clean pocket.
Mahomes' arm strength and passing creativity are largely what earned him the biggest contract in league history, and he's not done adding wrinkles to his game. He's even been working on a throw we've never seen before from an NFL QB.
Patrick Mahomes makes jaw-dropping throws in every game
Patrick Mahomes has only been in the NFL for three years, but he's already getting bored of the standard, right-handed throw. The Kansas City Chiefs superstar has experimented with side-arm tosses, left-handed throws, and even no-look passes during games.
Mahomes' no-look toss against the Baltimore Ravens in 2018 was the first sign that he was simply different than the rest of the quarterbacks in the NFL. While looking to the right, Mahomes contorted his body and slung a dime to his receiver on the other half of the field.
It wasn't just a random occurrence, either. Mahomes regularly practices no-look throws at practice so he can utilize them in games. It's something no QB would ever even attempt. But for Mahomes, it's just another part of his skill set.
Mahomes has been practicing a behind-the-back throw
Evidently, left-handed and no-look passes have become even too mundane for the Super Bowl MVP. He's been working on a new addition to his passing arsenal in the offseason — a behind-the-back throw.
It isn't just a gimmick or a joke at the end of practice. Mahomes has been perfecting the behind-the-back toss for years, and he's even pushing head coach Andy Reid to let him try it in a game.
Mahomes believes there are no boundaries to the way the quarterback position can be played. Whereas most QBs sit in the pocket and throw to their first or second option, Mahomes is a bit more complex.
Deception is a key part of Mahomes' game. We've never seen a QB in NFL history do the things Mahomes is doing with the football, and he's about to make even more history in 2020.
Will we see the behind-the-back pass this season?
No NFL QB has ever employed a behind-the-back throw unless they were in the midst of being sacked or trying to lateral the football. Mahomes wants to be the first ever to do it for real.
"[Mahomes] tries it all the time because he keeps lobbying for coach Reid to put it in the system," Chiefs QB Chad Henne told James Palmer of NFL.com. "He tells coach Reid, 'I can option this way and then throw it back this way', and I'm like, 'Ahhh, let's just take care of the ball.'"
Mahomes' teammates and coaches say he can throw a football behind the back 20 yards downfield. The QB was already hard to scout before this development. With a behind-the-back throw now at his disposal, he'll be virtually impossible to stop.