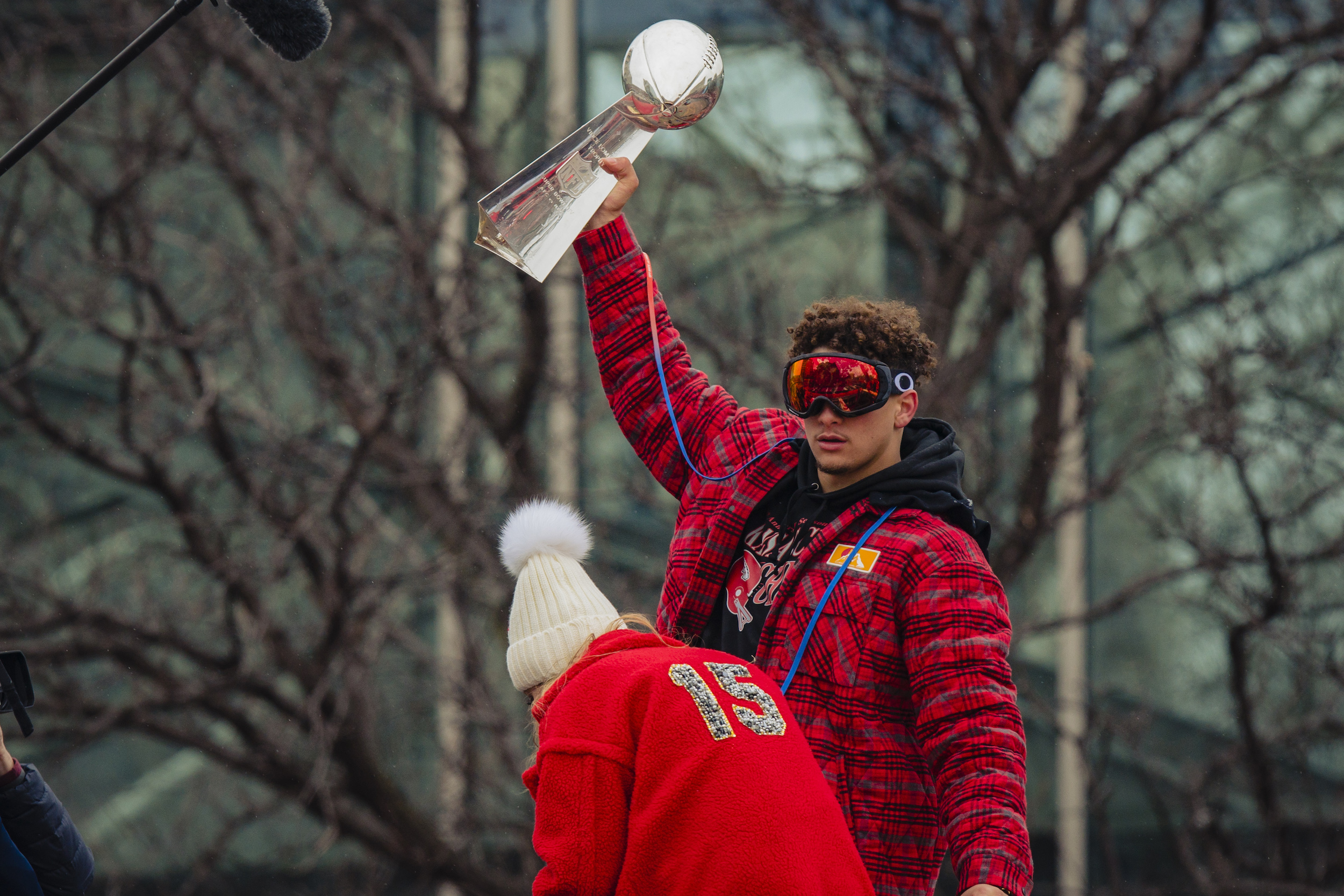 Patrick Mahomes' Arm Serves Him Well on Both the Football Field and the Beer Pong Table
While everyone knows Kansas City Chiefs quarterback Patrick Mahomes is a talented football player, he's also a beer pong star.
Even if you're a casual football fan, you're probably familiar with Patrick Mahomes' arm. The Kansas City Chiefs quarterback can throw his way out of seemingly any situation; in case of emergency, he's even able to use his left hand. His throwing talents, however, aren't limited to the football field.
While he grew up playing baseball, Patrick Mahomes' throwing arm serves him well in a less conventional sport, too. The Kansas City star is also pretty unbeatable at the beer pong table.
Patrick Mahomes' arm strength has made him an NFL star
If you simply saw Patrick Mahomes throwing bombs in warm-ups, you might be tempted to consider him more of a sideshow attraction than anything else. The young quarterback, however, has already proven that he's more than a big arm.
While he could have followed in his father's footsteps and played baseball, Mahomes decided to focus on football. He made a name for himself at Texas Tech throwing for 11,252 yards and 93 touchdowns during three seasons with the Red Raiders.
After his junior year, Mahomes entered the 2017 NFL draft. While some teams were concerned about his ability to lead a professional offense, the Kansas City Chiefs didn't have any doubts about the quarterback's talent. Thanks to an assist from the Buffalo Bills, KC traded up to select Mahomes with the 10th overall pick.
That move has already changed the course of Kansas City Chiefs history. Mahomes spent a season behind Alex Smith before assuming the starting job; since then, he's thrown for more than 9,000 yards and 76 touchdowns, en route to an NFL MVP title and a Super Bowl championship. Thanks to his arm strength and improvisation abilities, the quarterback seems to be able to throw his way out of virtually any jam.
Dominating on the beer pong table
After three seasons in the NFL, it's clear that Patrick Mahomes knows what he's doing on the football field. His skills, however, apparently extend to the beer pong table.
As explained in Clay Fisher's GQ profile of the quarterback, Mahomes decided to celebrate his Super Bowl title by attending a Post Malone concert. There, he and Travis Kelce headed backstage and found themselves facing the artist in a game of beer pong.
"Post's invitation turned out to be ill-advised," Fisher explained. "Mahomes and Kelce are the most effective quarterback-tight end duo in the NFL, and apparently they're capable of doing as much damage on a sad-looking folding table backstage at a concert as they do on the field on Sundays. Though Mahomes described his beer pong game that night as merely good, he told me Kelce had been 'unconscious." When I asked him about it, Kelce said, 'I don't know if I've been that hot on the pong table ever in my life."
The Chiefs duo ended up winning approximately 14 or 15 straight games. Post Malone even ended up with a tattoo of Mahomes' autograph to commemorate the drubbing.
Patrick Mahomes' winning ways should continue on the football field
In the grand scheme of things, Patrick Mahomes' beer pong skills are irrelevant compared to his football career. Thankfully, the quarterback is a pretty good on the gridiron, too.
As we established above, Mahomes has already built an impressive NFL resume during his first three seasons in the pros. While it's impossible to predict the future, it's hard to imagine that his success won't continue. His contract extension will keep him in Kansas City for years to come; there will probably be some salary issues down the line but, right now, the Chiefs are fielding virtually the same roster than won the Super Bowl this February.
Based on his arm and winning record, you probably won't want to be against Patrick Mahomes anytime soon. Whether he's competing on the gridiron or the beer pong table, the Chiefs quarterback is tough to beat.
Stats courtesy of Sports-Reference and Pro-Football-Reference