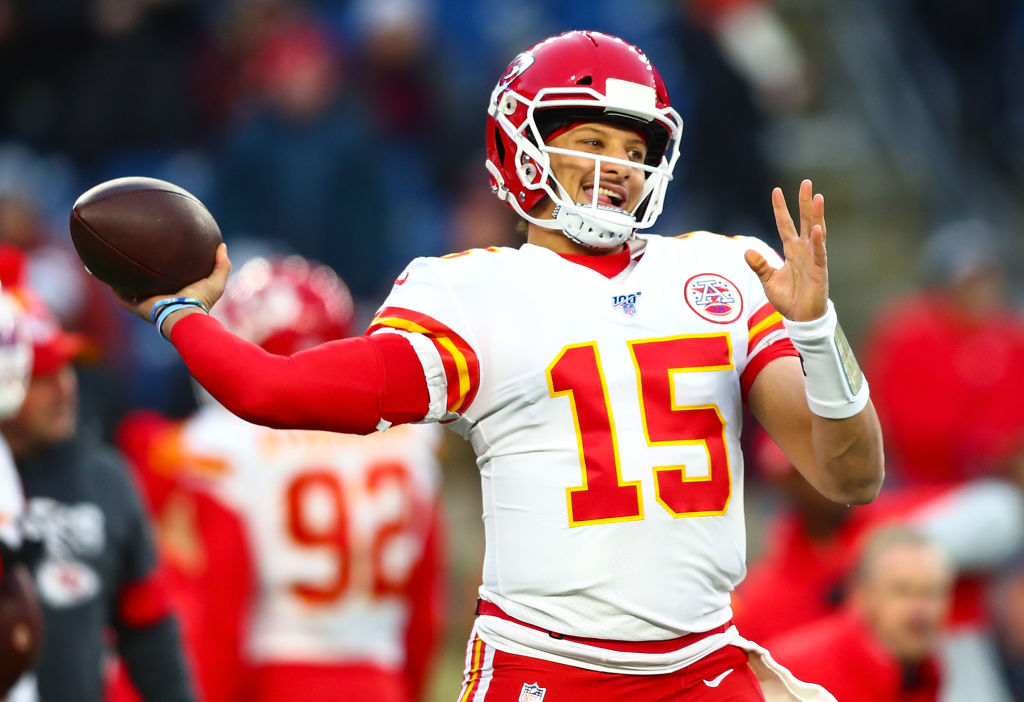 3 Years Ago Today: The Legend of Patrick Mahomes Begins With 80-Yard Throw at Pro Day
Patrick Mahomes has already solidified himself as an NFL superstar, but the legend of his rocket arm was born three years ago today.
Patrick Mahomes just led the Kansas City Chiefs to a Super Bowl victory earlier this year. It's hard to believe just three years ago today Mahomes was still in college at Texas Tech preparing for the NFL draft. On March 31, 2017, Texas Tech held its Pro Day and Mahomes lit the NFL world on fire.
The legend of his rocket arm began that day when Mahomes fired a throw from the 25-yard line all the way to the middle of the opposite end zone. The heave went 80 yards in the air before landing perfectly in a wide receiver's hands. Mahomes' life would never be the same after his incredible Pro Day performance.
Patrick Mahomes' Pro Day performance made scouts applaud
NFL scouts attend Pro Days for work, not play. They must be unbiased and honest about their assessment of different players, but Patrick Mahomes is no ordinary player.
Mahomes was apparently so impressive during Texas Tech's Pro Day that NFL scouts actually applauded him afterward. Former Patriots wide receiver Wes Welker was in attendance that day. He said it was unlike anything he'd ever seen at a workout before.
"At the end of it, everybody was applauding," Welker told Sports Illustrated's Michael Rosenberg. "I was like, 'Man, do people normally applaud at a pro day?' One of the scouts was like, 'I've been a scout for 30-plus years. I've never seen everybody applaud after a workout.' And it was just scouts."
Mahomes went 67-81 during his Pro Day workout, but nine of his incompletions were due to drops by his receivers. He only made five off-target throws the entire day.
How Mahomes' 80-yard throw stacks up with the longest passes ever
There have been many completed Hail Marys in the history of the NFL, but have any traveled as far in the air as Mahomes' 80-yard nuke in 2017?
According to the Rochester Journal, the answer is actually yes. The paper ran a story in 1935 that claimed Chicago Bears' Fred Crawford threw an 85-yard bomb to Eddie Kawal in a game against the Washington Federals. The story said Crawford unloaded a heave from his own one-yard line, and it traveled to the opposite 16-yard line where it was caught.
In 1966, Dallas Cowboys' quarterback Don Meredith reportedly threw an 83-yard pass to Don Hayes. There is no video evidence of either throw, but Meredith's pass was actually an answer on Jeopardy! a few years ago.
More recently, Aaron Rodgers completed a Hail Mary to Richard Rodgers against the Detroit Lions that traveled 68 yards in the air. That remains one of the NFL's longest completed passes in air yards recorded on camera.
Mahomes' Pro Day led to the Chiefs trading up in the NFL Draft
Mahomes put on a one-of-a-kind show in 2017 at his Pro Day. His performance made professional scouts cheer, which is something that just doesn't happen at any workout. NFL teams knew from that day Mahomes was a special talent.
The Chiefs, especially, realized Mahomes' potential. Even with the veteran starting quarterback Alex Smith in place, Kansas City traded up to the 10th pick in the 2017 draft to select Mahomes. It turned out to be a pretty wise move.
In just his second year as the Chiefs' starter, Mahomes led the team to a Super Bowl victory. Mahomes is still just 24 years old, so he will be an unstoppable force in the AFC for years to come.
If Mahomes didn't cap off his Pro Day with that infamous 80-yard throw, who knows where he would've ended up in the draft. The Patrick Mahomes story could be much different had he not put on that incredible throwing display three years ago today.