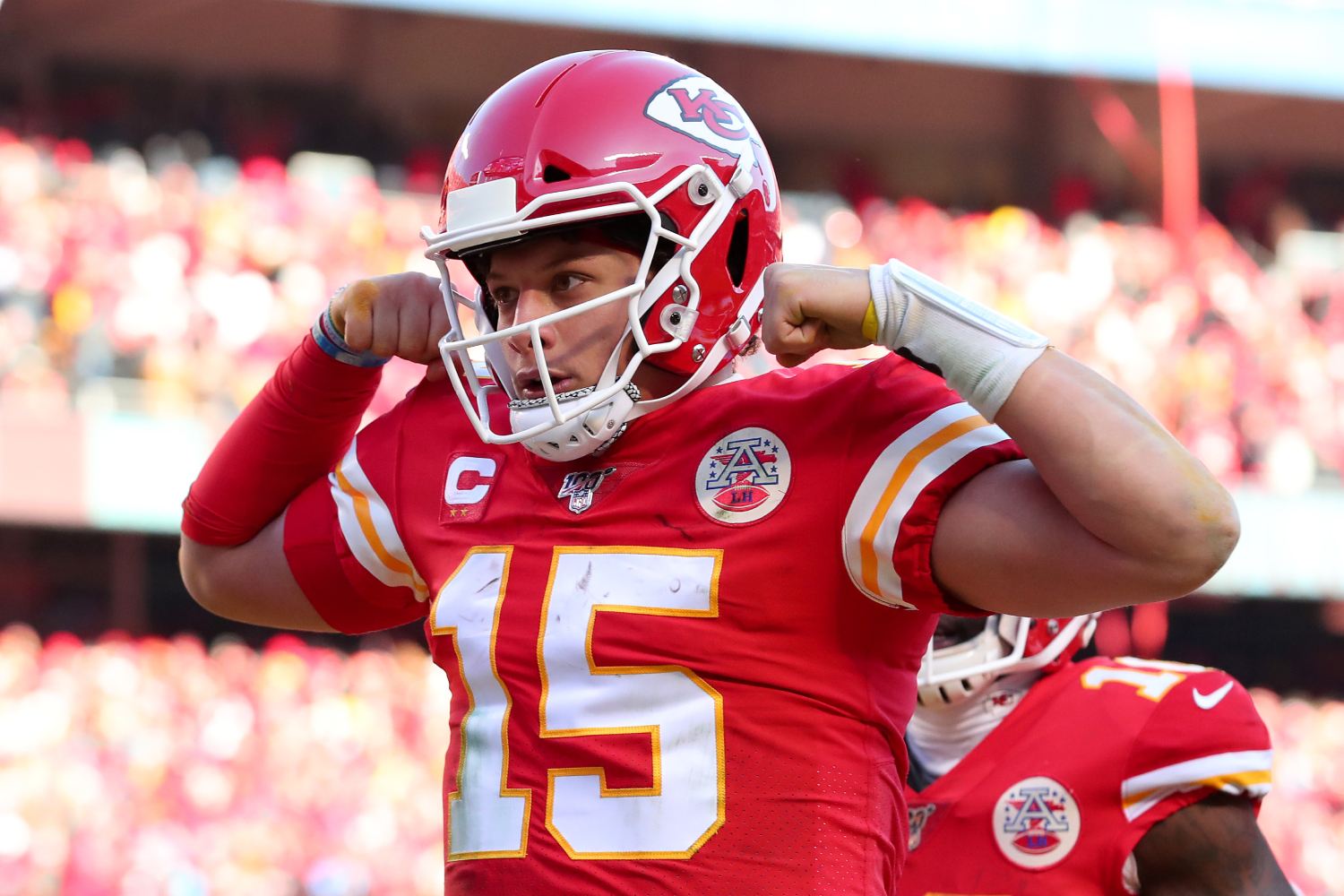 In One Season, Patrick Mahomes Will Make $47M More Than His Father Did in 11 MLB Years
In just one season, Kansas City Chiefs quarterback Patrick Mahomes will make $47 million more than his father did in his 11-year MLB career.
The numbers are staggering. Kansas City Chiefs quarterback and Super Bowl champion Patrick Mahomes inked the richest deal in sports history Monday. Mahomes' contract was extended for 10 years at $450 million and could be worth up to more than a half-billion dollars – that's billion with a B. Mahomes' father, Pat, was an 11-year pitcher in Major League Baseball and Pat's contract is laughable compared to his son's.
Patrick Mahomes is the face of the NFL
Patrick Mahomes struck his record deal at the peak of his career. He is just three seasons in what clearly seems to be a promising one and is coming off a year when his Kansas City Chiefs won the Super Bowl. For good measure, he was named the MVP of the game.
Mahomes is one of the most talented players in the league and is just 24 years old. After sitting behind Alex Smith in his first season with the Chiefs, he became a full-time starter in 2018 and took full advantage of the opportunity. Mahomes threw 50 touchdown passes in his first full season and racked up 5,097 passing yards. He also showed his mobility by rushing for 272 yards and a pair of scores. He was named the league's Most Valuable Player.
Last year, his season was hampered by a knee injury that sidelined him for three weeks, but he returned and helped guide the Chiefs to a comeback victory over the San Francisco 49ers in the Super Bowl. In the 14 games he played, Mahomes threw for 4,031 yards and 26 touchdowns.
Mahomes was quite the athlete growing up
During his high school career, Patrick Mahomes was a three-sport standout at Whitehouse High School in Whitehouse, Texas. In 2014, he was named Max Preps Male Athlete of the Year. Mahomes took after his father, Pat Mahomes, who was an 11-year veteran pitcher in Major League Baseball. Patrick Mahomes was drafted by the Detroit Tigers in the 37th round of the 2014 MLB draft.
In high school, Patrick Mahomes threw a no-hitter with 16 strikeouts for the Whitehouse baseball team. He likely would have gone much higher in the draft, but he had already committed to play football at Texas Tech. As a football player, he had a very strong arm and his mobility made him a dual-threat.
At Texas Tech, he played both baseball and football in his first two seasons. He began his career at Texas Tech as a backup quarterback to Davis Webb. When Webb went down with an injury with four games to go in Mahomes' freshman season, Mahomes became the starter. He entered his sophomore season as the starting quarterback and gave up playing baseball after his sophomore year.
Pat Mahomes' contract no match for his son's
Pat Mahomes, the father of Kansas City Chiefs quarterback Patrick Mahomes, was drafted in the sixth round of the 1988 MLB draft by the Minnesota Twins. He went on to pitch 11 years in the big leagues and compiled a 42-39 record in a career that saw him used as both a starter and a reliever. He pitched for six different teams.
According to Baseball Reference, Pat Mahomes made $109,000 in his first season in the big leagues. At the peak of his career, his salary jumped up to $750,000 during the 2000 season with the New York Mets. For Pat Mahomes' career, he made $ 2,658,000.
Patrick Mahomes' 10-year extension is for $450 million and could be worth a whopping $503 million, according to ESPN. The average yearly salary Patrick Mahomes could be making during the extension is $50.3 million which means in just one season of his new deal, he will make $47,642,000 more than his father did in 11 seasons of Major League Baseball.