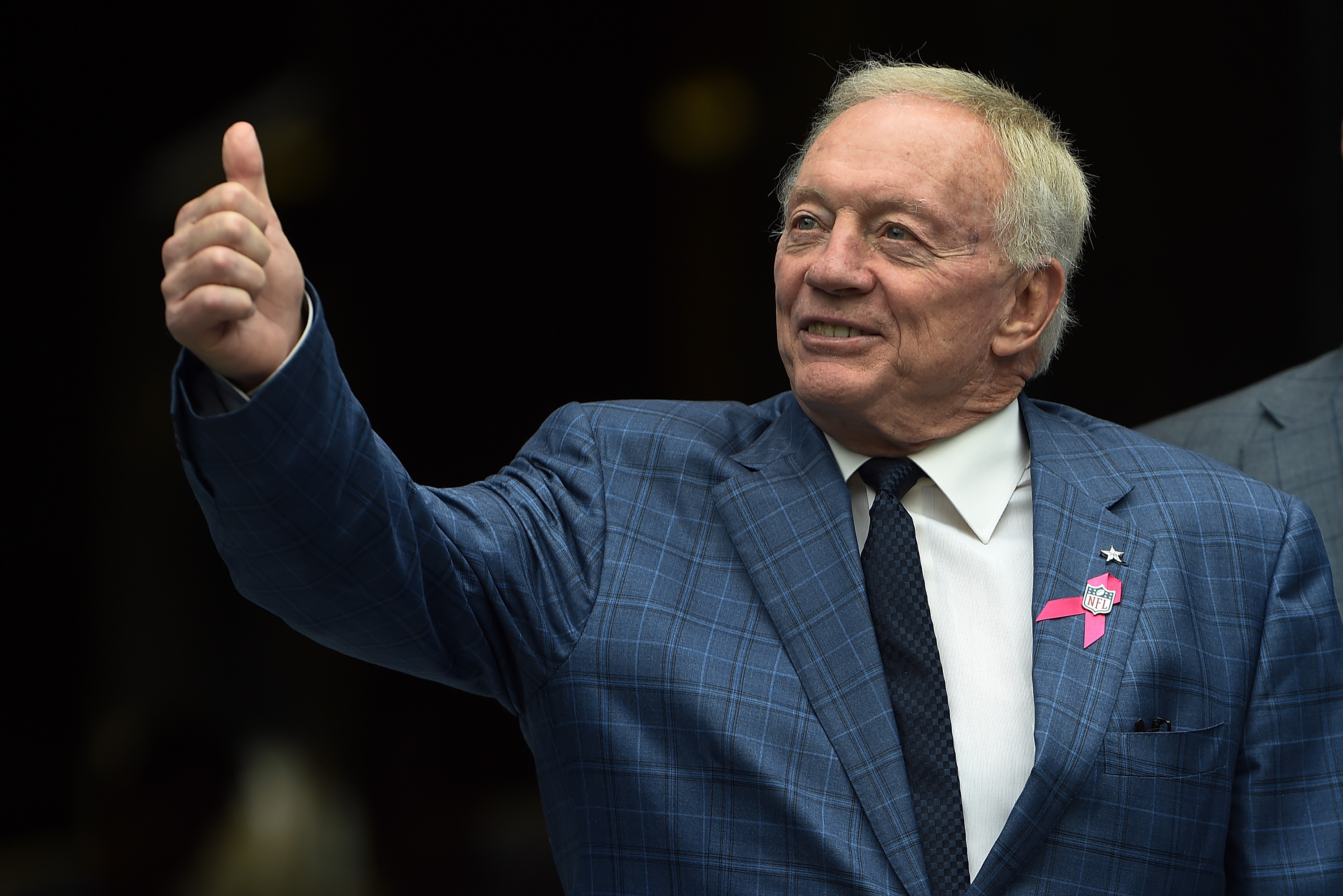 Dallas Cowboys Owner Jerry Jones Is No Stranger to Trying to Buy Everything With Money
Dallas Cowboys owner Jerry Jones has plenty of money and, for better or worse, he's not afraid to use it in an attempt to get what he wants.
Whether you love him or think he's public enemy number one, just about every football fan knows Jerry Jones. During his time at the helm of the Dallas Cowboys, Jones has earned plenty of money; while things haven't always worked out, he's no stranger to spending that cash trying to improve his team.
Throwing that money around is nothing new for Jerry Jones, though. In fact, one of his longest personal relationships might not have ever gotten off the ground if he didn't reach into his wallet.
Jerry Jones has become even richer, thanks to the Dallas Cowboys
It goes without saying that Jerry Jones needed a nice chunk of change to buy the Dallas Cowboys. Since then, though, the owner has only increased his overall fortune.
When Jones purchased America's Team in 1989, things weren't pretty in Dallas; the Cowboys were struggling on the field and, as a business, were bleeding money. According to the Midland Reporter-Telegram, the organization was losing $1 million each month.
Jones, however, made some immediate changes in an attempt to right the ship. Firing Tom Landry and bringing in Jimmy Johnson didn't yield immediate results, but they eventually paid dividends. Thanks to some talented draft picks and intelligent trades, though, the Dallas Cowboys became a modern dynasty.
Although on-field results eventually took a turn for the worst, Jerry Jones and his Cowboys are still leading the pack from a financial perspective. Based on Forbes' latest franchise valuations, the team is worth an estimated $5.7 billion; the publication also pegs Jones' personal fortune at approximately $8.5 billion.
The Dallas Cowboys owner is no stranger to spending money on his football team
Jerry Jones isn't just content to let his money mature in the bank, though. The Dallas Cowboys owner is certainly no stranger to opening up his wallet and trying to get things done.
The biggest and most apparent product of those efforts is AT&T Stadium. While 'Jerry World' as the complex is sometimes called, cost more than $1 billion to build, the investment has paid off. In addition to bringing in millions each year thanks to naming rights, the stadium has become an attraction in its own right, hosting pro wrestling, college basketball, and everything in between.
His free-spending ways, however, aren't just limited to the stadium. For better or worse, Jones hasn't hesitated to reach into his wallet and pay for big-name talents like Ezekiel Elliott, Terrell Owens, or Deion Sanders. While that strategy hasn't always worked out—if anything, Jones can seem too focused on the marquee signings at the price of his overall roster—finances are rarely an issue for the Cowboys.
Jerry Jones also used money to impress his wife on their first date
Spending money in pursuit of what he wants isn't anything new for Jerry Jones. Long before he bought the Dallas Cowboys, he used a bit of cold hard cash to impress his wife on their first date.
As explained in a Dallas Morning News story, Jones and his wife, Gene, met in college when they went on a blind date to the state fair. In stereotypical style, Jerry tried to impress his date by winning her a teddy bear; he couldn't earn a stuffed animal, though, so he eventually had to resort to other means.
"I tried and tried, but couldn't," Jones explained, "so I went behind and bought her one." While we don't know how Gene reacted, it's safe to assume that the gesture went over well since the couple is still together today.
As the cliche says, money can't buy happiness. Jerry Jones, however, has no problem reaching into his wallet and spending his way to the goal.