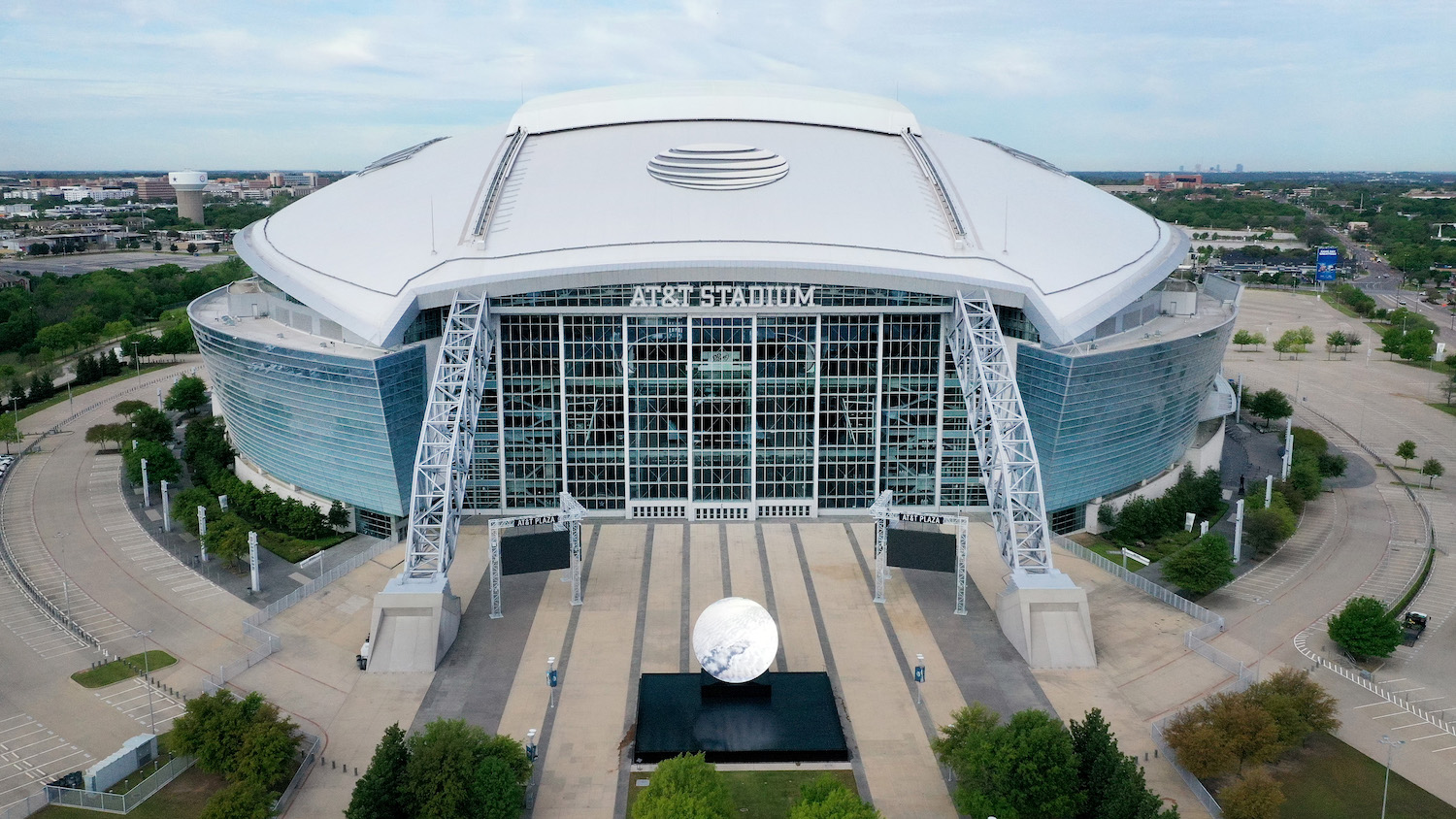 Jerry Jones Trying to Bring the World's Most-Watched Sporting Event to AT&T Stadium
When Jerry Jones dreamed up Jerry World, he envisioned Dallas Cowboys games and bigger events. He's trying to bring the world's most-watched sporting event to AT&T Stadium in 2026.
When Jerry Jones opened AT&T Stadium back in 2009, he always knew it would be home to the Dallas Cowboys. But that was never the endgame. Jones always envisioned hosting other major events in "Jerry World" like the Super Bowl and Final Four. He's achieved both of those goals. Now, Jones is bidding for the crown jewel of world sports. He wants the stadium to be a host venue for the 2026 World Cup.
Jerry Jones dreamed big with stadium
When the $1.1 billion AT&T Stadium first opened on June 6, 2009, the first-ever event held was a concert headlined by country stars George Straight and Reba McEntire. Less than two weeks later, the stadium played host to its first sporting event, the Gold Cup Quarterfinals.
The highlight of the Gold Cup event at AT&T Stadium was the Mexico-Haiti match, where a sold-out crowd of 82,252 watched El Tri shut out the Haitians 4-0. That event proved Jerry World was more than capable of putting on a high-quality soccer event.
Since those early days, AT&T Stadium has been host to some of the biggest events in the world of sports and entertainment. In 2011, the Green Bay Packers defeated the Pittsburgh Steelers in Super Bowl 45. Other big events held there, include the 2014 Men's Final Four, the first College Football Playoff Championship in 2015, and Wrestlemania 32 in 2016.
Dallas was a host city at 1994 World Cup
Dallas isn't new to World Cup soccer. In fact, Dallas was a host city in the 1994 World Cup held in the United States. In that event, Dallas hosted six World Cup matches at the Cotton Bowl. 
Soccer fans remember one of the most exciting games of that year, and in the event's storied history that featured a quarterfinal match between two powerhouse teams in Brazil and the Netherlands. In front of 63,500 fans, Brazil held on late to edge out the Netherlands by a 3-2 margin.
That World Cup competition is credited with spawning the birth of Major League Soccer (MLS) in 1996 as U.S. Soccer had promised FIFA it would establish a Division 1 professional soccer league if awarded the soccer tournament that year. 
Jerry Jones wants 2026 World Cup played at AT&T Stadium 
The 2026 World Cup will be played in the United States, Canada, and Mexico in 17 host cities within the three nations. The U.S. will host 60 matches while Mexico and Canada will host 10 apiece. All quarterfinal, semifinal, and final games will take place within the U.S. 
In recent weeks potential host cities have been presenting bids to FIFA with the final decision coming from the world governing body later in 2020 or early in 2021. Dallas is in a good position having already established itself as a viable market in 1994. Plus, it's also home to the National Soccer Hall of Fame. In addition to those qualifying factors, Jerry Jones said AT&T Stadium was built just for this type of event.
"When I was thinking about building AT&T Stadium, I knew we wanted a great place for 100,000 people to have a unique experience. We're ready to do what we can to make this World Cup the most special of them all," Jones said in a press release. "I was a close, personal friend of Lamar Hunt. I'm aware of his vision for soccer in the U.S., and I'm proud to be a partner with his family on this bid to host the World Cup."
Whether or not FIFA selects Dallas as a host city for the 2026 World Cup with the games played at AT&T Stadium is still unclear. One thing, however, is very clear, if Dallas doesn't make the cut, it won't be because they didn't have a first-class venue.