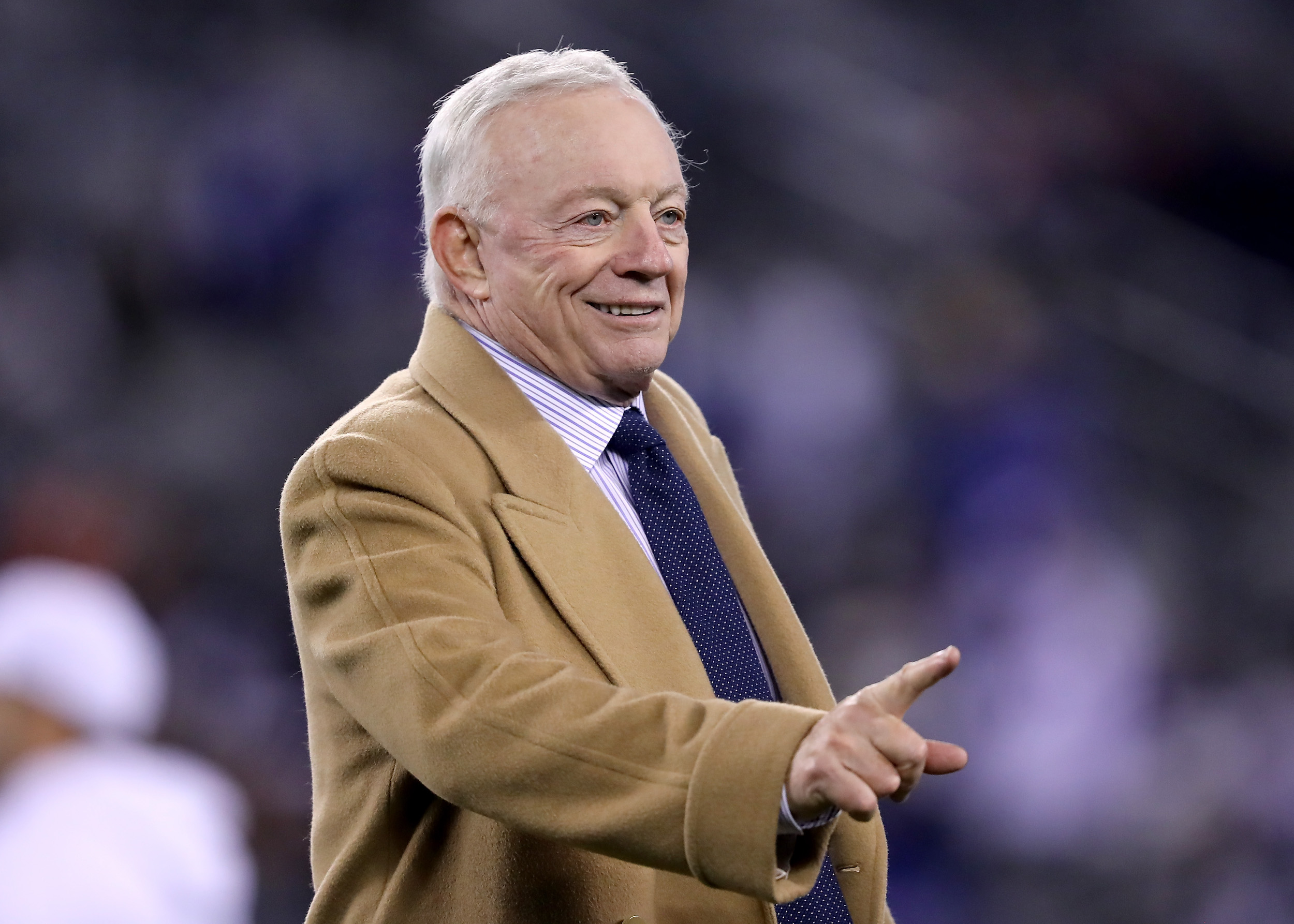 Jerry Jones Is Stepping Up and Using 'Eight Digits Worth of Money' to Prove That Actions Speak Louder Than Words
While Jerry Jones hasn't spoken up about racial injustice in the United States, he's reportedly ready to put eight figures of his fortune to good use.
Even among Dallas Cowboys fans, Jerry Jones can be a divisive figure. While it's tough to argue with the owner's business sense, his franchise hasn't been the most consistent in recent years; for better or worse, Jerry can't keep his hands out of football operations. Earlier this offseason, though, he also found himself in the spotlight for another reason.
Due to his outspoken nature, many noticed Jones' inexplicable silence about racial injustice in the United States. While the Dallas Cowboys owner still hasn't explicitly spoken on the matter, he's reportedly getting ready to put "eight digits worth of money" to use, showing that actions speak louder than words.
Jerry Jones has become rich and famous owning the Dallas Cowboys
It goes without saying that professional sports owners need plenty of money in the bank. During his time with the Dallas Cowboys, Jerry Jones has added quite a few more zeros to his bottom line.
Jones got his first taste of football growing up and eventually took his talents to the University of Arkansas. He landed on the Razorbacks' offensive line and eventually became a co-captain; he also helped the team capture the 1964 national championship before leaving campus for good.
After some missteps—Jones' Shakey's Pizza restaurants folded, and he couldn't secure the money to buy the San Diego Chargers—Jerry landed at Modern Security Life Insurance. He then struck out on his own, founded Jones Oil and Land Lease and wildcatting throughout the American south.
In 1989, Jones used his oil fortune to purchase the Dallas Cowboys. While the team was bleeding money at the time, it turned out to be an incredible investment. These days, Forbes estimates the club's value at $5.5 billion; Jerry himself has become a household name and is worth roughly $8 billion.
Facing criticism for his silence
As every Dallas Cowboys fan can tell you, Jerry Jones is never shy about sharing his opinions. Earlier this offseason, though, the owner made headlines with his silence.
After the tragic death of George Floyd, Colin Kaepernick and peaceful protests reentered the public consciousness. While plenty of players spoke out and Roger Goodell himself affirmed that Black lives matter, Jones never spoke out.
While Goodell theoretically speaks for all the owners and the Cowboys did post a video about social justice on their social media accounts, Jones' silence stood in contrast to his usual willingness to make headlines. As Shannon Sharpe pointed out, the Cowboys owner didn't hesitate to tell his players that they weren't going to join Kaepernick's original protests.
Jerry Jones is putting some of his fortune to good use in Dallas
Shortly after Shannon Sharpe shared his opinion on Jerry Jones' silence, DeMarcus Lawrence took the opposite position; in his mind, money was more valuable than any one man's words. It seems like the Cowboys owner is following the defensive end's advice and putting his money where his mouth is.
On ESPN Radio, Jean-Jacques Taylor reported that Jones "is working behind the scenes with the players on programs that are supposed to put 8 digits worth of money in southern Dallas." While it's not clear what the programs will entail, they're expected to "include mentoring, community relations, [and] helping released inmates find work."
While there are some caveats to that initiative—you could cynically say that "eight figures" of money don't mean much to a billionaire and donations shouldn't overshadow his past behavior—it's tough to take too much issue with Jerry Jones on this one. Regardless of how you feel about the Dallas Cowboys and their owner, that cash can do plenty of good for the community.