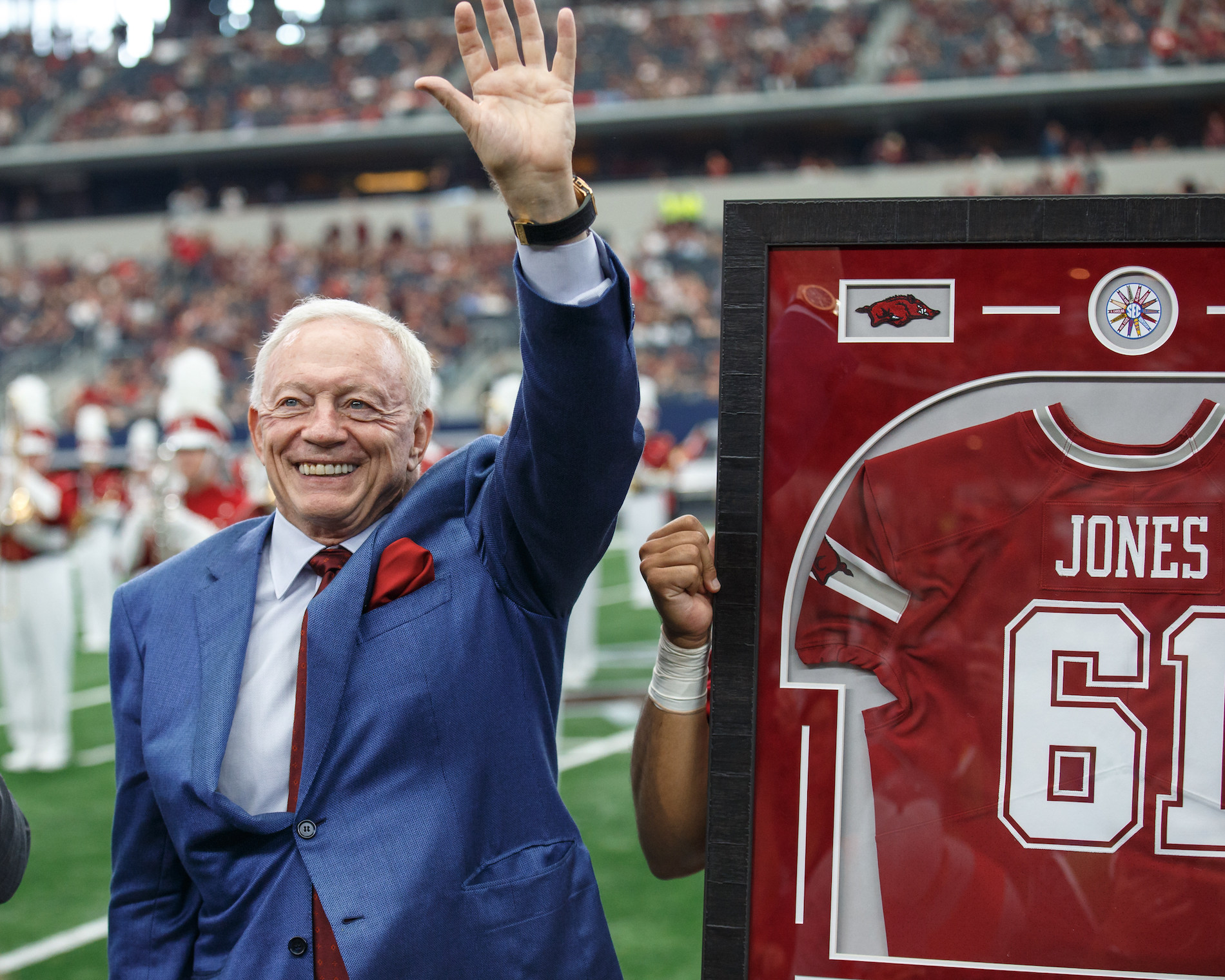 How Good Was Jerry Jones as a Football Player at Arkansas?
You know Jerry Jones, the billionaire owner of the Dallas Cowboys, but do you know Jerry Jones, the Arkansas football star?
Jerry Jones is one of the most famous sports figures in the world today. As the owner of the Dallas Cowboys, Jones gets more media attention than any team owner in the U.S. sports landscape. That's just what you agree to when you sign up to run "America's Team." Every sports fan knows Jones as the billionaire oil investor and Cowboys owner, but how many know Jones as a college football star at the University of Arkansas?
Jerry Jones has owned the Dallas Cowboys since 1989
In 1989, Jerry Jones was just an Arkansas businessman with bigger dreams. Jones made a fortune in the oil industry, and he parlayed that into an ownership bid for the Dallas Cowboys 31 years ago. Jones paid $140 million for the team back in 1989. Today, the Cowboys are worth over $5 billion. Talk about a return on investment.
"I haven't worked a day in 30 years," Jones told the Fort-Worth Star-Telegram. "It's been that kind of experience. Every day has been a growing experience. The NFL and the Dallas Cowboys made me something I wouldn't have been. It's like a walk-on. Before I knew it we would do some things and it would work. I was like 'man that worked.' Then we would try this and then try that."
Over the course of his ownership career, Jones has guided the Cowboys to three Super Bowl titles. One of his greatest moves was hiring Jimmy Johnson as the team's head coach. The two actually had a history playing together at the University of Arkansas.
How good was Jerry Jones as a football player at Arkansas?
Jerry Jones is well known today for his massive wealth and connection to the Cowboys, but he actually had a football career of his own back in the day.
Jones played offensive guard for Arkansas in the early 1960s. He was undersized for a lineman, standing six feet tall and weighing in at just 182 pounds, but his quickness and heart made him one of the Razorbacks' best blockers up front.
Jones impressed his coaches so much he was named a co-captain of the team in 1964. That same season, Jones paved the way for Arkansas to win the national championship against Nebraska. It's still the only football title Arkansas has won in school history.
Jimmy Johnson, the eventual Cowboys head coach, was on the same Arkansas team in 1964. Jones and Johnson became good friends as teammates, and they teamed up again in the NFL to win two Super Bowls together.
Jerry Jones' grandson is following in his footsteps at his alma mater
Jerry Jones has remained a huge Arkansas Razorbacks fan since graduated from school. Now, he has even more of a reason to root for his alma mater.
Jones' grandson, John Stephen Jones, is a redshirt sophomore quarterback at Arkansas. He's appeared in six games in his short college career, and he even threw a touchdown pass against Alabama last season.
John Stephen will have every opportunity to start for the Razorbacks in 2020. There might even be a certain alumnus who could put in a good word for him.