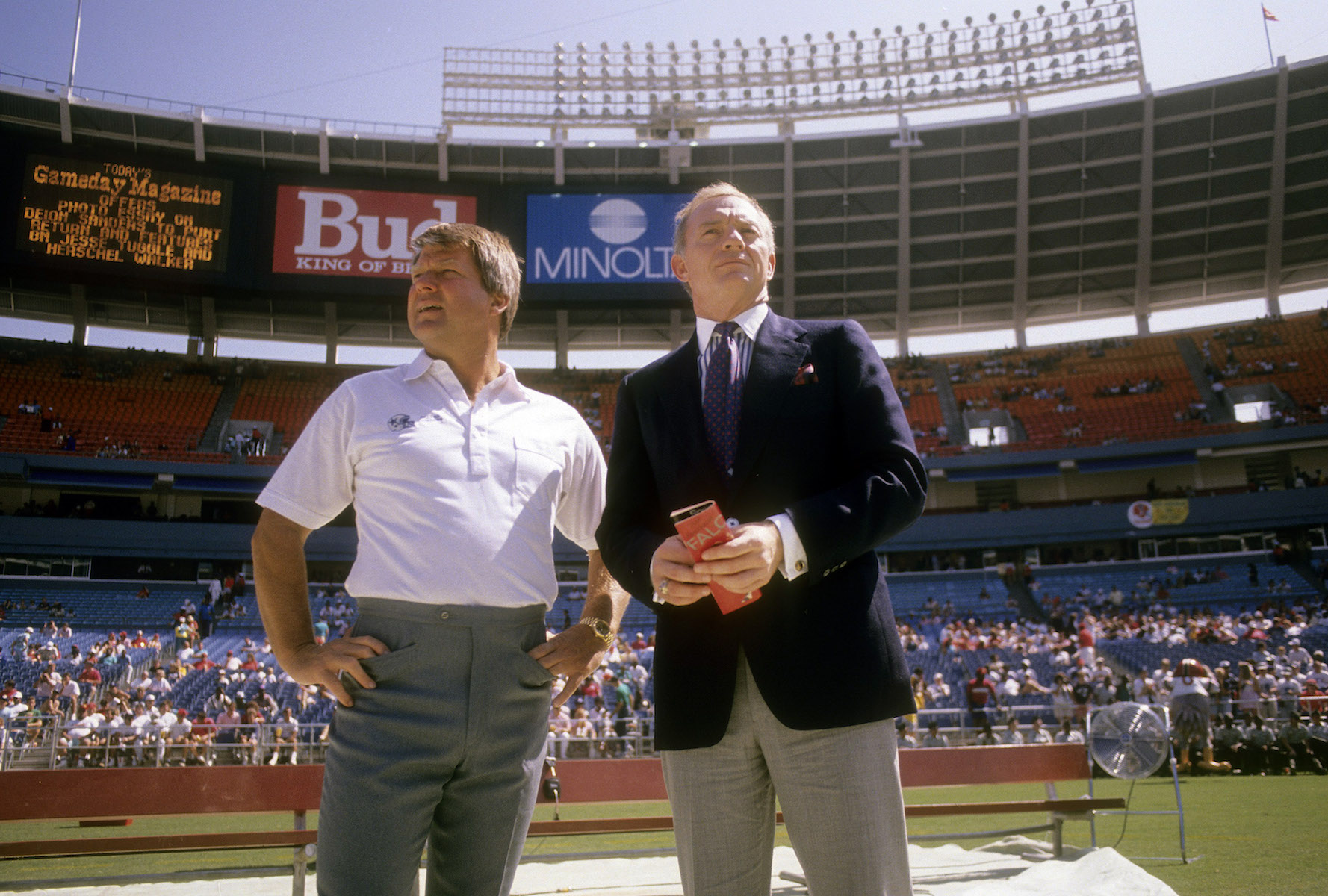 Jerry Jones Ruined the Dallas Cowboys Dynasty With a Single Drunken Comment
Jerry Jones and Jimmy Johnson turned the Dallas Cowboys into an NFL dynasty. One drunken comment, however, ruined everything.
As any Dallas Cowboys fan can tell you, Jerry Jones is never shy about sharing his opinion. While that usually doesn't matter too much—the owner/general manager's actions are usually more concerning—the occasional braggadocious statement can cause problems. Just ask Jimmy Johnson.
In 1994, Jerry Jones had a bit too much to drink and decided to share some hot takes with a group of sports reports. At that moment, he destroyed the Dallas Cowboys dynasty.
Jerry Jones and Jimmy Johnson made the Dallas Cowboys a powerhouse
For all of the Dallas Cowboys' recent struggles, they're still an economic and cultural force to be reckoned with. The franchise owes most of that status to the duo of Jerry Jones and Jimmy Johnson.
When Jerry Jones purchased the Dallas Cowboys in 1989, the team was in dire straits. The new owner, however, wasn't afraid of getting his hands dirty; after pledging that he would know his organization "down to the jocks and socks," he replaced Tom Landry with Jimmy Johnson. While that move may have looked like nepotism—the two men played together at Arkansas—it changed the course of NFL history.
While the Cowboys went 1-15 in Johnson's first year at the helm, the team slowly turned a corner. Thanks to the Herschel Walker trade and some smart draft picks, the club began morphing into a powerhouse. With the likes of Troy Aikman, Emmitt Smith, and Michael Irvin on the roster, the Cowboys claimed two straight Super Bowl titles.
A drunken comment ended the Dallas Cowboys dynasty
For all of Jerry Jones and Jimmy Johnson's joint success, though, things weren't entirely happy in Dallas. Things began to unravel in 1993—the two men clashed over who had the final say in personnel decisions, and the coach floated the possibility of taking over the Jacksonville Jaguars—but truly came to a head the following year.
As recounted by Mike Bianchi in the Orlando Sentinel, the Dallas Cowboys dynasty died at an NFL party at Universal Studios. After a perceived slight—Jerry Jones thought Johnson ignored him when he called for a toast to the Super Bowl victory—the Dallas Cowboys owner found himself "drunk and angry." While that wasn't a problem in isolation, he ended up at a hotel bar with some sportswriters.
"Jerry actually told those guys that there were 500 coaches who could have won the Super Bowl with that team," Johnson told Bianchi. "Well, what he said might be true, but I had put that team together, I had drafted and signed all those players, and brought in all of those assistant coaches."
The next morning, those comments reached Johnson, and he confronted his boss. "I called Jerry out of the owners meeting and said, 'Did you really say that?" the coach explained. "He said, 'Oh, Jimmy, I'd had too much to drink.' And I said, '… I'm outta here!' Then I went and packed up my car and left."
Jerry Jones hasn't found the same success without Jimmy Johnson
After Jimmy Johnson left the Dallas Cowboys, Jerry Jones hired Barry Switzer as his new head coach. While things didn't immediately collapse—Dallas went 12-4 in both 1994 and 1995, claiming another Super Bowl title—that success wouldn't last forever.
Two years after lifting the Lombardi Trophy, Switzer's Cowboys went 6-10, missing the playoffs; the club hasn't been back to an NFC title game, let alone a Super Bowl, since. Johnson's departure also marks when Jerry Jones fully took control of personnel decisions.
As Dallas Cowboys fans know all too well, that reality is incredibly problematic. Even if Jones only made correct moves as general manager, tying an entire organization to one man's point of view can be dangerous. In addition to the lack of diverse perspectives—more often than not, the Cowboys simply do what Jerry wants—there's a lack of accountability; if the owner and the general manager are the same man, the general manager can't be fired, regardless of his performance. That means a franchise, like the Cowboys, can remain in limbo for years without any meaningful change.
Would Jerry Jones have been content sharing the decision-making duties with Jimmy Johnson? The world may never know, but the coach's departure certainly changed the course of Dallas Cowboys franchise history.
Stats courtesy of Pro-Football-Reference