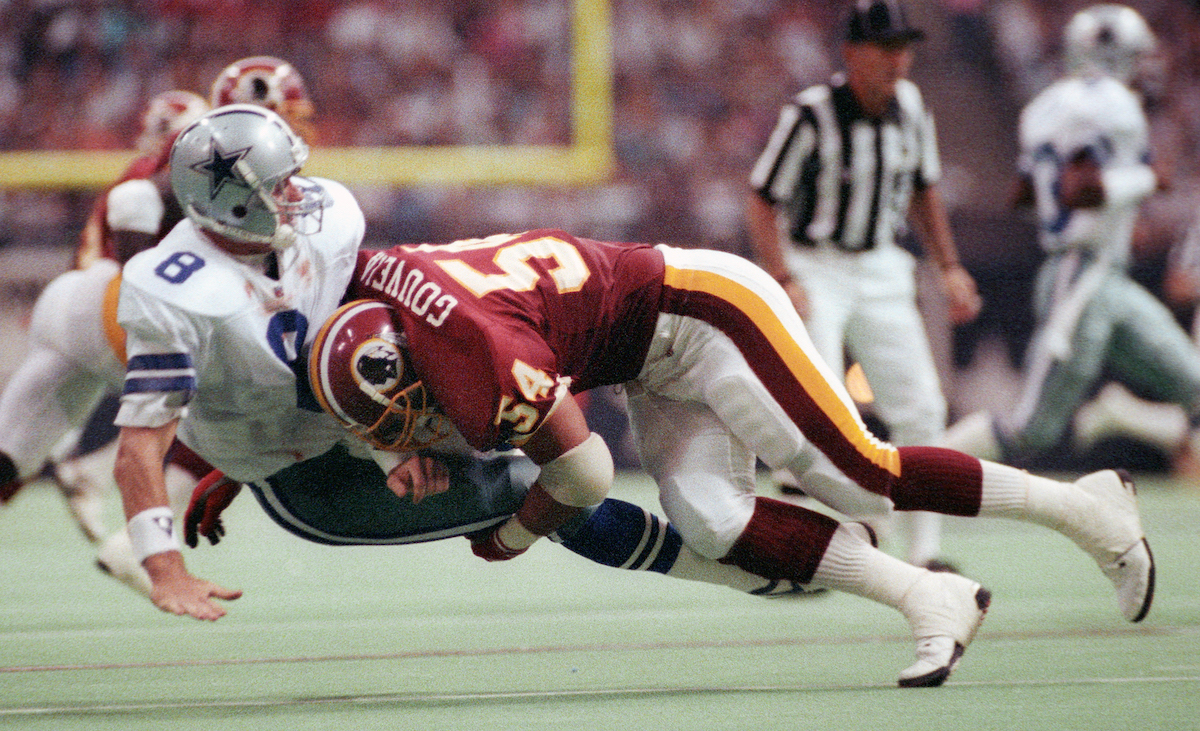 Troy Aikman's Hall of Fame Career Came to a Devastating End on 1 Play
On his way to winning three Super Bowls with the Dallas Cowboys, Troy Aikman took some big hits. One of those devastating hits ended his Hall of Fame career.
Troy Aikman's numbers speak for themselves. In his 12-year NFL career with the Dallas Cowboys, he won three Super Bowl titles, earned six Pro Bowl honors, and was inducted into the Pro Football Hall of Fame. Aikman's Hall of Fame career came to an abrupt end on December 10, 2000 with one devastating hit. Aikman doesn't remember it ever happening.
Troy Aikman leads the Cowboys to glory
When the Dallas Cowboys selected Troy Aikman as the No. 1 overall pick of the 1989 NFL draft, the quarterback knew the odds were stacked against him. The Cowboys were on a disappointing streak of three consecutive losing seasons and new owner Jerry Jones had just fired legendary head coach Tom Landry. He replaced him with University of Miami head coach Jimmy Johnson.
Aikman's first couple of seasons in Dallas were a struggle. By 1991, his third season, things were trending in the right direction, and the Cowboys made the playoffs losing in the divisional round. Aikman earned his first of six consecutive Pro Bowl honors that season and it was the start of a special stretch for the Cowboys organization and its fans.
Troy Aikman led the Cowboys to three Super Bowl titles in the next four seasons, the most successful period in the team's storied history and one of the most successful runs in NFL history. Aikman retired after the 2000 season and was inducted into the Hall of Fame in 2006. 
One of Troy Aikman's scariest moments
In Troy Aikman's career, he said he suffered around seven or eight concussions, two of which he considered "major." One of those happened during the 1994 NFC Championship game against the San Francisco 49ers. After taking a knee to the head, Aikman could not return to the game and was taken to a local hospital. What happened next was scary.
While the city of Dallas was celebrating a berth in the Super Bowl, Aikman was sitting alone in a quiet, dark hospital room when his agent Leigh Steinberg arrived. Steinberg described the scene in the PBS documentary "League of Denial."
"He looked at me and he said, 'Leigh, where am I?' And I said, 'Well, you're in the hospital.' And he said, 'Well, why am I here?' And I said, 'Because you suffered a concussion today.' And he said, 'Well, who did we play?' And I said, 'The 49ers.' And he said, 'Did we win?' 'Yes, you won.' 'Did I play well?' 'Yes, you played well.' 'Did— what does that— and so what's that mean?' 'It means you're going to the Super Bowl.'"
As disheartening as that initial exchange was, it got disturbingly worse just a few minutes later when Troy Aikman directed the same line of questions to Steinberg. It happened a third time a few minutes after that.
LaVar Arrington delivers the career-ending hit  
A week after that conversation in the hospital, Troy Aikman and the Dallas Cowboys defeated the Buffalo Bills in the Super Bowl. Aikman guided the Cowboys to another Super Bowl victory a couple of years later in 1995. 
Five years later, on December 10, 2000, the Cowboys were taking on their rivals the Washington Redskins at home. Early in the game Aikman rolled to his right to avoid pressure up the middle. The quarterback quickly got rid of the ball just before reaching the sideline and before Washington linebacker LaVar Arrington delivered a devastating full-momentum blow. Arrington rode Aikman all the way out of bounds.
Troy Aikman later said he didn't ever remember it happening. It was the final concussion and final play of the Cowboy quarterback's illustrious career. Several months later, an emotional Aikman announced his retirement and mentioned all of the concussions. 
"I know it's the right thing for me because of my health, concussions, my back problems that I've had. It took its toll, and I know that to try to go out there and play another year was going to be a tough thing to do."
Troy Aikman is remembered as the greatest quarterback in Cowboys history. He's also remembered for the number of concussions he sustained throughout his career including that one final blow that sent him into retirement.