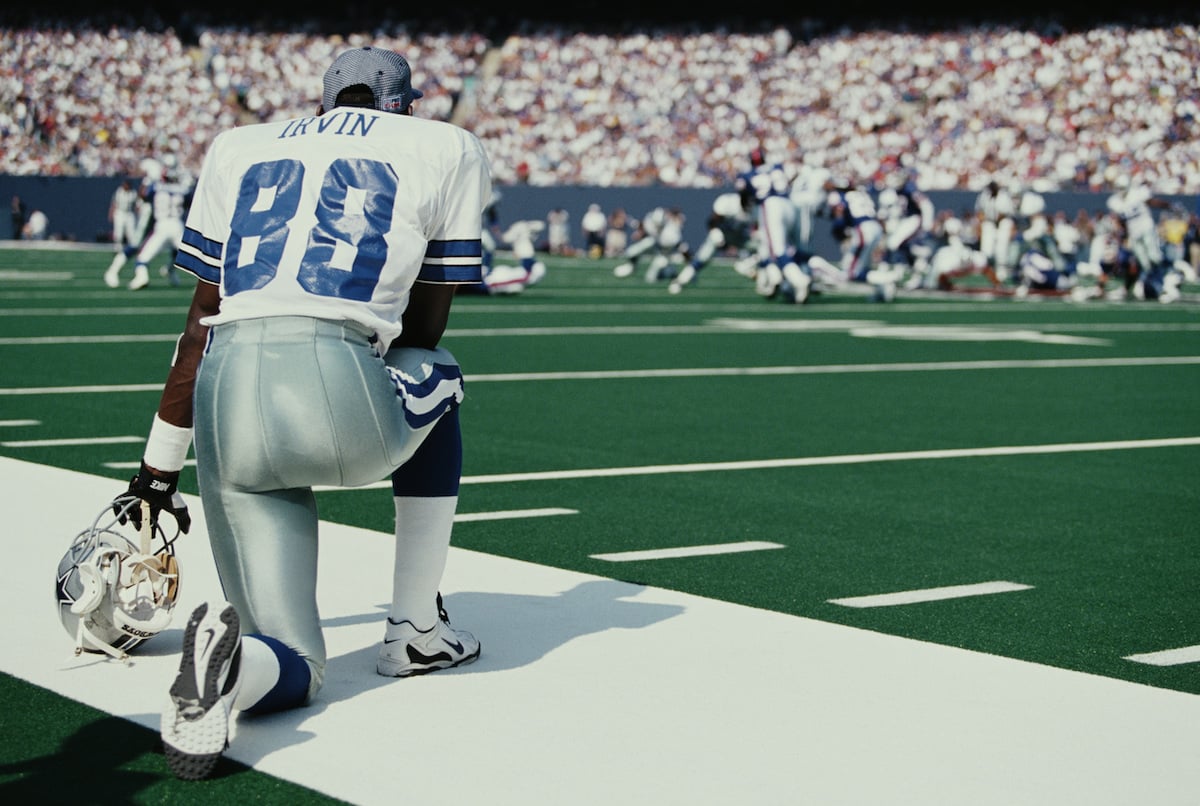 Michael Irvin's Hall of Fame Career Came to a Devastating Sudden End
Hall of Fame wide receiver Michael Irvin's incredible career came to a sudden halt in 1999.
Michael Irvin only needed to spend time with the Dallas Cowboys to put together a Hall of Fame career as a star NFL wide receiver. During his time with America's Team, he became one of the league's best wideouts — albeit not without some controversial moments — and served as a central piece of three Super Bowl-winning rosters.
Irvin is regarded as an all-timer at his position, and his legacy was cemented when he was inducted into the Pro Football Hall of Fame in 2007. But his career could've been even more impressive had it not come to a sudden and unfortunate end.
Michael Irvin's Hall of Fame Career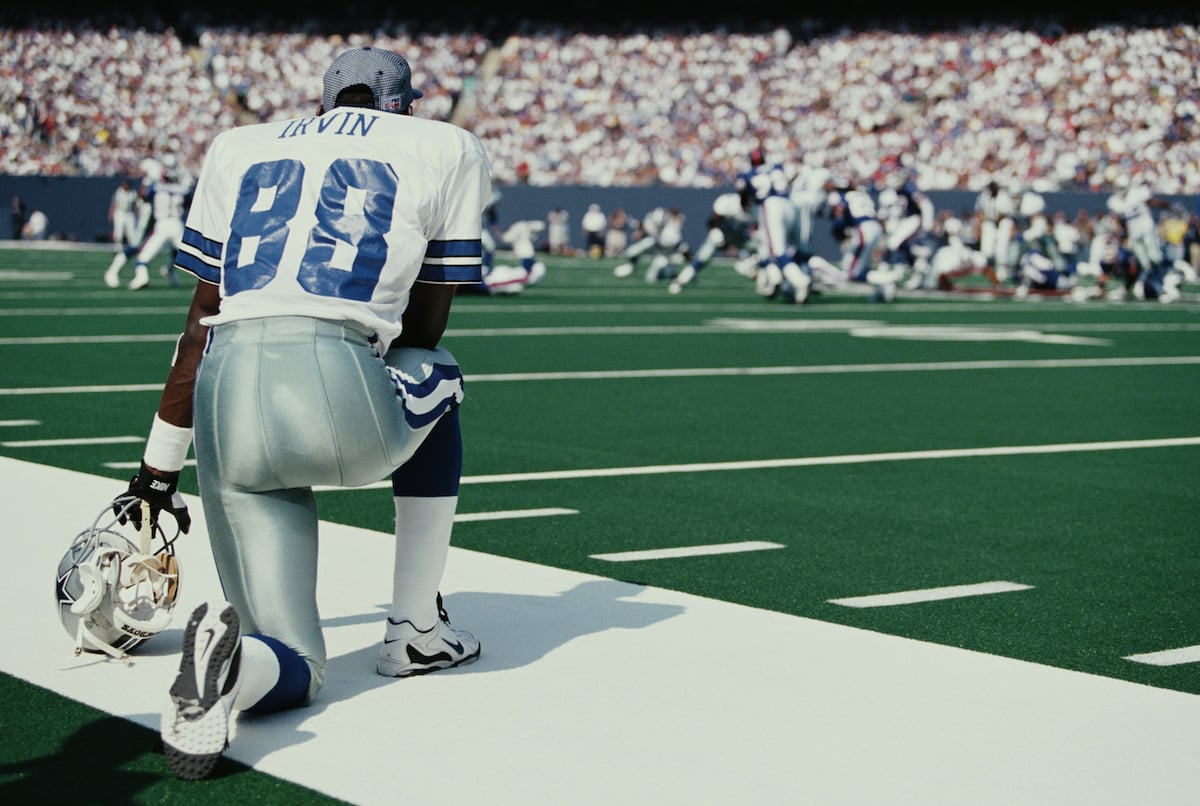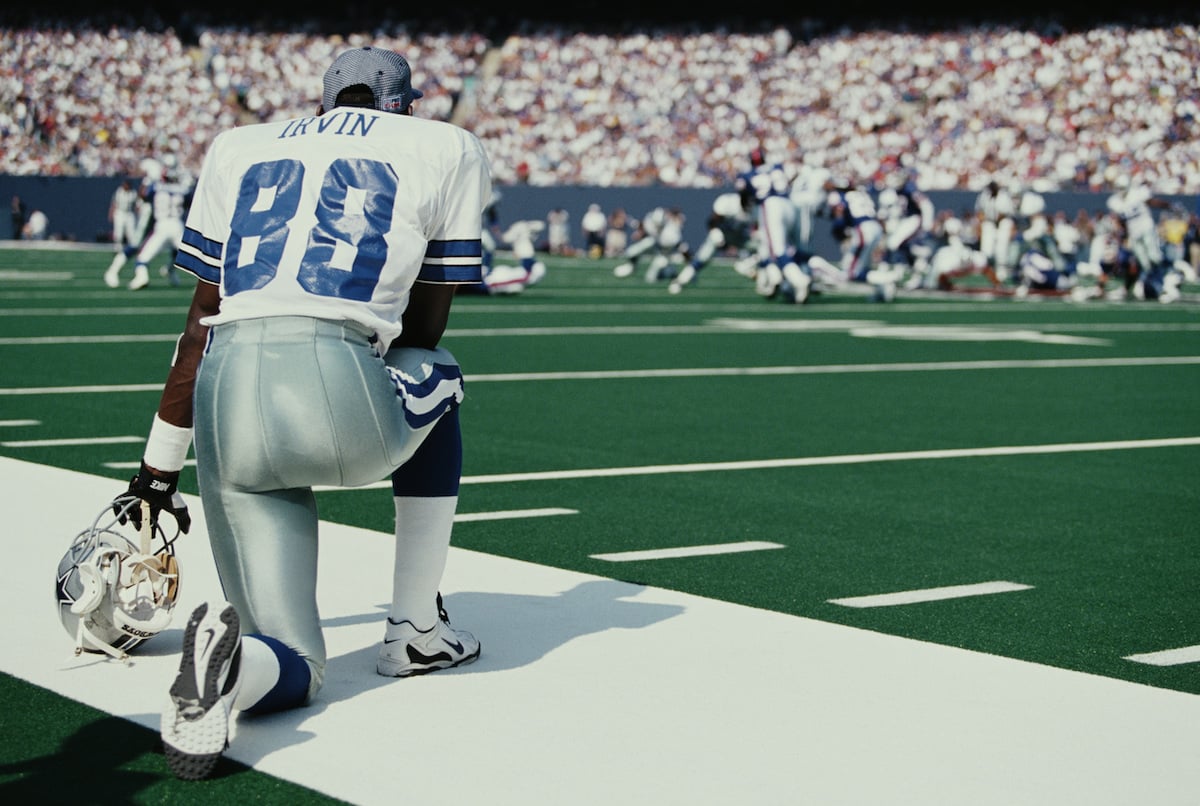 Michael Irvin had plenty of buzz around him after a strong collegiate career at Miami.
After entering the league as the No. 11 overall pick of the 1988 NFL Draft, he dealt with injuries in his first couple of campaigns but took off in 1991. That season, his fourth, he posted his first of seven go-rounds with at least 1,000 receiving yards. He went on to win three Super Bowl rings, earn five Pro Bowl selections, and secure three All-Pro nods (one on the first team).
He ranks second in Cowboys history with 11,904 receiving yards, trailing only Jason Witten (12,977). Only Dez Bryant (73), Witten (72), and Bob Hayes (71) have more touchdown catches than his 65. Beyond that, only nine players have exceeded his 47 games with at least 100 receiving yards, per Stathead.
Irvin, though, made his biggest mark in the playoffs and earned "The Playmaker" nickname thanks to his historic numbers in pressure-packed situations. He ranks third all-time with six 100-receiving yard playoff performances, ninth with 87 postseason receptions, and fifth with 1,315 postseason receiving yards.
Those numbers all could've been even higher if it weren't for the sudden end to his career.
Michael Irvin's Career-Ending Injury
Irvin had gotten off to a slow start to begin the 1999 season — the 12th of his career — and was well off his typical pace. He'd recorded eight straight years with at least 950 receiving yards but only had 159 through three games.
Then, in Week 5, things got worse against the Philadelphia Eagles when he suffered a cervical spinal cord injury.
The play looked typical as Irving moved past cornerback Bobby Taylor before Tim Hauch hit him in the neck area. He landed face-first in the turf and lay motionless for serval minutes, later revealing that he felt paralyzed during that brief window and experienced fear when he struggled to uncross his legs.
Michael Irvin eyed a comeback but was forced into retirement
Michael Irvin's career was immediately in jeopardy following the severe neck injury, but he maintained a desire to continue playing.
His quest to return to the field was halted when the post-injury test showed he had suffered a herniated disc — and, more importantly, that he was born with a narrow spinal cord. That led to his retirement since he was at significant risk of re-injury if he were to receive another hit to the head or neck.
Irvin has gone on to find plenty of success in the world of sports media, working for both ESPN and NFL Network to bring his knowledge of the game to a wide viewership. But it's hard not to wonder what might've been had the all-timer's career not come to a sudden end at age 33.