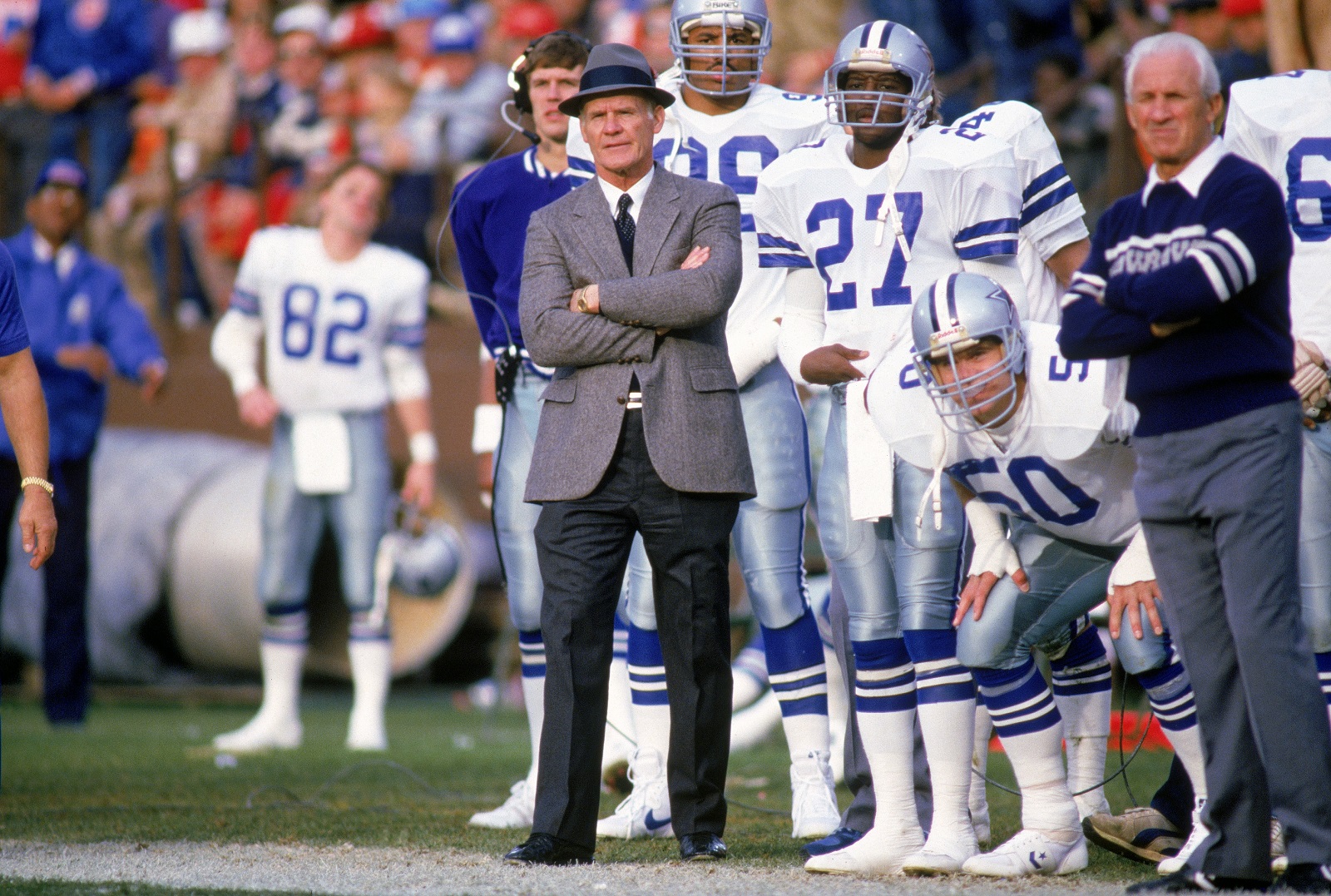 The Tragic Death of Legendary Cowboys Coach Tom Landry
Hall of Fame coach Tom Landry put forth a legendary career, but that saw his life end in a saddening disappointing manner.
Many figures in NFL history have made a significant impact on the league. Among those was Tom Landry. He served as the head coach of the Dallas Cowboys for nearly three decades, helping them become recognized as "America's Team."
Landry roamed the sidelines with the patent look of a fedora, sports jacket, and tie. He established himself as one of the all-time greats at his craft, securing his presence in the Pro Football Hall of Fame. However, Landry's life after football had a sad end.
Tom Landry's NFL playing career
Before Tom Landry took to coaching, he found his way onto a football field as a punter and safety for the University of Texas. In the 1947 NFL Draft, reports Pro Football History, the New York Giants chose him with the 184th overall pick. However, in 1948, the New York Yankees selected Landry with the 128th overall pick in the AAFC Draft. He played one season with the team, then pivoted to the Giants.
The Texas native spent six seasons in the NFL — all with the Giants. Landry led the NFL in punting yards twice which helped him earn a Pro Bowl selection and First-Team All-Pro nod. He finished his playing career with 32 interceptions, which he returned for 404 yards and three touchdowns.
Landry started acting as a player-assistant coach in his final two years, setting the stage for his future endeavors.
Tom Landry's NFL coaching career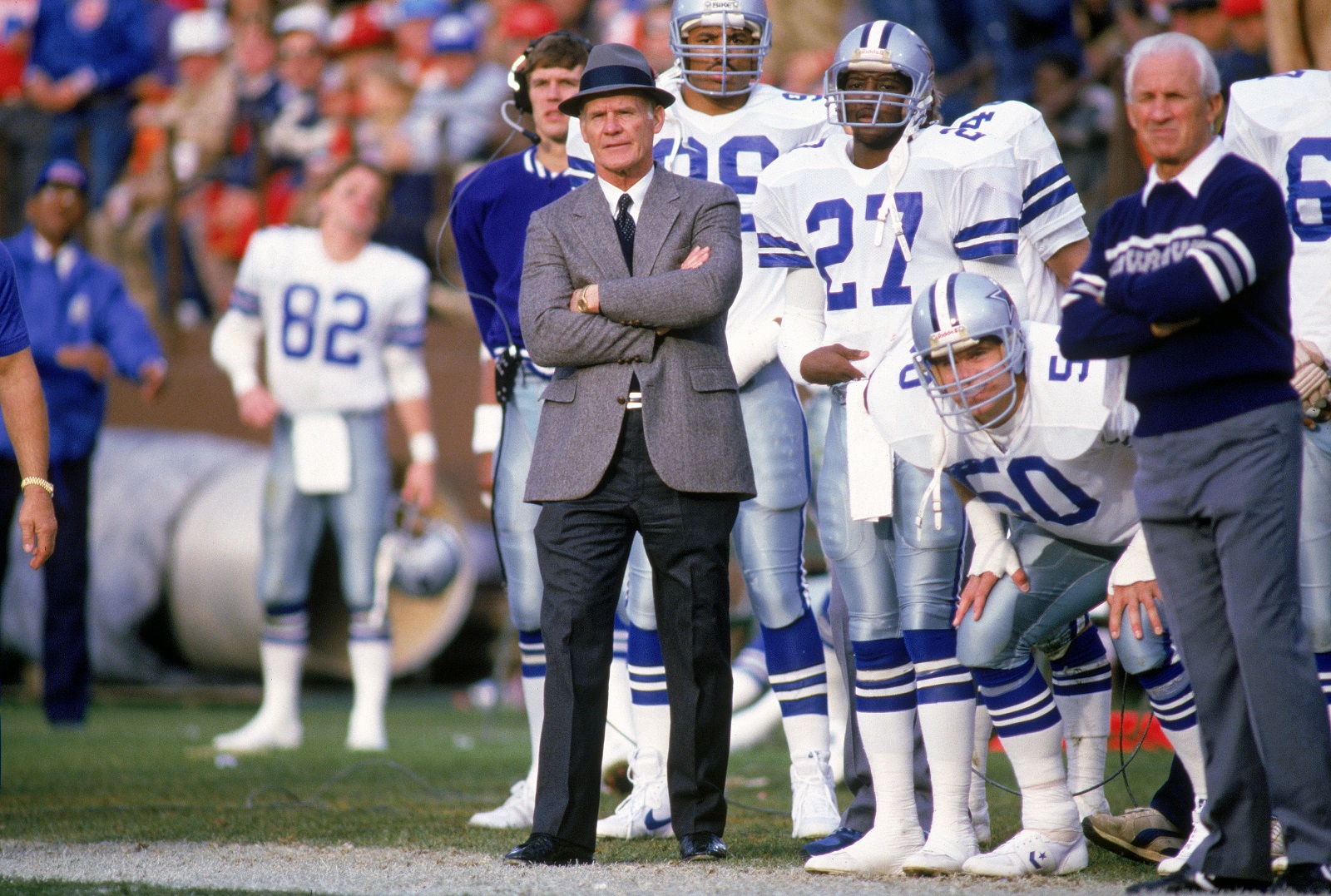 Tom Landry became the Giants' defensive coordinator in 1954, a position he held until 1959. During that time, Landry played a pivotal role in helping create the 4-3 defense that has become a staple in the NFL.
In 1960, Landry accepted the role of head coach for the Dallas Cowboys. He struggled to find success through his first six years as the team failed to secure a winning season.
Things clicked in 1966 as the Cowboys became a consistent playoff team. This included 20 consecutive seasons with a winning record, a pair of Super Bowl wins (Super Bowl VI and XII), five NFC championships, and 13 division titles in his 28 years with the team.
Landry garnered a 270-178-6 record, currently the fourth-most wins in NFL history for a head coach. Meanwhile, his 20 career playoff wins are the second most behind Bill Belichick. He also earned the 1966 NFL Coach of the Year award and 1975 NFC Coach of the Year honor.
Landry had legendary players take the field for him, including Roger Staubach, Don Meredith, Tony Dorsett, Calvin Hill, Chuck Howley, and Randy White. Beyond his success with Cowboys players, he worked with many future coaching stars, including Mike Ditka, Dan Reeves, Gene Stallings, Raymond Berry, and John Mackovic.
Tom Landry's death
Following his nearly 30-year coaching career with Jerry Jones' Cowboys, Tom Landry settled into retirement for 11 years. He was inducted into the Pro Football Hall of Fame in 1990 and the Cowboys' Ring of Honor in 1993.
Then, on February 12, 2000, the father of three died after a battle with leukemia. The 75-year-old left behind his wife of 51 years, Alicia Landry, who died in 2021 at 91.