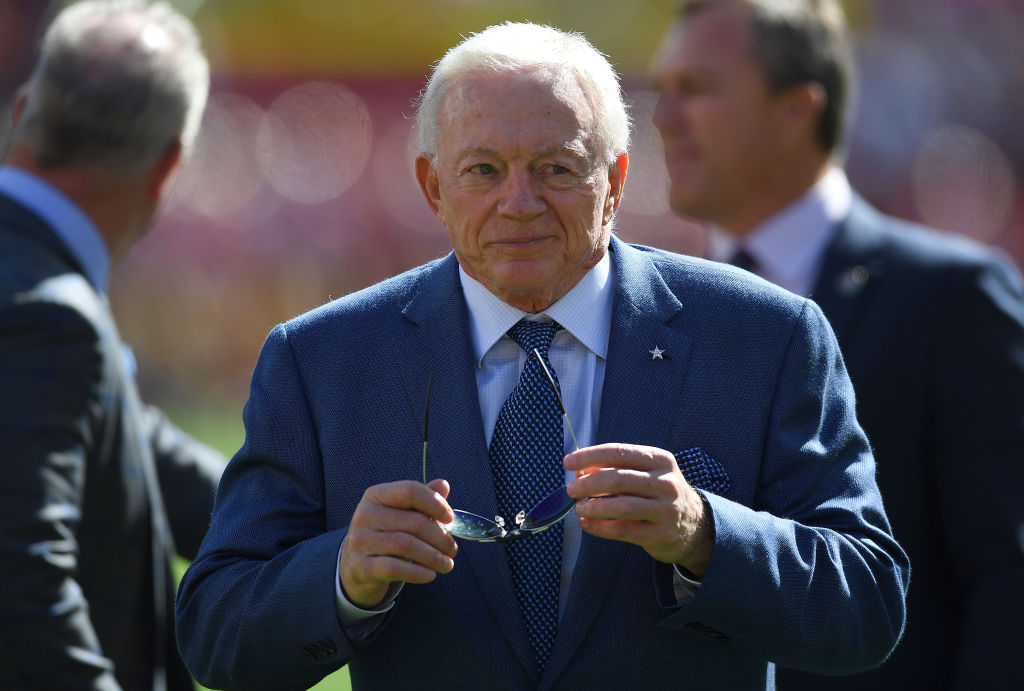 DeMarcus Lawrence Says Cowboys Owner Jerry Jones Should Use His $8 Billion Net Worth, Not His Mouth, To Fight Inequality
While everyone who owns a professional sports franchise is wealthy, Jerry Jones is in a league of his own. While the California native initially struck in rich in the oil industry, his time at the helm of the Dallas Cowboys has taken his bank account to an entirely new level. With great financial power, however, …
While everyone who owns a professional sports franchise is wealthy, Jerry Jones is in a league of his own. While the California native initially struck in rich in the oil industry, his time at the helm of the Dallas Cowboys has taken his bank account to an entirely new level. With great financial power, however, comes great responsibility.
Despite Jerry Jones' status as a powerful and vocal NFL owner, he's yet to speak up about Colin Kaepernick, players kneeling, or systemic racism in light of George Floyd's death. One former Dallas Cowboy, however, isn't worried about what Jones has to say. Instead, he wants the owner to put his money where his mouth is.
Owning the Dallas Cowboys has made Jerry Jones both rich and powerful
For most NFL franchises, the owner pales in comparison to the action on the field. In Dallas, however, Jerry Jones is as much a part of the show as his Cowboys.
After playing football at the University of Arkansas, Jones tried to strike out as a businessman. His Shakey's Pizza restaurants, however, went belly up, and his bid to buy the San Diego Chargers came up short. Everything changed in the 1970s, though. Jones founded Jones Oil and Land Lease and started wildcatting; he struck black gold, made a fortune, and, in 1989, bought the Dallas Cowboys.
While the team was struggling on the field and bleeding money at the time, Jones turned things around. He fired Tom Landry and hired Jimmy Johnson as the franchise's head coach; before long, Johnson, Troy Aikman, and Michael Irvin turned the Cowboys into a modern dynasty. While things have declined since then, those three Super Bowl titles helped make the Dallas Cowboys "America's team."
On a personal level, Jones has also reaped the rewards. According to Forbes' franchise valuations, the Cowboys are worth an estimated $5 billion; Jerry himself has an approximate net worth of $8 billion. He's also become one of the most powerful owners in the NFL.
Jerry Jones, however, has been silent about racial injustice
During his time in Dallas, Jerry Jones has made himself the face of the franchise; as both the owner and general manager, he's always looking for the nearest camera or microphone. In recent weeks, however, he's been unusually silent.
After the tragic death of George Floyd, Colin Kaepernick's famous 2016 protests were thrust back into the spotlight. While the reception has been a bit different this time around—a former NFL executive admitted the owners decided Kaepernick was bad for business, and Roger Goodell said "Black Lives Matter" and encouraged teams to sign the quarterback—Jerry Jones has remained silent.
While Goodell theoretically speaks for all the owners and the Cowboys' Twitter account did share a video about fighting injustice, Jerry Jones' silence seems to speak volumes. As Shannon Sharpe pointed out, this is a man who loves to talk with reporters and had no problem saying his team would stand for the American flag. If his opinion has changed since then, why hasn't he said anything?
DeMarcus Lawrence thinks the owner's money, not words, matters
With each passing day, it seems less and less likely that we'll ever hear from Jerry Jones on the subject of racial inequality. DeMarcus Lawrence, however, worried about what his former boss has or hasn't said.
"This whole situation has nothing to do with Jerry or anybody in Jerry's position," Lawrence explained, according to Clarence Hill of the Fort Worth Star-Telegram."This is about us coming together and focusing on how we can make a change and how we can come together and be united. I don't see how one man in Jerry's position or any of those types positions can make a change."
That doesn't mean Jerry Jones is completely off the hook, though. While the defensive end isn't blaming the Dallas Cowboys owner for anything, he did suggest that Jones' $8 billion net worth can do plenty of good for future generations.
"The only thing [people in Jerry Jones' position] can do is give us money to make a change," Lawrence continued. "What kind of help do we need from Jerry: we need to stand on our own two feet, be the man we are supposed to be and build foundations and build centers to help our youth."
While Lawrence went on to make some questionable claims—he said "protesting is not going to help change anything" and that the focus should be on helping the youth—he does make a good point about Jerry Jones. The Dallas Cowboys owner has plenty of money in the bank; even if he's not going to speak out, his actions have the ability to speak for him, and do plenty of good in the process.