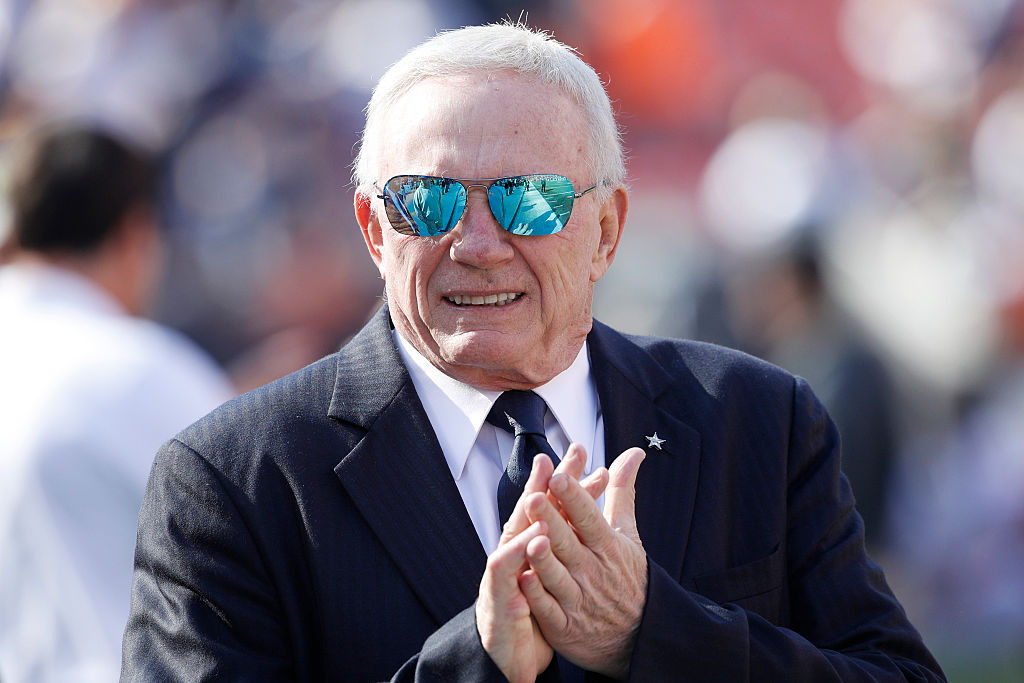 Jerry Jones Once Risked $300,000 On a Coin Flip and Lost
Dallas Cowboys owner Jerry Jones is no stranger to spending money. He once risked $300,000 on a single coin flip and lost.
It goes without saying that NFL owners are incredibly wealthy. When you're in charge of a football team, spending money is simply part of the job description. Jerry Jones, owner of the Dallas Cowboys, knows that reality first hand. That doesn't mean that every expenditure is smart, though.
In the late 1980s, when Jones was in the process of buying the Dallas Cowboys, he risked $300,000 on the flip of a coin. He lost that wager, but, in the long run, he still came out on top.
Jerry Jones' road to riches
These days, it's almost impossible to imagine Jerry Jones as anyone other than the owner of the Dallas Cowboys. That wasn't always the case, though.
After he finished his college football career, Jones borrowed $1 million from the Teamsters and opened several Shakey's Pizza restaurants; that investment, however, didn't turn a profit. Jerry would then end up as the executive vice president of Modern Security Life Insurance, which was his father's company.
Jones didn't remain in the insurance business for long, though. He founded Jones Oil and Land Lease and started searching for oil. He eventually struck black gold, and, before long, the money started rolling in.
Buying the Dallas Cowboys and a $300,000 coin flip
Even when his playing days concluded, Jerry Jones couldn't move on from football. In 1967, he tried and failed to buy the San Diego Chargers; when he saw an opportunity to acquire the Dallas Cowboys, he wasn't going to miss his chance.
That deal, however, still had some bumps along the way. One of those issues set the stage for a very expensive coin flip.
"Near the end of the negotiations, the two [parties, owner Bum Bright and Jerry Jones] disagree on who's responsible for an advance Bright made three to four weeks before the purchase," the Dallas Morning News explained. "Both have valid points, so they agree to flip a coin to settle the $300,000 dispute. Bright wins the flip."
It might have cost an extra $300,000, but Jones got what he wanted. He was the owner of an NFL franchise.
Jerry Jones' investment in the Dallas Cowboys has paid off
When Jerry Jones bought the Dallas Cowboys, the franchise had fallen on tough times, within a matter of years, however, the franchise turned into a modern dynasty. They won three NFL titles in the 1990s, taking over the sports landscape and becoming 'America's Team.'
Although things have gone off the rails a bit—the Cowboys are no longer Super Bowl contenders, and Jones' inability to stay out of football operations isn't helping—the investment has still paid off. Today, the franchise is the most valuable in professional sports, worth an estimated $5 billion; Jones' personal net worth hovers around the $9 billion mark.
Shortly after Jones bought the Cowboys, Bright encased the coin they flipped, mounted it, and sent it to the team's new owner. It came bearing the message, "You will never know if this is a two-headed coin." Jones still has that coin in his home to this day.
It's safe to say that risking $300,000 on a coin flip isn't sound financial advice. For Jerry Jones, however, everything worked out in the end.